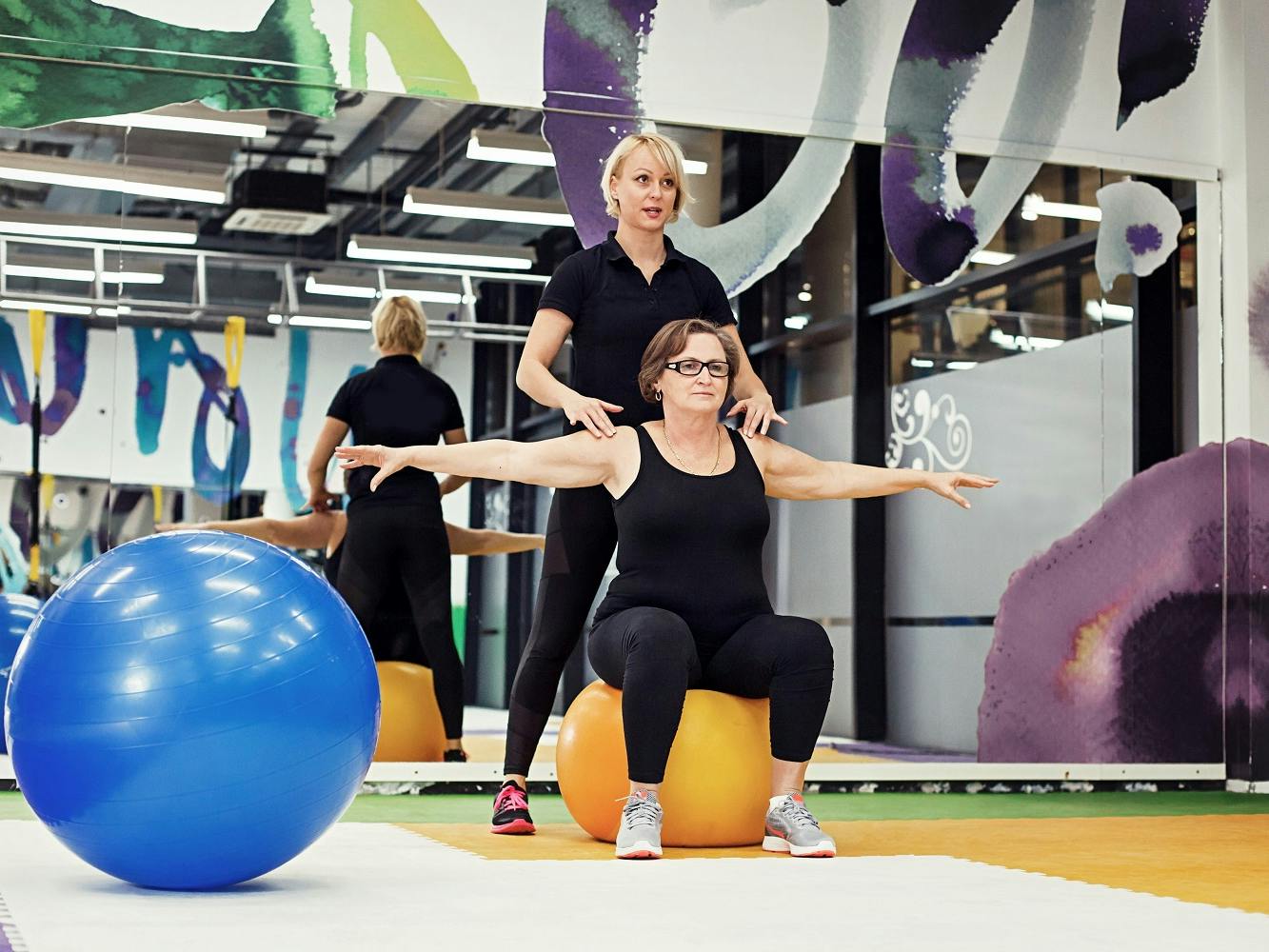 Regular exercise and physical activity can help improve your brain health, manage your weight, reduce disease, strengthen bones and muscles, and improve your ability to do everyday activities.
The CDC recommends adults ages 65 and older need at least 150 minutes a week (such as 30 minutes a day, five days a week) of moderate-intensity activity, or 75 minutes a week of vigorous-intensity activity. However, it can sometimes feel difficult to schedule time in the day to exercise and stick to a routine. To help with education and motivation, some people hire a personal trainer.
Personal trainers are experts in physical fitness and exercise who can create and deliver a safe, effective work out program for their clients. However, with the average hourly rate ranging from $40 to $70 per session, costs can add up fast.
Original Medicare doesn't cover a personal trainer, but the benefits of a trainer may outweigh the cost for some beneficiaries. Plus, Medicare does cover other wellness services to help improve your health.
Can Medicare Advantage help?
Medicare Advantage plans, also known as Medicare Part C, must cover everything Original Medicare does. However, they are not limited to that coverage and most plans provide additional benefits as well – including gym memberships and other fitness services.
Prioritize your physical health and use our Find a Plan tool to look for a Medicare plan that offers the fitness benefits that will help keep you strong and healthy.
Wellness services covered by Medicare
Original Medicare does not cover personal training sessions, so if you hire a personal trainer, you must pay the full cost out-of-pocket.
However, Medicare Part B does cover some other fitness-type preventive services.
Beneficiaries who have had Medicare Part B for more than 12 months can get an annual "wellness" visit (AWV) every year. This is not a physical exam, but instead is to develop or update your personalized health plan to help prevent disease or disability based on your current health and risk factors. Your visit may include:
A review of your medical and family history
A review of your current providers and medications
Routine measurements such as height, weight, and blood pressure
Personalized health advice
A list of risk factors and treatment options for you
A screening schedule for appropriate preventive services
If your provider accepts Medicare assignment, you pay $0 for this visit and the Part B deductible does not apply. However, if other tests or services are performed during the visit, you may have to pay additional co-insurance.
Nutrition therapy services
Medicare Part B covers medical nutrition therapy services if:
You have diabetes or kidney disease, OR
You've had a kidney transplant in the last 36 months
Your doctor must also refer you for these services, which may include:
A nutrition and lifestyle assessment
Individual and/or group nutritional therapy services
Help managing the lifestyle factors that affect your diabetes
Follow-up visits to check on your progress
Nutrition services must be provided by a registered dietitian or nutrition professional who meets certain therapy requirements, and in some cases, you may be able to get these services via telehealth.
If you qualify, you pay $0.
Obesity screenings and counseling
If you have a body mass index (BMI) of 30 or more, Part B covers obesity screenings and behavioral counseling to help you lose weight. This counseling must be performed in a primary care setting, like your doctor's office, and your doctor will help coordinate a personalized prevention plan to help you lose weight through diet and exercise.
You pay $0 for these services if your provider accepts Medicare assignment.
Benefits of working with a personal trainer
Even though personal training isn't covered by Medicare, you still may want to consider hiring a personal trainer (PT). These instructors can play an essential role in helping you achieve your health, fitness, and wellness goals while teaching you how to overcome obstacles and motivating you to do your best. Some of the top benefits of working with a PT include that they:
Educate you on all aspects of health, fitness, and exercise
You'll learn more about how nutrition plays a role in your fitness, which exercises to do to target certain muscles, correct form, and more. Plus, they can ensure you minimize wasted time while maximizing your results.
Help you reduce your risk of injury
By teaching you proper form, posture, and technique, you're less likely to injure yourself during exercise.
Personalize your plan
No two people's bodies, goals, and abilities are the same, so a personal trainer will create a plan specifically for you and your needs. Not only will they help you create a personalized exercise routine, but they can also provide nutritional guidance.
Help you set and reach realistic short- and long-term goals
Whether your goal is weight loss, improved strength, or something else, your trainer will help you set realistic goals that you'll be able to achieve and keep you on track for those goals.
Keep you accountable
It's easy to say "I'll work out tomorrow" but when tomorrow comes, you put it off again. A personal trainer ensures you commit and stick to your fitness goals, and when you have an appointment for a session, you're less likely to cancel.
Support your confidence and mental health
A personal trainer can help you improve your overall wellbeing, physically and mentally. They will help you stay on track, start and keep healthy habits, and gain confidence and motivation as you improve your health.
Before hiring a personal trainer or beginning any exercise program, it's important to talk to your doctor about what exercise may be right for you, as well as ask about any limitations or risks you should know about.
How to choose a personal trainer
A personal trainer plays a big role in your physical and mental health, so you should be selective when hiring one. Some questions to ask include:
Where are you located?
Make sure their location is close or convenient to you.
What is your availability?
Their schedule should align with when you're willing and able to meet.
What are your qualifications/education?
A PT should have received both educational and practical fitness training.
Do you have references?
Ask for names, phone numbers, and/or testimonials of other clients they have worked with, especially if they share goals that are similar to yours.
What is the cost?
Trainers have different costs, so review the costs associated with their sessions and make sure it fits your budget.
What is your exercise philosophy and expertise?
Most PTs have general knowledge of all things fitness-related, but may also have specific areas of expertise informed by their training and experience.
Do you cater workouts for each client?
They should take time to understand your health history, potential risk factors, and physical needs to create a personalized plan.
Finally, you'll want to make sure the trainer's personality fits with yours. They should be motivating and encouraging, and you should feel comfortable and confident with them. Make sure their overall motivation style and demeanor meshes with your expectations.
Talk to your doctor
Before making any changes to your diet or exercise routines, it's always a good idea to talk to your doctor first. Not only do they have knowledge of your current health levels and what you can safely do, your doctor also knows how to make these changes safely.
Find a Medicare plan that covers physical trainers
It's FREE with no obligation
Speak with a Licensed Insurance Agent
M-F 9:00am-9:00pm | Sat 9:00am-3:00pm EST