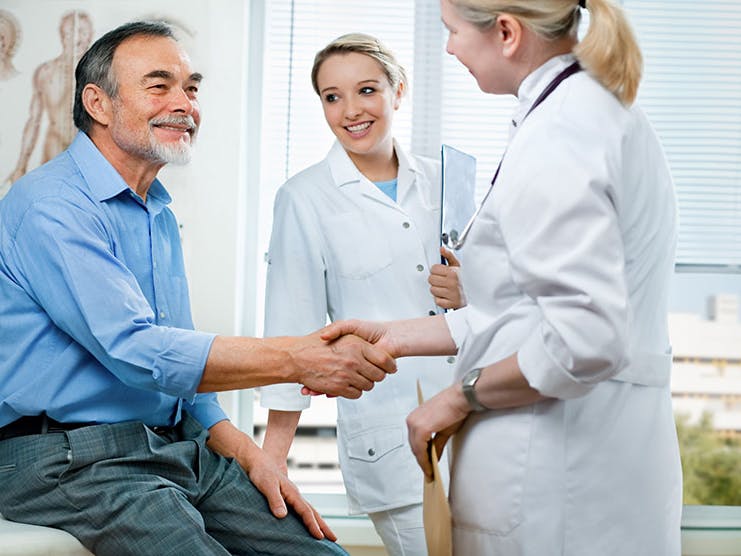 Instead of a yearly physical, Medicare covers the Annual Wellness Exam, which is intended to help you take control of your overall health and wellness.
Most of the time, Medicare only covers services and items that are considered "medically necessary" and that diagnose and/or treat medical conditions. Medicare also covers several preventive screenings and tests to help catch a chronic condition or illness early.
However, Medicare typically does not cover other types of visits, like an annual physical exam.
Medicare has different terms for physical exams, and restrictions and rules around what is and isn't covered. While assessments and screenings are often covered, physical tests and some exams are not. Or, they may have a co-pay, co-insurance, or deductible associated with them.
In this article, we help explain the difference between a physical exam and wellness exam, what happens at each, and what your options for coverage are.
What's the difference between a yearly physical and a wellness exam?
The difference between a yearly physical and an annual wellness visit comes down to what the doctor does at each.
A physical exam is more extensive and typically helps a doctor diagnose a problem when you're not feeling well or having a health concern. In contrast, an annual wellness visit is used each year to assess your overall health wellbeing.
Based on the findings during your physical exam, the doctor may order additional tests, screenings or exams. However, the goal of annual wellness visits is to create a personalized plan for caring for your health in the future.
While yearly physicals used to be very common, many healthcare providers are moving away from performing them because they often lead to unnecessary costs and tests, some of which aren't covered by Medicare.
Does Medicare cover a yearly physical?
No, Medicare does not cover a yearly physical. This is because this is a more extensive exam and may also include additional services that are not covered. These could be head and neck, lung, and neurological exams, or blood or lab tests. Each may have different costs depending on your Medicare coverage.
What happens during a physical exam?
During a physical exam, your doctor will examine different parts of your body to understand how you are feeling. Typically, they will:
Measure your height and weight
Take your blood pressure
Measure your body mass index, or BMI
Review your medical and family history
Assess your risk factors for diseases
Check vital signs, including looking into your eyes, ears, nose, and throat, and listening to your heart and lungs
Perform a head and neck exam
Perform a lung exam
Perform an abdominal exam
Perform a neurological exam
Test your reflexes
Depending on what they see, feel, or hear, the doctor may order additional tests to either discover or rule out other health concerns.
You can still choose to have an annual physical exam, but you must pay for all costs out-of-pocket.
Does Medicare cover wellness exams?
Yes, Medicare covers yearly wellness exams. When you sign up for Part B (medical insurance), a "Welcome to Medicare" preventive visit is covered once within the first year. Then, every 12 months thereafter, you're eligible for an annual wellness visit.
Both are $0 cost to you if you have Medicare Part B and your doctor accepts assignment, meaning they accept the Medicare-approved payment. The Part B deductible also doesn't apply.
It's important to know that when you're scheduling your Welcome to Medicare or annual wellness visit, you must ask for them by name. If you ask to schedule an annual physical, it likely won't be covered by Medicare and you'd have to pay the costs out-of-pocket.
What to expect from your Welcome to Medicare visit
During your Welcome to Medicare visit, or Initial Preventive Physical Examination (IPPE), your doctor will review your medical, social, and family history, and help educate you on preventive services you may need such as:
Preventive screenings and shots
Height, weight, and blood pressure measurements
BMI calculation
Vision test
Depression screening and mental health risks assessment
Preparing advance directives and end-of-life planning
Typically, you'll leave this visit with a written plan letting you know which screenings, tests, and other services are recommended for you.
prepare for the visit, be sure to bring any medical or immunization records, information about your family history, and a list of any prescriptions or over-the-counter drugs, vitamins, and supplements you take.
What to expect from your annual wellness exams
Once you've had Part B for at least 12 months, you can schedule a yearly wellness exam once every 12 months. These visits help you and your doctor develop and update a personalized wellness plan to help prevent certain conditions or diseases.
During this exam, your doctor will work with you to complete a Health Risk Assessment, which can help you both create a plan that's right for you. Your doctor may also:
Confirm your medical and family history
Discuss and record your current prescription medications
Measure and document your height, weight, and blood pressure
Perform a cognitive impairment assessment, which looks for signs of Alzheimer's disease or dementia
Check for depression and other mood disorders
Document and discuss your health risk factors and possible treatment options
Develop a screening checklist for preventive services recommended for you
The personalized prevention plan can help you understand what you need to do to prevent disease and disability based on your current health factors.
Depending on your general health and medical history, your doctor may also order additional tests, though an additional co-pay or the Part B deductible may apply.
Your exam can be performed by your doctor, a nurse practitioner, a certified clinical nurse, physician assistant, health educator, registered dietitian, or other health professional whom a doctor directly supervises.
Why you should get the annual Medicare Wellness Exam
The annual wellness exam helps you and your doctor create a plan to help prevent illness and disease based on your current health and risk factors. By reviewing your health, medical history, and risk factors, your doctor can recommend preventive services or screenings that can help keep you healthy as well as detect illness or conditions early.
Additionally, there's no out-of-pocket costs associated with the annual wellness visit.
Does Medicare Advantage cover an annual physical?
Medicare Advantage plans, or Medicare Part C, are sold by private insurance companies and are an alternative way to receive Medicare benefits. These plans cover everything Original Medicare Part A and Part B do and more, including a Welcome to Medicare visit and an annual wellness visit.
Many Medicare Advantage plans also offer additional wellness benefits to help you live a healthy and active life, such as an annual physical exam. They also may cover wellness programs, routine vision, dental and hearing care, and other benefits.
To learn whether an annual physical is covered, check your Explanation of Benefits or contact your plan. Note that you may have a co-pay for this exam, and your deductible may apply.
We can help you understand your Medicare options
Our licensed agents can help you understand your Medicare plan options. Just call us toll-free to get started.
Find a Medicare Plan in your area
It's FREE with no obligation
Speak with a Licensed Insurance Agent
M-F 9:00am-9:00pm | Sat 9:00am-3:00pm EST