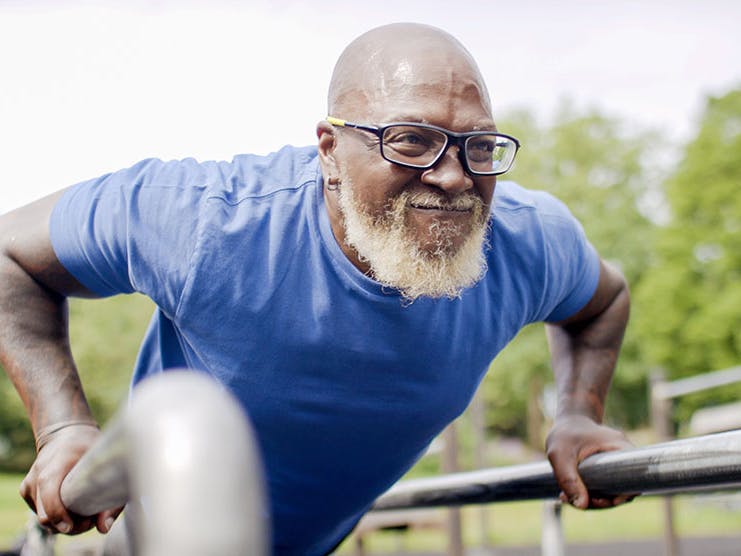 Medicare covers several preventive services that support healthy lifestyle changes like losing weight and quitting smoking.
With Medicare, you get lots of coverage for things like doctor's visits and diagnostic tests, but did you know Medicare also covers a host of wellness and preventive services? It's a valuable benefit because when it comes to health, an ounce of prevention really is worth a pound of cure.
"Most experts agree that a health-promoting lifestyle -- eating well, being active, not smoking -- can cut overall risk of heart disease by 80 percent, cancer risk by 60 percent, and diabetes risk by 90 percent," Dr. David Katz, director of the Prevention Research Center at Yale University School of Medicine, told ABC News.
Keep reading to learn how your Medicare plan can help you maintain a healthy weight, quit smoking, and even keep alcohol use from getting out of hand!
Quitting smoking
Ready to quit smoking once and for all? Congratulations! It's one of the best things you can do for your overall health, and Medicare can help.
Medicare Part B covers two quit attempts per year, and four counseling sessions per quit attempt. These sessions can take place face-to-face or via telemedicine and include both individual and group sessions. And since it's considered a preventive service, you pay $0 for these sessions.
Your healthcare provider may prescribe medication to help you quit smoking. If you have a Medicare Part D plan, it will include coverage for at least one smoking cessation medication.
Over-the-counter products like the nicotine patch or gum are not covered under Original Medicare. Coverage may be provided under some Medicare Advantage plans.
Losing weight
Although commercial weight loss programs, like WW and Nutrisystem, are not covered by Original Medicare, you'll find valuable coverage for some other weight management services.
Obesity counseling
Medicare Part B covers obesity screenings and behavioral counseling for people who have a body mass index (BMI) of at least 30. The counseling must be provided in a primary care setting by a qualified healthcare provider. This service also includes a diet assessment.
The goal of obesity behavioral therapy is to help you make lifestyle changes that promote weight loss.
Weight loss surgery
If your doctor deems it medically necessary and you meet certain requirements, Original Medicare covers three types of weight loss surgery. You should consult with your doctor to figure out the safest and best option for you.
We explain when Medicare covers bariatric weight loss surgery here.
Nutrition
Medicare helps support a healthy diet for people with diabetes by covering medical nutrition therapy. These sessions may include:
An initial assessment of your nutrition and lifestyle
Individual or group therapy
Help managing any lifestyle factors contributing to your diabetes
Follow-up visits to track progress
Nutrition therapy is also covered for people who have kidney disease or have had a recent kidney transplant.
Fitness plans
Fitness plans are covered with most Medicare Advantage plans. The three most common are:
SilverSneakers, which includes live online exercise classes, on-demand video workouts, a fitness app for your smartphone, and access to over 17,000 gym locations across the United States. Classes are designed specifically for people over 60.
Renew Active, which includes a free gym membership, personalized fitness plan, Fitbit Community with premium content, online brain health program, and incentives to help keep you on track.
Silver&Fit, which provides access to free daily workouts online, video on-demand workouts, home fitness kits, and over 15,000 fitness centers.
Medicare Advantage plans frequently offer broader coverage than Original Medicare. ClearMatch can help you figure out which Medicare plan is best for you.
Alcohol and substance abuse treatment
If you're struggling with substance abuse or alcohol dependency, Medicare can help you get clean and sober. Original Medicare covers both inpatient hospitalization and rehab and outpatient care, including individual and group therapy, family counseling, and medication management.
But Medicare can help even before you get to the point of a substance abuse diagnosis. Medicare provides coverage for an approach known as the Screening, Brief Intervention, Referral to Treatment (SBIRT) program. If you show early signs of unhealthy substance use, coverage is provided for early intervention.
By taking full advantage of your Medicare insurance plan, you'll be able to not only treat illness, but help ward it off, as well!
Do you have Medicare questions? We have answers.
When it comes to Medicare, one plan definitely does not fit all. At ClearMatch, it's our mission to match you to the policy that best serves your unique needs. It's all we do, and we do it better than anyone. Check out our extensive library of articles for answers to your Medicare questions. Or, compare plans in your area to get all the benefits you deserve.
Find a Medicare Plan in your area
It's FREE with no obligation
Speak with a Licensed Insurance Agent
M-F 9:00am-9:00pm | Sat 9:00am-3:00pm EST