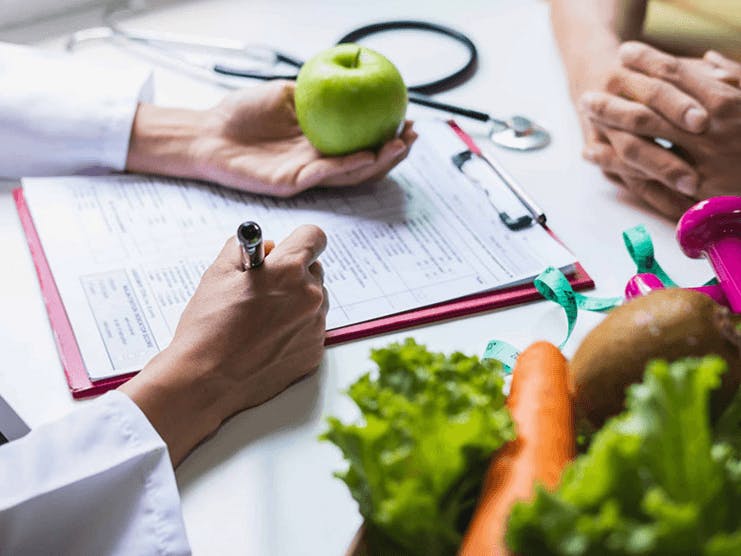 Medicare covers a variety of services to help you make healthy lifestyle changes.
If you have diabetes or kidney disease, or had a kidney transplant in the last 36 months, Medicare Part B (medical insurance) may cover medical nutrition therapy (MNT) services and other related services.
Following a healthy diet plan, making correct food choices, and improving your health by losing weight can all be difficult and seem overwhelming, but it can be even more difficult if you have diabetes or kidney disease. That's why MNT services are offered to those who meet the requirements and are on Medicare. MNT services help you better manage your conditions through dietary counseling and changes to your eating habits.
Are nutritionists covered by Medicare?
Nutritionists and dietitians are professionals that must meet certain requirements to provide nutrition guidance and information. Unless you meet specific qualifications, nutritionists and dietitians are generally not covered by Medicare. However, if you do meet the qualifications, Medicare will cover Medical Nutrition Therapy (MNT) for a certain period of time.
Medicare may also cover a nutritionist if a doctor refers you; however, some public hospitals offer free visits with nutrition experts and that may be a better option.
What is Medical Nutrition Therapy (MNT)?
During the nutrition therapy and counseling, the professional will assess your eating habits, lifestyle, weight and blood sugar levels, and work with you to develop an eating and/or weight loss plan that works for your life. They can help analyze your health needs and goals, and guide you in making the best nutrition choices. You also learn about what foods help reduce your risk of complications, and what foods to avoid.
Services that may be covered include:
An initial nutrition and lifestyle assessment
Individual and/or group nutritional therapy services
Help managing the lifestyle factors that affect your diabetes
Follow-up visits to check on your progress
Who is eligible for MNT?
According to recent billing data from Medicare, while about 15 million Medicare enrollees with diabetes or chronic kidney disease are eligible for MNT benefits, only about 100,000 recipients get the counseling. If you're enrolled in Medicare, MNT services and other related services may be covered by Part B if:
You have diabetes, or
You have kidney disease, or
You've had a kidney transplant in the last 36 months.
Talk to your doctor to learn if you're eligible and could benefit from MNT.
Because MNT is covered by Part B, if you only have Part A coverage, MNT services will not be covered and you will likely have to pay for all costs out-of-pocket.
Medicare MNT coverage
Typically, up to three hours of dietary counseling is covered during the first year, and an additional two hours of counseling per year in subsequent years. If your doctor says you need them, you may qualify for more hours.
Services are only covered if provided by a Registered Dietitian or nutrition professional who meets certain requirements set forth by Medicare.
These services can happen either in person, or through telehealth; however, your doctor is required to make a referral for you for the service and it must be medically necessary.
If you get kidney dialysis in a dialysis facility, MNT is covered by Medicare as part of your overall dialysis care.
Benefits of MNT
Specifically, you may learn:
Which foods can help maintain blood sugar levels
To follow eating guidelines to reach optimal cholesterol and blood lipid levels for heart health
To control high blood pressure
To plan healthy meals with nutritional foods, including how to track calories and nutrients
How to alter diet and lifestyle long-term
Which foods to eat (and avoid) to maintain a healthy weight
If you have diabetes, MNT services can help you learn self-management of your diabetes, and slow the rate of complications associated with the condition. If you have chronic kidney disease, MNT can help you learn how to slow the progress of the disease and reduce complications.
Is a nutritionist covered if overweight?
While Medicare won't cover a nutritionist or dietitian services if you're overweight or obese, Part B does cover obesity screenings and behavioral counseling if:
You have a body mass index (BMI) of 30 or more
Your primary care provider gives the counseling in a primary care setting, where they can coordinate your prevention plan with other care.
The screening and behavioral therapy sessions include a dietary assessment and counseling to help you lose weight by focusing on diet and exercise. If your primary care provider or other doctor accepts assignment, these services are free of charge.
Medicare pays for 100 percent of these costs per week for the first month, and for one meeting every other week for five months after that. If you lose at least 6.6 pounds during the first six months, Medicare may pay for one counseling session per month for another six months.
Other Medicare dietitian and nutrition coverage
Additionally, Part B may also cover other benefits related to diet, nutrition and weight loss, including:
Diabetes self-management training (DMST) helps you learn how to cope with and manage diabetes. Typically, this includes information and tips for healthier eating, being more active, monitoring your diabetes, taking medications and reducing your risks of complications.
Medicare will cover up to 10 hours of sessions, which includes one hour of individual training and nine hours of group training. In this case, the Part B deductible and coinsurance applies.
Weight-loss therapy, which is typically combined with obesity screenings and behavioral counseling (see above) if you meet certain qualifications.
Bariatric surgery, such as gastric bypass and laparoscopic banding surgery, if you meet certain medical conditions related to morbid obesity, it's deemed medically necessary, and you've tried other weight loss methods that have failed.
Nutritionist cost per visit
Unlike other services, the Part B deductible and coinsurance don't apply for MNT. You would pay nothing for these preventive services as long as the provider is a participating provider and accepts assignment, meaning they accept Medicare's approved amount as full payment. Medicare covers 100 percent of the cost.
If you have a Medicare Advantage plan, these services are also no cost. Copays, coinsurance, or other out-of-pocket costs do not apply.
Keep in mind that during the course of your MNT, your provider may discover or need to treat a new (or existing) problem. This additional care is considered diagnostic, and is not part of your covered MNT services. In this case, Medicare may bill you for any diagnostic care you receive. Deductibles and copays/coinsurance would apply.
Find a Medicare Plan in your area
It's FREE with no obligation
Speak with a Licensed Insurance Agent
M-F 9:00am-9:00pm | Sat 9:00am-3:00pm EST