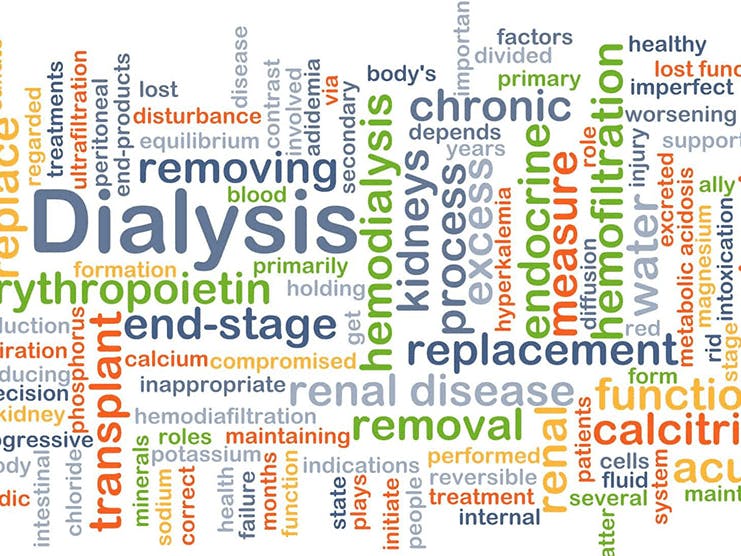 You can qualify for Medicare before turning 65 if you have end-stage renal disease (ESRD).
Not everyone who qualifies for Medicare does so because of age. You may be able to get Medicare before turning 65 if you experience kidney failure due to end-stage renal disease (ESRD). This is often referred to as ESRD Medicare to differentiate from those who age into the program or qualify due to disability.
This article looks specifically at how Medicare works for beneficiaries who qualify due to end-stage renal disease. We answer general questions about Medicare in our article: 15 Most Common Medicare Questions.
What Does Medicare Cover?
Whether you age into the Medicare program or qualify because of end-stage renal disease, the "parts" of Medicare – and what they cover – are basically the same.
Medicare Part A is also known as hospital insurance. It covers inpatient care received in a hospital or skilled nursing facility (SNF). It also includes hospice care and some home healthcare services.
Medicare Part B is sometimes called medical insurance. It covers outpatient services, such as doctor visits, lab work, and durable medical equipment (DME). Part B also includes some home healthcare and numerous preventive screenings and services, such as mammograms and yearly wellness exams.
Are You Eligible for ESRD Medicare?
To qualify for ESRD Medicare, your kidneys must no longer function. In addition, you must either need regular dialysis or have had a kidney transplant. Finally, one of the following must apply to you:
You worked the required amount of time (10 years or 40 quarters total) under one of the following: Social Security, the Railroad Retirement Board (RRB), or government office (local or federal)
You are eligible for or already receive Social Security or RRB benefits
If you are the spouse or dependent child of someone who meets one of these requirements, you also qualify for ESRD Medicare.
For more information about your eligibility, please call the appropriate entity. Social Security is available at 1-800-772-1213 (TTY 1-800-325-0778). You can reach the Railroad Retirement Board toll-free at 1-877-772-5772.
How Do You Sign Up for ESRD Medicare?
Medicare enrollment is through the Social Security Administration (SSA). People who age into the program may apply online here. However, if you qualify for Medicare because you have end-stage renal disease, you need to call or schedule an in-person appointment at your local Social Security office.
You may reach Social Security at the number listed above Monday through Friday from 8 AM to 5:30 PM. To find your local Social Security office, click here. Please note that local Social Security offices have been closed since March 17, 2020 due to the COVID-19 pandemic. As of October 2021, there is no word on when all offices will open to the public again.
Do You Need Medicare Part B?
Although signing up for Medicare Part B is optional, you won't receive the full Medicare benefits available if you only sign up for Medicare Part A. (Medicare Part B coverage includes regular dialysis.)
The standard monthly Medicare Part B premium is $164.90 in 2023.
When Does ESRD Medicare Coverage Begin?
Unlike those who qualify for Medicare due to age, if you have ESRD you could get up to 12 months of retroactive Medicare coverage. So, if you became eligible for ESRD Medicare in March but didn't apply until December, your coverage still begins in March.
When Does Medicare Coverage Begin if You're on Dialysis?
Typically, Medicare coverage begins in month 4 of receiving dialysis treatments – even if you didn't sign up for Medicare yet. So, if you began dialysis in March, your Medicare coverage begins on June 1. This is true even if you are currently covered by an employer group health plan (GHP). When you have this type of health insurance, your group plan pays for the first 3 months (assuming it covers dialysis) and Medicare kicks in beginning month 4.
Some people are covered the first month they receive regular dialysis treatments. To receive this coverage, two conditions apply. First, you must undergo training in home dialysis during those first 3 months. Said training must occur in a Medicare-certified facility. Second, your doctor must expect you to both complete training and be able to perform self-dialysis treatment in your home.
Please note that Medicare does not cover services that occur before your coverage begins. This includes surgery to prepare you for dialysis treatments. The exception is if you complete the home dialysis training, which moves your coverage start date to the month you begin regular dialysis. In this case, services that occur in that first month may be covered.
If you already had Medicare before qualifying due to ESRD, preparatory services like fistula placement are covered (assuming these services are ordered by your medical provider).
When Does Medicare Coverage Begin if You Need a Kidney Transplant?
Your Medicare coverage begins up to 2 months before your kidney transplant. This is true whether you have the transplant within 2 months of being admitted to a Medicare-approved hospital or your surgery is delayed for some reason. Examples:
Mrs. Jackson is admitted to the hospital on April 12 for a kidney transplant, but surgery is delayed until May 30. Her Medicare coverage still begins in April.
Mr. Ruiz is admitted for pre-transplant testing on March 3 for a surgery scheduled to occur on March 31. However, his transplant is delayed until July 9. This means that Mr. Ruiz's Medicare coverage will begin in May.
You can find more information about when coverage begins on Medicare.gov.
How Long Does ESRD Medicare Coverage Last?
If you only qualify for Medicare due to end-stage renal disease, your Medicare coverage ends either 12 months after your last month of dialysis or 36 months after a kidney transplant. Medicare coverage resumes if you need a kidney transplant within 12 months of stopping dialysis.
You'll also be covered again if, within 36 months of a kidney transplant, you need either dialysis or another transplant. And, of course, if you are age 65 or older, you'll still be covered by Medicare.
Prescription Drug Coverage if You Have ESRD Medicare
Most of the drugs you need for dialysis are covered by Medicare Part B. The same is true for medications required during a covered kidney transplant. For most other prescription medications, you need a Medicare Part D plan.
Your first chance to join a Medicare Part D prescription drug plan occurs during the 7-month period surrounding your Medicare eligibility date. This sign-up period begins 3 months before the month you become eligible and ends 7 months later. So, if you become eligible for ESRD Medicare in June, you have from March 1 through September 30 to join a Medicare Part D plan.
Prescription drug coverage begins on the later of the following two dates:
The day your Medicare coverage begins OR
The month following your request
Our Find a Plan tool makes it easy to compare your Medicare Part D plan options. Just enter your location and coverage start date to review Medicare plans in your area.
Can You Get Medicare Advantage if You Have End-Stage Renal Disease?
As of 2021, if you have ESRD, you can join a Medicare Advantage plan - even if you aren't yet 65 years old. You may also be able to find a Special Needs Plan (SNP) that caters to ESRD Medicare beneficiaries.
As with Part D, our Find a Plan tool makes it easy to compare Medicare Advantage plans in your area.
What Is the 30-Month Coordination Period?
The 30-month coordination period is for people who have end-stage renal disease and one of the following group health plans:
Job-based insurance
Retiree insurance
COBRA
In this case, you do not have to sign up for Medicare as soon as you become eligible. Your group health plan is your primary insurance for 30 months, starting the month you qualified for ESRD Medicare.
Please note that the 30-month coordination period start date depends on when you became eligible for Medicare – not the date you apply.
During this 30-month period, your group health plan is the primary payer and Medicare is the secondary payer. You don't have to sign up for Medicare (nobody HAS to sign up for Medicare). However, if you have any out-of-pocket costs under your GHP, you should consider enrolling in ESRD Medicare. Medicare benefits can help cover your group health plan's copays, coinsurance, and even deductibles during the coordination period.
It is vital that you tell your healthcare providers that you have a group health plan to ensure correct billing. Once the 30-month period ends, Medicare automatically becomes the primary payer. Talk to your plan's benefits administrator for details regarding which services your GHP will cover.
How Much Does ESRD Medicare Cost?
Medicare out-of-pocket costs may include monthly premiums, deductibles, coinsurance, and copays.
Few people have to pay a premium for Medicare Part A. For those who do, the standard premium is $506 per month. As mentioned earlier, the Medicare Part B premium is $164.90 in 2023.
How Much Does Dialysis Cost?
Part B usually pays for 80 percent of covered services, leaving you with a 20 percent coinsurance. Covered dialysis services include:
The equipment and supplies used to treat ESRD
Injectable, intravenous, and biological oral medications used in dialysis treatment
Lab services related to dialysis treatment
Home dialysis training
As with other services, your Medicare Part B coinsurance for the above items is 20 percent.
Dialysis costs are a bit different if treatment occurs in a hospital. If you're an inpatient, ESRD services are billed separately and Medicare Part A applies. As a hospital outpatient, Medicare Part B applies. Once you meet your yearly Part B deductible ($226 in 2023), your share is the standard 20 percent coinsurance.
Finally, if you participate in home dialysis training, your share is the usual 20 percent under Medicare Part B.
How Much Does a Kidney Transplant Cost?
Medicare Part A covers inpatient hospital care. Your out-of-pocket costs for Part A (in 2023) include the $1,600 deductible per benefit period, not per year. With Medicare Part A, the benefit period begins when you're admitted as an inpatient and ends once you go 60 consecutive days without receiving inpatient care.
Part A coinsurance is $0 for the first 60 days you spend as an inpatient. After that you'll pay:
$400 per day for days 61-90
$800 per day for days 91 through your lifetime reserve days (up to 60 if you don't have a Medigap plan)
100 percent of costs once you use up your lifetime reserve days
If you receive inpatient care in a skilled nursing facility, your costs are:
$0 for days 1 through 20
$200 per day for days 21 through 100
100 percent of costs for days 101 and on
If you have Original Medicare plus a Medigap plan, it will cover many of these out-of-pocket costs. Also known as Medicare Supplement Insurance, all plans cover the Part A and Part B coinsurance, your first three pints of blood in a transfusion, and give you an additional 365 lifetime reserve days.
Find a Medicare Plan in your area
It's FREE with no obligation
Speak with a Licensed Insurance Agent
M-F 9:00am-9:00pm | Sat 9:00am-3:00pm EST