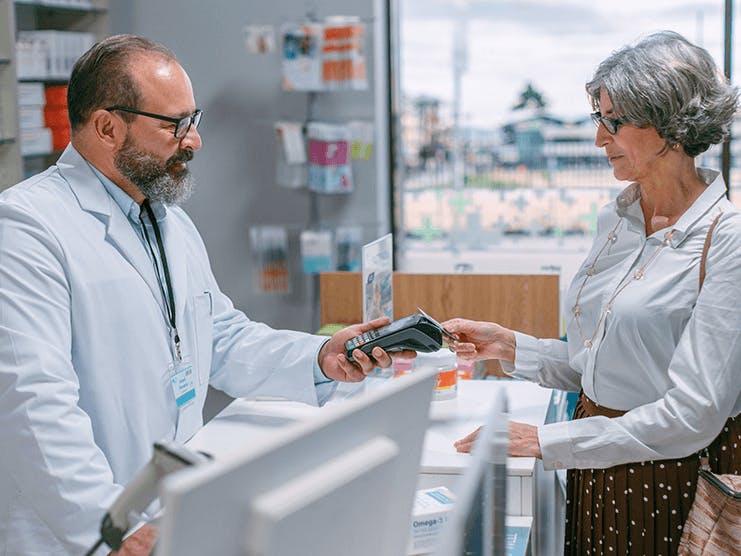 The main items to consider when choosing a Medicare Part D plan are total costs, coverage, and any plan restrictions.
When you're comparing Medicare plans, it's easy to get stuck on the monthly premium. But even if cost is your main concern, you need to look at a lot more than premiums to find the right prescription drug plan for you. There's also copays or coinsurance for your prescriptions, the drug formulary - and where your prescriptions land on it - and restrictions like step therapy.
On this page, we walk you through how to compare Medicare Part D plans, what medications they cover, and how to get Part D coverage.
What is Medicare Part D?
Medicare Part D prescription drug plans (PDPs), help cover the cost of prescription medications. Unless you have other creditable drug coverage, you should enroll in Part D when you first get Medicare. Otherwise, you may face coverage gaps or late enrollment penalties.
Part D also covers most vaccines, except those covered by Part B, to help you stay healthy.
Types of Part D plans
There are two ways you can get Part D prescription drug coverage:
Join a standalone Medicare Prescription Drug plan
Join a Medicare Advantage Prescription Drug plan (MA-PD)
When you purchase standalone prescription drug coverage, you will continue receiving Part A and Part B coverage through Original Medicare. These hospital and medical benefits will remain unchanged, but all of your prescription coverage will be provided by the standalone plan. You can also join a standalone PDP if you have a Medicare Advantage plan that doesn't include prescription drug coverage.
Medicare Part C plans (more commonly known as Medicare Advantage) offer everything Original Medicare does. In addition, around 90% provide additional benefits like prescription drug coverage. By joining an MA-PD plan, you will receive Part A, Part B, and Part D coverage through that plan.
Private insurance companies provide MA plans, so benefits and costs vary. But they typically include other coverage such as hearing, vision, and dental.
If you want to join an MA plan that offers Part D coverage, make sure you check the drug formulary (see below).
What drugs are covered by a Part D plan?
You'll find which drugs are covered by a plan by looking at its formulary. This is the list of all prescription drugs that are covered by the plan. Plans cover both generic and brand-name prescription drugs, and the formulary will include at least two drugs in the most commonly prescribed categories and classes to help ensure any drugs you'd need are covered.
In general, plans are required to cover almost all drugs within the classes of:
Anticonvulsants
Antidepressants
Antipsychotics
Cancer drugs
HIV/AIDS drugs
Immunosuppressants
While the formulary for a plan may not include the exact drug you need, in most cases a similar drug is available. You can work with your doctor or pharmacist to learn if another covered drug is available and will work for you. Your doctor can also help you submit an exception request to have your prescription covered.
You can usually view a plan's formulary on its website, or request a hard copy to be mailed to you.
Coverage rules
Sometimes, plans have coverage rules to make sure drugs are used correctly and only when medically necessary. These rules are in place to protect both the beneficiary and the plan.
Examples of coverage rules include:
Prior authorization: Sometimes, before a plan covers a specific drug, you must prove you meet certain criteria. It may also be required when a plan covers medications for certain medical conditions. If your provider believes it's medically necessary for you to have a particular drug, they can work with your plan to provide that authorization or request an exception. Talk to your plan to understand prior authorization requirements and if they apply to any medication you currently take.
Step therapy: In some cases, you may be required to try a certain, less expensive drug on the formulary before you can move up a "step" to a more expensive drug. This form of prior authorization helps keep your costs low. However, if your prescriber believes it's medically necessary for you to be on a more expensive step therapy drug without trying the less expensive option first, they can contact your plan to request an exception.
Quantity limits: For both safety and cost reasons, a Part D plan may limit the amount of drugs they cover over a certain period of time. However, your prescriber can work with the plan to get an exception if you need a higher quantity limit for your condition.
When comparing Part D plans, be sure to pay attention to any coverage rules and what any limitations might mean for you.
How much does Medicare Part D cost?
Your Part D costs will depend on the type of plan you get and whether you get Extra Help.
Monthly premium: Premiums will differ by plan, and if you have a higher income, you may have to pay more (known as the Income-Related Monthly Adjustment Amount, or IRMAA). The estimated average monthly premium for Part D standalone plans is $55.50 in 2024. The chart below shows your estimated Part D monthly premium based on your income, as reported on your IRS tax return.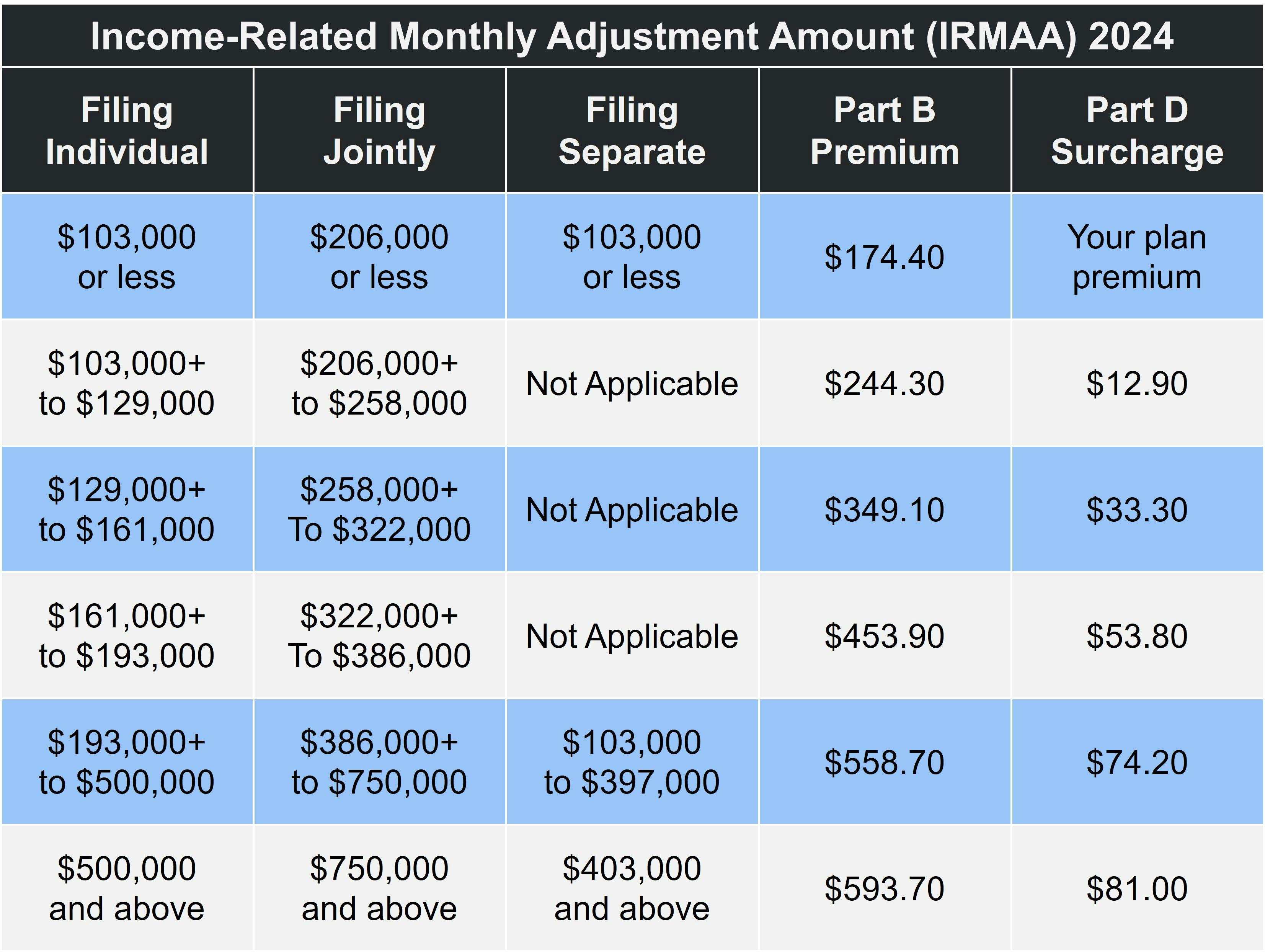 Annual deductible: Your deductible, or the amount you pay before your plan begins to pay its share of your covered drugs, can also vary by plan. Some drug plans don't have a deductible. However, the maximum deductible you'll pay is $545 (in 2024).
Co-pay/co-insurance: These costs will also vary depending on your plan. Most drug plans have different levels, or "tiers," of co-insurance and co-payments, with different costs for different kind of drugs. Your plan's tiers may be different, but in general:

Tier 1 – preferred generic prescription drugs, lowest co-payment
Tier 2 – non-preferred generics, preferred brand-name prescription drugs, medium co-payment
Tier 3 – non-preferred, brand-name prescription drugs, higher co-payment
Tier 4 – high-cost prescription drugs, highest co-payment
Part D and MA costs can change from year to year, so even if you are already enrolled in a plan, it's important to compare them each enrollment period to ensure you aren't paying more than you need to. If there is a better or less expensive plan available, you can switch during the Annual Enrollment period.
What is the donut hole?
Most Part D plans have a coverage gap, also known as the donut hole, which temporarily limits how much the plan will cover for prescription drugs. While not everyone will enter the coverage gap, it's important to be familiar with the limits and how much you and/or your plan will pay.
Once both you and your plan have spent $5,030 on covered drugs (in 2024), you enter the coverage gap. Once here, you'll pay no more than 25% of the cost for your plan's covered brand-name prescription drugs, though some plans offer lower costs. The discount comes off the price that your plan has set with the pharmacy for that drug.
Then, even though you're only paying maximum 25% of the price, almost the full price of the drug counts as out-of-pocket costs, which helps get you out of the coverage gap. Both what you pay and what the manufacturer pays (95% of the cost of the drug in total) counts toward your out-of-pocket.
To summarize, items that count toward the coverage gap include:
Your annual deductible, co-payments, and co-insurance
The discount you get on brand-name drugs while in the coverage gap
What you pay in the coverage gap
Items that don't count include:
Your plan's premium
The pharmacy dispensing fee
What you pay for drugs that aren't covered
To get out of the coverage gap, your out-of-pocket spending must meet $8,000 (in 2024). Talk to your plan to understand your plan's coverage or review your Explanation of Benefits (EOB) for more information.
What is Extra Help?
Extra Help is a program designed to help those with limited income and resources. It helps pay for drug costs such as:
Premium
Deductible
Co-insurance
You must meet certain eligibility requirements to qualify. Contact Medicare to learn if you qualify and to learn about the documents or information you need to provide to prove your eligibility. For example, you may need to provide proof you have Medicaid and live in an institution, your automatic enrollment notice from Medicare, or Notice of Award from Social Security.
How to compare Part D options
Our Find a Plan tool makes it easy to shop for and compare prescription drug plans (both standalone and MA-PD) as well as Medigap plans. Just enter your zip code and any prescriptions you take to review Medicare plans in your area.
You have the option to enroll in the plan, compare it to others, or get additional plan details such as:
Tier drug costs
Gap coverage
Plan contact information
Details around star ratings
You can also call us toll-free to speak to a licensed Medicare agent. They'll answer your questions and explain your options.
Other things to look at when comparing plans include:
Standalone vs. MA plan. With standalone coverage you still get Part A and Part B from Original Medicare, while with an MA plan you get all coverage through that plan. If you're considering an MA plan, be sure to look at all the plan's coverage and benefits, as well as costs, to ensure it works for your needs.
Formulary. When choosing a plan, first look at the plan's drug formulary. Make sure any drugs you currently take are covered in the formulary at a tier that is affordable to you. Talk to your doctor or pharmacist about any drugs you may need in the future, such as for a chronic condition, and ensure those are covered as well.
In-network pharmacies. You'll pay less if you get your prescriptions filled and re-filled at an in-network pharmacy vs. an out-of-network pharmacy. If you have a pharmacy you currently use and don't want to change, make sure it's in-network. If not, check to see if there are in-network pharmacies near you or if the plan offers mail-order prescription fills.
Cost. Your actual prescription costs will vary depending on whether your prescriptions are on your plan's formulary, what tier the drug is in, which drug benefit phase you're in, which pharmacy you use, and whether you get Extra Help. However, make sure the premium, deductible, and co-pays and co-insurance are costs you can afford and are comfortable with.
Multi-state coverage. If you live in more than one place during the year, it's important for your plan to offer coverage in both places.
Star ratings. Look at the plan's rating, reviews, and customer service options available to you.
Specifically, you may want to look for drug plans that offer coverage in the coverage gap, no or a low deductible, or plans with tiers that charge $0 or low co-payments for generic prescriptions. To keep costs low, also look for plans that have a low monthly premium. Additionally, consider initial coverage or out-of-pocket limits.
If you'd also like additional benefits and want your health care and drug coverage from the same plan, you may want to choose a MA plan with prescription drug coverage.
How to apply for Medicare Part D
You can enroll in Part D coverage during a few specific times during the year, including:
Your Initial Enrollment Period (IEP), which is three months before the month of your birthday, the month you turn 65, and the three months after
A Special Enrollment Period (SEP) such as if you lose creditable drug coverage from elsewhere, move outside of your plan's area, or qualify for Extra Help
The Annual Enrollment Period from October 15 to December 7 each year where you can join a plan for the first time, switch from Original Medicare to a MA plan, switch from an MA plan to another MA plan, or switch from one Part D plan to another Part D plan
The General Enrollment Period from January 1 to March 31 each year if you missed your IEP or SEP deadline
There is also the Medicare Advantage Open Enrollment Period, which runs every year from January 1 through March 31. If you already have a Part C plan, you can change to a new MA plan or return to Original Medicare. But, if making that change results in you losing your prescription drug coverage, you can also join a standalone Part D plan.
Additional resources
Find a Medicare Plan in your area
It's FREE with no obligation
Speak with a Licensed Insurance Agent
M-F 8:00am-10:00pm | Sat 9:00am-6:00pm EST