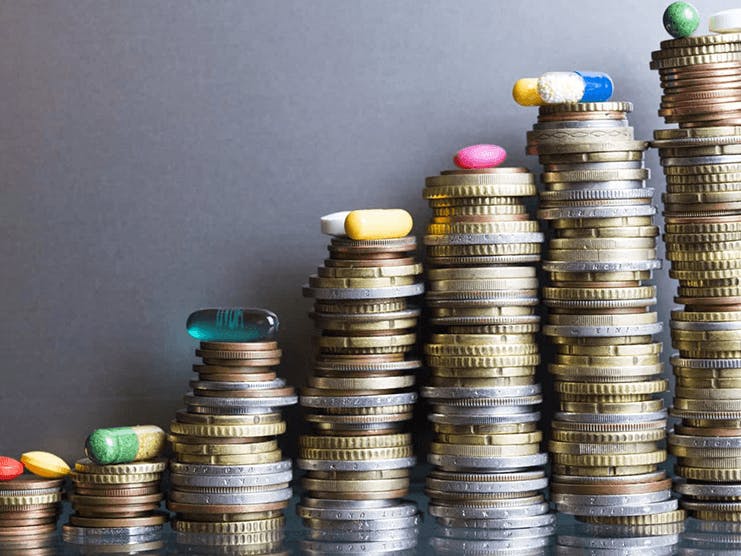 Whether you have prescription drug coverage through Part D or a Medicare Advantage (MA) plan, your drug formulary likely includes tier pricing. This can be confusing. But until you understand how drug tier pricing works, you can't accurately estimate your prescription costs.
What is a drug formulary?
A drug formulary is the list of prescription drugs covered by your plan. It includes both generic and brand name medications.
A committee of healthcare professionals choose the medications to include the formulary. This panel includes doctors, nurses, clinicians, and pharmacists working independently from your insurer. The group meets periodically throughout the year to review updated information from the FDA, clinical trials, and feedback from physicians on the safety and efficacy of medications.
What are drug tiers?
Medications from the drug formulary are placed on tiers. The lowest tier has the lowest prices, with costs rising along with the tiers.
Many Medicare prescription drug plans use a four-tier system. However, since the plans are offered by private insurers, you also find five- and six-tier systems.
As stated, the first tier contains the lowest priced medications, so this is where you find generic prescriptions. Tier 2 should have a mixture of generic and preferred brand name drugs.
You find higher cost brand name drugs on Tier 3, and probably some specialty prescriptions. Tier 4 is where you find prescriptions with the highest cost – mostly specialty drugs.
On five- and six-tier systems, the first tier is preferred generics. Tier 2 will have non-preferred generics, and on up as in the four-tier formulary.
How are drugs priced on the tiers?
Prescription drug pricing varies according to the insurer. However, generally speaking, you pay either a co-pay, which is a set dollar amount, or co-insurance, which is a percentage of the drug cost.
The price you pay on each tier also depends on how many tiers the formulary has. For example, the drugs on Tier 1 in a four-tier system typically cost between $10 and $25. However, the Tier 1 medications on a five- or six-tier formulary are more likely to cost $3 to $5.
Below is an example of pricing and prescriptions included in a five-tier formulary.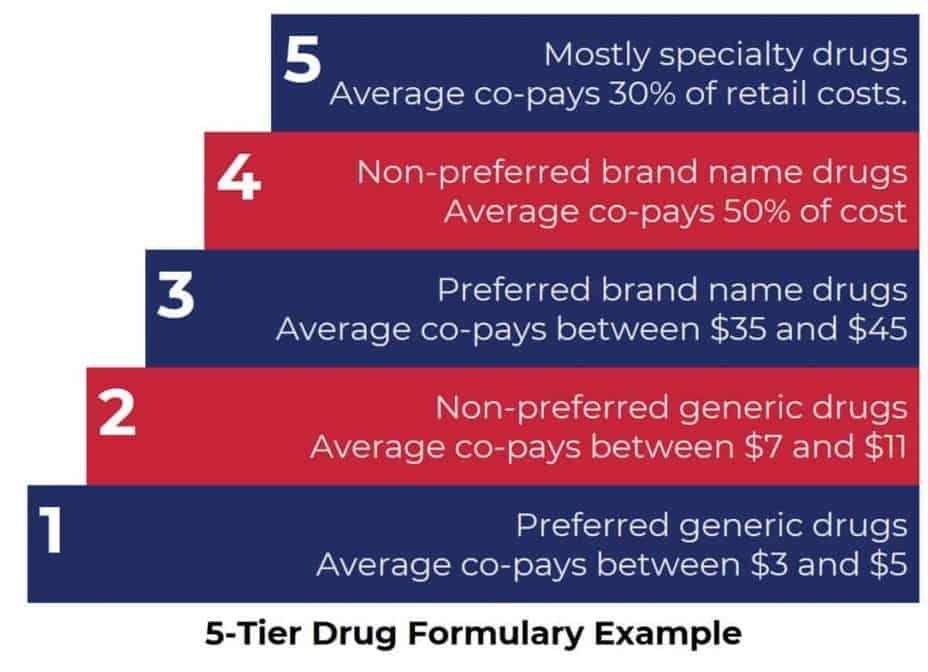 Many plans charge a flat co-pay for drugs on lower tiers and a percentage of the drug's cost for medications on the top tier. Check your plan for particulars about pricing.
Your plan may also have a yearly deductible. Typically, that means you must pay 100 percent of the cost of your prescriptions until you meet your yearly deductible. After that, your plan begins paying its share of the cost for your medications.
Other prescription drug plan restrictions
In addition to the formulary and tier pricing, your insurer may place other restrictions on coverage. The most common are step therapy and prior authorization.
Step therapy requires you to first try a medication on one of the lower tiers before your plan covers the prescribed drug (assuming the prescribed drug is on an upper tier). Prior authorization requires your doctor to obtain permission from your plan before prescribing a particular medication.
Your PDP may also have a preferred provider network, which is a list of pharmacies where you get lower prices. They may also encourage mail order prescription refills, as well as 90-day supplies. To understand all of your PDP's requirements, review your plan's website.
Why do PDPs have these restrictions?
The goal of drug formularies, tier pricing, and other restrictions is to help lower costs for both you and your insurance company. 
The reality is that the majority of patients respond just as well to medications on the lower tiers. Of course, if you're one of the people who truly needs that specialty drug or other higher-tier medication, it may feel like your insurance company is making you jump through unnecessary hoops.
If this last point describes you, ask your doctor to advocate for you. Often, a written request from your provider that describes why you need a particular drug allows you to bypass some restrictions.
Most Medicare-approved providers have a working knowledge of the formulary and prescribe medications based on that knowledge. However, you may want to print your insurance company's drug formulary. This makes it easy for you to verify coverage for new medications.
What happens when the formulary changes?
Insurance companies add and remove medications from the drug formulary throughout the year, not just during Annual Enrollment. That means that you may suddenly discover a medication you've taken for years is no longer covered.
Don't panic.
Most Medicare drug plans provide beneficiaries a 60-day supply of their medication, which should allow you time to change your prescription. But, this is one more reason you need to read everything your plan sends you. Once your plan notifies you of a change to the formulary, you can't claim ignorance later.
Saving money on your prescriptions
The easiest way to save money on your prescriptions is to follow your plan's rules. And understanding your PDP's drug formulary, tier pricing, and other restrictions is the first step toward working within those guidelines.
You can also save money by comparing your prescription drug plan options. Our online Find a Plan tool makes it easy to compare plan options in your area. Just enter your zip code and county. Then, select a coverage start date and hit Continue.
Find a Medicare Plan in your area
It's FREE with no obligation
Speak with a Licensed Insurance Agent
M-F 9:00am-9:00pm | Sat 9:00am-3:00pm EST