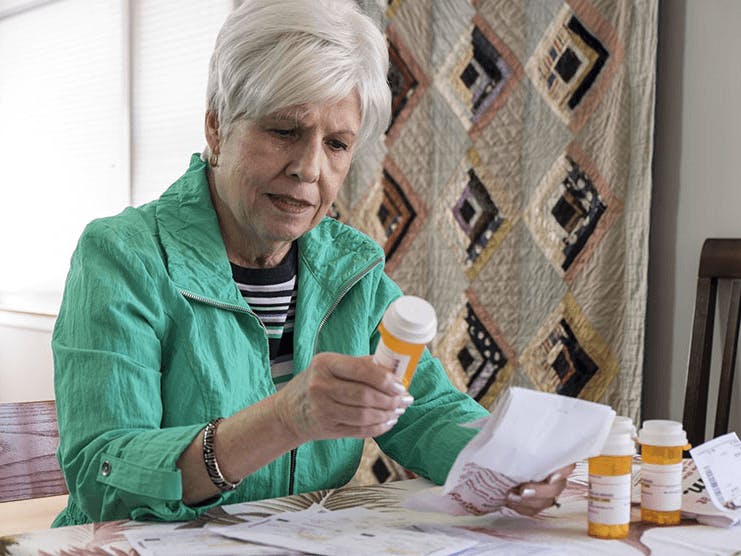 Your Medicare Part D costs may include a yearly deductible, monthly premiums, and co-pays or co-insurance.
Medicare Part D prescription drug plans (PDP) provide coverage for prescription medication, which isn't provided by Original Medicare. If you have Original Medicare and want to make sure that your prescription drugs are covered, Part D plans are your best bet. These prescription drug plans are offered by private insurance companies, so they work a little differently from Original Medicare.
Because these plans are offered by private companies, the costs can vary. Although we can't tell you exactly how much Part D prescription drug coverage will cost for you, there is plenty of important information that is useful for understanding how much you can expect to pay.
Part D out-of-pocket costs
Medicare Part D plans will vary with respect to which out-of-pocket costs you are required to pay. Like most insurance plans, you will have an annual deductible (the deductible amount cannot be higher than $505 in 2023), and most likely a copay that you have to pay each time you pick up your medication. Some plans may have a percentage-based coinsurance as well. All of this will be standard if you've dealt with insurance plans in the past.
The important thing to look at when you analyze the coverage details of your plan is the formulary. A formulary is a list of drugs that are covered by that plan, and there are usually tiers of levels of coverage included. Drugs at higher tiers will cost more, and the tier structure will vary from plan to plan.
When it comes to understanding out-of-pocket costs for your plan, make sure to not only look at your deductible and copayments. Understanding the formulary in detail can give you a better understanding of the overall prescription drug costs for that plan.
How much do Part D monthly premiums cost?
Unlike Parts A and B of Medicare, the Part D premium will vary between plans. The average base level Part D premiums come out to around $40 to $50 per month. However, because these plans are offered by private insurance companies, your plan could cost significantly more or less than this plan, and have a deductible higher or lower than the average as well. This number should simply be used to get a base-level understanding of cost going into your search.
Income-Related Monthly Adjustment Amount (IRMAA) premium costs
Part D plans have an income-adjusted additional monthly cost associated with them. This means that in addition to your basic premium, which you will pay to the insurance company, you will also have an additional fee, which will be paid to federal government.
If you earned under $97,000 ($194,000 for married filing jointly) in the relevant tax year, you will simply pay your premium as is.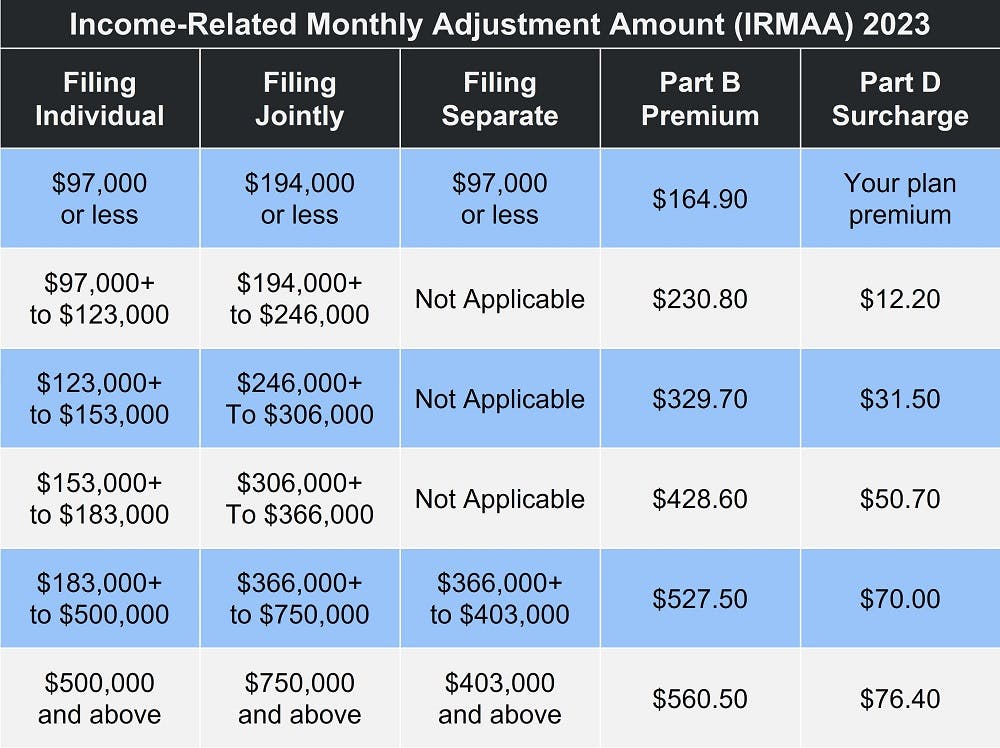 If you filed a joint tax return, or a married and separate tax return, then your numbers will vary. You can find the full details on medicare.gov.
These fees will be paid every month that you pay your premium. If your income goes down in the following year, then your additional payment will go down as well, once your taxes are filed.
Costs in the coverage gap
The Medicare Part D coverage gap, sometimes called the "donut hole", refers to a possible situation in which your coverage is limited, and then returns. This situation can be somewhat complex, so let's break it down step by step.
The basic idea behind the coverage gap is that you pay for drugs at a discounted rate, but the full cost of the drug is considered an out-of-pocket cost, even though you don't actually pay for it fully out-of-pocket. This means that you can reach catastrophic coverage sooner, at which point your coverage returns.
Once you and your plan combined have spent $4,660 on covered medications in one calendar year, you will enter the coverage gap.
In the coverage gap, you will pay 25 percent of the cost of brand-name drugs, and your plan and the manufacturer will pay the rest. However, the full amount of the drug will count as an out-of-pocket cost. For example, if your monthly prescription costs $100, you will pay $25 out-of-pocket, but get $100 closer to catastrophic coverage.
When it comes to generic drugs, the rules are a bit different. You still pay just 25 percent of the cost out-of-pocket, but Medicare pays the rest, not your insurance company. Very importantly, only the 25 percent that you pay out-of-pocket will count as out-of-pocket. So, you will reach catastrophic coverage more slowly.
Making sure you get the discount
If you think you were supposed to receive the coverage gap discount, but paid full price, make sure to request the Explanation of Benefits (EOB) from your pharmacy. These can be tricky to understand, so try to get in touch with them directly or your insurance company so they can check if the discount was applied or not.
Extra Help for Medicare prescription drug plans
Part D recipients can apply for additional financial resources through the Extra Help program. You may hear this program referred to as the Part D Low-Income Subsidy (LIS). If you have a limited income, you can check your Extra Help eligibility through Social Security. This program provides several thousands of dollars in aid per year, and can significantly reduce the cost of your Part D health insurance.
Extra Help requirements will vary by state and by plan, and each plan may have different documentation that they require from you. This can include notices from Social Security or from Medicare, as well as proof of your enrollment in Medicaid. The best way to check on this is simply to contact your plan directly and ask them what documentation you need to send over.
You can find out more information about Extra Help guidelines here, as well as more information about qualifications here.
Can Medigap plans help?
Medigap plans, also known as Medicare Supplement plans, are a popular way to lower the out-of-pocket costs for Medicare Part A and Part B. These plans don't directly cover health care or drug costs, but just out-of-pocket costs, such as the Medicare Part B deductible and coinsurance. There are many plan options available, but none of them cover any out-of-pocket costs related to Part D. Although Medigap may help you lower your overall health insurance cost, it won't directly impact your Part D costs.
Restrictions for Medicare Advantage
If you have Medicare Advantage (Part C), your prescription drugs may already be covered. If your current plan covers prescription drugs, you will not be allowed to purchase a Part D prescription drug plan. You can only purchase these plans if you have a Medicare Advantage plan that doesn't cover medications, or Original Medicare.
Where to go next with Part D
Because Part D is offered privately, it's significantly more complex than Original Medicare. This makes understanding the cost of Part D even more important. If you understand how to look at formulary tiers, as well as how the coverage gap may impact you, then you should be in a good position to start looking at plans in more detail. These are the two things that make Part D plans stick out, and aside from this it mostly functions as standard insurance, and shouldn't pose much of a problem so long as you stay informed.
Our Find a Plan tool makes it easy to compare your Part D options. You can also call us toll-free and one of our licensed agents will answer your Medicare questions in plain English.
Find a Medicare Plan in your area
It's FREE with no obligation
Speak with a Licensed Insurance Agent
M-F 9:00am-9:00pm | Sat 9:00am-3:00pm EST