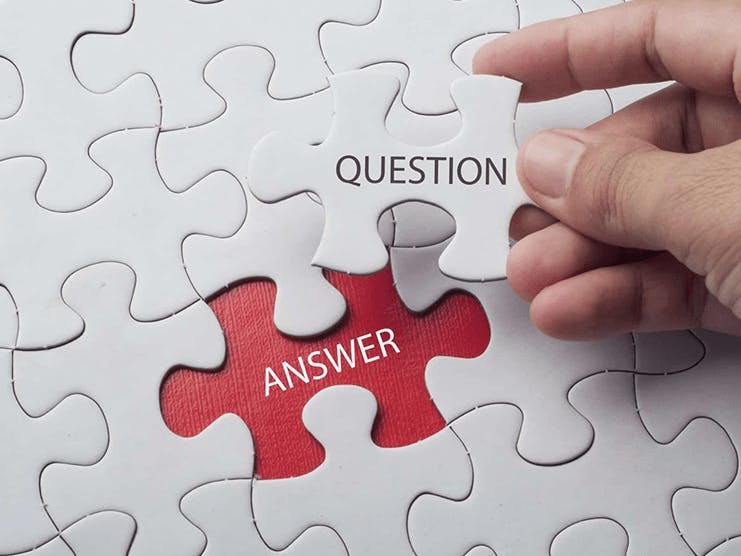 If you're like most people, you probably have a lot of Medicare questions.
On this page, we answer the 15 most common Medicare questions we receive. Think of it as a Medicare crash course.
Our Find a Plan tool makes it easy to compare your options. Just enter your location and coverage start date to begin reviewing Medicare plans in your area.
1. Who Is Eligible for Medicare?
American citizens and permanent legal residents age 65 or older qualify for Medicare. You may also be eligible for Medicare before turning 65 if you:
Qualify for disability benefits from either Social Security or the Railroad Retirement Board (RRB) for 24 months
Have amyotrophic lateral sclerosis (ALS), commonly known as Lou Gehrig's disease
Have end-stage renal disease (ESRD)
The only people who are automatically enrolled in Medicare are those who were collecting Social Security or RRB benefits before they became eligible. Everyone else must choose to sign up for Medicare.
Please note that, even if you were automatically enrolled in Medicare Parts A and B (Original Medicare), you must choose to sign up for Medicare Part D prescription drug coverage.
2. When Should I Sign Up for Medicare?
The best time to sign up for Medicare is during your 7-month Initial Enrollment Period (IEP). It starts 3 months before you become eligible for Medicare and ends 3 months after your eligibility month.
If you began receiving Social Security benefits at least 4 months before your 65th birthday, you'll be automatically enrolled in Parts A and B and should receive your Medicare card in the mail. You should still take advantage of your IEP, though, to compare your Medicare plan options. Remember, only enrollment in Parts A and B is automatic. You need to sign up for a Part D prescription drug plan.
This is also when your Medigap Open Enrollment Period (OEP) takes place. It lasts for 6 months, beginning the day you are both age 65 or older AND enrolled in Medicare Parts A and B.
If you aren't yet 65 years old and qualify for Medicare due to a disability, you still get an IEP once you're enrolled in Parts A and B. This occurs automatically during month 25 of collecting Social Security disability benefits. As with over-65 beneficiaries, this is the time join a Part D or Medicare Advantage plan.
3. How Do I Apply for Medicare?
You sign up for Medicare through Social Security. There are three options:
Online: This is the quickest, easiest way to apply for Medicare. It takes less than 10 minutes and is available 24 hours a day, 7 days a week. Click here for the online application.
Phone: You can call Social Security at 1-800-772-1213 (TTY 1-800-325-0778). Representatives are available Monday through Friday from 8:00 until 5:30.
In person: This option is currently unavailable due to the COVID-19 pandemic. As of July 30, 2020, there has been no announcement of when local Social Security offices would reopen. Use the Social Security Office Locator for details.
You can also contact Medicare at 1-800-MEDICARE (633-4227) or TTY 1-877-486-2048 with further questions.
4. Do I Have to Sign Up for Medicare If I Have Employer Insurance?
First, you never "have to" sign up for Medicare. Most people choose to because Medicare coverage is pretty good and less expensive than most other types of health insurance. And while you don't have to sign up for Medicare, you do face significant late enrollment penalties if you don't qualify for a Special Enrollment Period (SEP) when you do finally join.
You can usually only avoid those penalties if you either sign up for Medicare or have creditable coverage elsewhere. If you have medical insurance through an employer (yours or your spouse's), that coverage is only considered creditable if the company employs 20 or more people.
5. What Does Medicare Part A Cover?
Medicare Part A is also known as hospital insurance because it covers inpatient care received in a hospital. Part A also covers:
Skilled nursing facility (SNF) care following a qualifying hospital stay (3+days)
Hospice care
Inpatient psychiatric and mental health care
Inpatient rehabilitation
Some home healthcare services
6. How Much Does Medicare Part A Cost?
The most common Medicare Part A costs are the deductible and coinsurance.
The Medicare Part A deductible is $1,600 per benefit period in 2023. A benefit period starts the day you are admitted as an inpatient and ends once you go 60 consecutive days without receiving inpatient care.
Medicare Part A coinsurance varies according to how long you spend in the hospital as an inpatient:
Days 1-60: $0
Days 61-90: $400/day
Days 91 through 60 lifetime reserve days: $800/day
Most people do not have to pay a monthly premium for Part A, because they or their spouse paid Medicare taxes for at least 10 years. The standard Medicare Part A premium is $506 per month in 2023.
7. What Does Medicare Part B Cover?
Medicare Part B covers inpatient, medically-necessary services, including:
Doctor visits
Preventive care, such as yearly wellness exams, flu and pneumonia shots, and certain preventive screenings, like mammograms and prostate exams
Durable medical equipment (DME), including wheelchairs, walkers, oxygen equipment, and diabetes care
The list of covered Part B services is extensive. Medicare.gov offers a more comprehensive list.
8. How Much Does Medicare Part B Cost?
Medicare Part B costs include:
Annual deductible: $226
Monthly premium: $164.90
Part B co-insurance: 20 percent of the Medicare-approved cost
If you go to a non-participating Medicare provider, they may charge up to 15 percent more than the Medicare-approved amount. Generally, you will be responsible for additional charges.
9. What Are Late Enrollment Penalties?
To encourage people to sign up as soon as they become eligible, Medicare charges late enrollment penalties.
The Medicare Part B late enrollment penalty is 10 percent for every year you delayed Part B enrollment and did not have creditable coverage elsewhere. So, if 12 months pass, your penalty is 10 percent, 24 months equals 20 percent, and so on. You pay this penalty for the entire time you have Medicare Part B.
The Medicare Part D late enrollment penalty starts accruing once you go 63 days without creditable drug coverage. The penalty is 1 percent of the national base beneficiary premium for every month you did not have creditable drug coverage, rounded to the nearest dime. If you go 26 months without creditable prescription drug coverage, the calculation looks like this:

Like Part B, you owe this penalty for the entire time you have Medicare Part D.
10. What Is Medicare Part C?
Medicare Part C is more commonly known as Medicare Advantage (MA). These are medical insurance policies similar to the health plans many Americans have through an employer.
Private insurance companies offer Medicare Advantage plans. Every plan must provide the same benefits as Original Medicare (minus hospice coverage, which is still courtesy of Part A). However, Advantage plans are not limited to this coverage and more than 90 percent of them offer additional benefits as well.
There are four main types of Medicare Advantage plans:
Health maintenance organization, or HMO
Preferred provider organization, or PPO
Private fee-for-service, or PFFS
Special needs plans, or SNPs
Most MA plans use a provider network that may include doctors, nurse practitioners, labs, hospitals, medical suppliers – virtually any entity that provides healthcare services.
If you have Medicare Parts A and B, you're eligible for Medicare Advantage.
11. What's the Difference Between Original Medicare and Medicare Advantage?
Original Medicare includes Parts A and B. It is a federally-run health insurance program accepted by over 90% of non-pediatric primary doctors. You don't have to worry about provider networks or referrals to see a specialist, and your coverage travels with you across the country. Original Medicare has no annual out-of-pocket limit, but you can join a Medigap plan to cover some or even all of your out-of-pocket costs. Original Medicare does not cover many commonly needed services, including prescription drugs, vision, dental, and hearing aids. You can get prescription drug coverage with a Part D plan. For other coverage, you'll need to buy ancillary insurance if you want to keep Original Medicare.
Medicare Advantage plans are offered by private health insurance companies. They include the benefits you get with Parts A and B (Original Medicare) but most offer additional coverage as well. Common benefits include prescription drug coverage, routine eye exams, prescription lenses, dental care, and hearing aids. MA plans also have an annual out-of-pocket max, protecting you from exorbitant medical bills.
Most Advantage plans use provider networks and will not cover you for care received outside your network. In addition, there are few MA plans that follow you across the country. Finally, even if you join an Advantage plan, you still owe the Medicare Part B premium.
12. What Is Medicare Part D?
Medicare Part D provides prescription drug coverage to Medicare beneficiaries. You have two options to get Part D coverage:
A standalone Medicare Part D prescription drug plan (PDP)
A Medicare Advantage Prescription Drug plan (MA-PD)
Around 90 percent of Advantage plans include prescription drug coverage. If your plan does not, you may join a standalone Part D plan, just as Original Medicare beneficiaries do.
As with Part C, Medicare prescription drug plans are sold by private insurance companies. Plan benefits and costs vary according to which plan and provider you choose.
When comparing your plan options, always take time to review the drug formulary. This is the list of prescription medications covered by the plan. If it doesn't include one or more of your prescriptions, you should keep looking until you find a plan that does.
13. What Is the Medicare Part D Donut Hole?
The Part D coverage gap, commonly known as the donut hole, is one of the most misunderstood aspects of Medicare. The donut hole closed completely in 2020, but that only seems to have exacerbated the confusion.
Simply put, the donut hole was one of the phases of Medicare Part D. That phase remains (the coverage gap phase). However, the amount you pay while in the coverage gap is the same as what you paid before it. Namely, 25 percent of the prescription drug's cost. It became known as the donut hole because, in the early days of Part D, you had to pay 100 percent of your prescription drug costs once you reached the coverage gap phase. You only entered the catastrophic coverage phase if your out-of-pocket spending hit a certain threshold, which changed every year.
The Affordable Care Act included provisions to reduce the amount beneficiaries paid out-of-pocket during the coverage gap phase. That process was complete by 2020. The following graphic describes the cost-sharing model during each phase of Medicare Part D.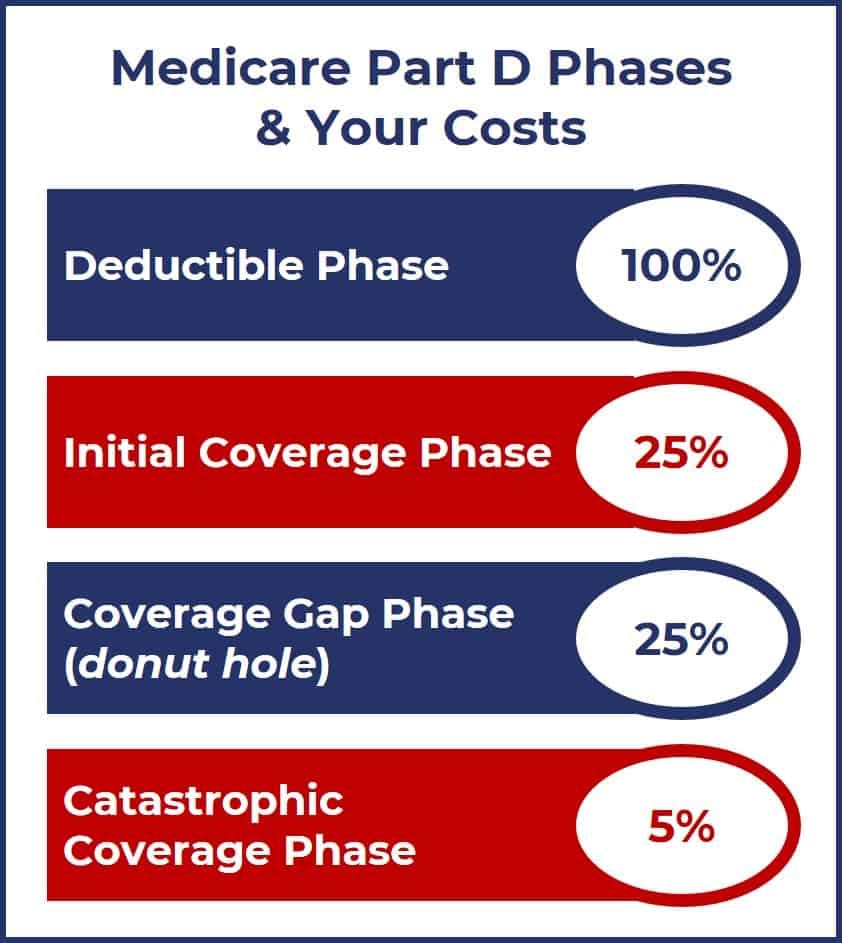 14. What Is Medigap?
Medicare Supplement Insurance, commonly known as Medigap, helps cover some of your Medicare costs. The plans are sold by private insurance companies under state and federal guidelines. You can only have Medigap if you have Original Medicare (Parts A and B).
There are 10 standardized Medigap plans, each represented by a letter (A, B, C, D, F, G, K, L, M, and N). "Standardized" means that every Plan A provides the same benefits no matter where you live or who your insurance company is. The same is true for Plans B, D, G, etc.
Two Medigap plans are no longer available to beneficiaries who qualified for Medicare on or after January 1, 2020. Those are Medigap Plan C and Medigap Plan F. The change is due to a new federal law that forbids Medicare Supplement plans from paying the Medicare Part B deductible. You can get the same coverage as Plans C and F, minus the Part B deductible, with Medigap Plan D or Medigap Plan G.
Medigap applications go through a process called medical underwriting. This involves the applicant (you) answering a series of questions about your medical history, age, and personal lifestyle habits like smoking. Medigap insurers use medical underwriting to decide whether to offer you a policy and at what rate.
15. When Should I Buy a Medigap Plan
The best time to join a Medigap plan is during your Medigap Open Enrollment Period (OEP). It lasts for 6 months, starting the day you're both age 65 or older AND enrolled in both Medicare Part A and Medicare Part B.
Your Medigap Open Enrollment Period is one of the few times you have guaranteed issue rights to a Supplement plan. During this 6-month period, you cannot be denied a policy nor charged more for it, even if you have preexisting medical conditions. If you do not have a guaranteed issue right, your application goes through medical underwriting as described above.
Find a Medicare Plan in your area
It's FREE with no obligation
Speak with a Licensed Insurance Agent
M-F 9:00am-9:00pm | Sat 9:00am-3:00pm EST