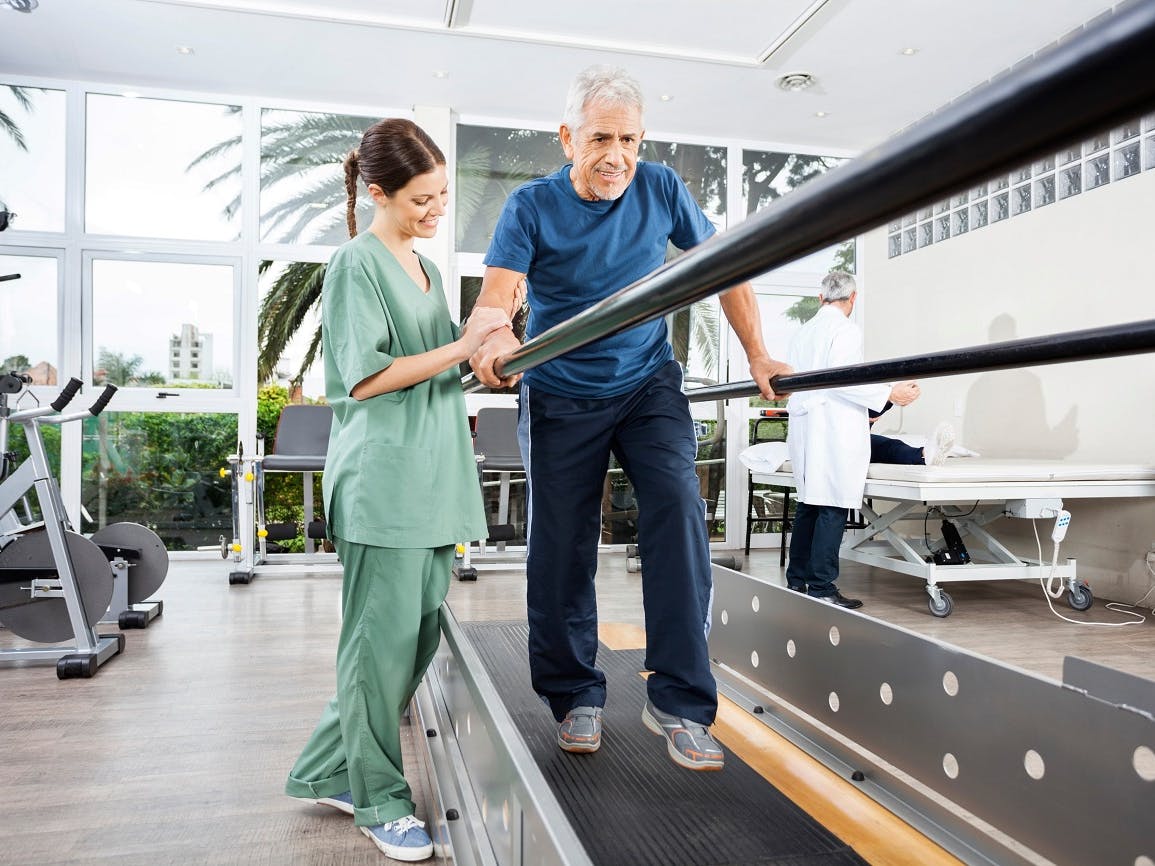 Medicare covers both inpatient and outpatient rehab services, with coverage details varying depending on the type of service required.
Rehabilitation can help someone who is recovering from a serious surgery, illness, or injury, and needs an intensive rehabilitation therapy program. In most cases, they also need physician supervision and coordinated care from their doctors and therapists.
Rehabilitation services can include things like physical therapy, occupational therapy, and speech-language pathology. Inpatient rehabilitation would take place at an inpatient facility or hospital, likely during a hospital stay, while outpatient rehabilitation would take place at a doctor's office or outpatient hospital or clinic.
Medicare Part A (hospital insurance) and Medicare Part B (medical insurance) may cover inpatient and/or outpatient rehabilitation services if they are considered medically necessary and the beneficiary meets other eligibility requirements. Read on to learn more about coverage and costs.
Medicare coverage for inpatient rehabilitation
Medicare Part A will cover medically necessary care you get in an inpatient rehabilitation facility or unit, also sometimes called:
·       An inpatient rehab facility
·       IRF
·       Acute care rehabilitation center
·       Rehabilitation hospital
For the care to be covered, your doctor must certify that you have a medical condition that requires:
·       Intensive rehabilitation
·       Continued medical supervision
·       Coordinated care that comes from your doctors and therapists working together
If you qualify for this benefit, coverage will include:
·       Rehabilitation services
·       A semi-private room
·       Meals
·       Nursing services
·       Prescription drugs
·       Other hospital services and supplies
Medicare Part B will also cover any doctors' services you receive while at an inpatient rehabilitation facility.
What is not covered?
There are some items and services related to inpatient rehab that Medicare will not cover, including:
·       A private room (unless it's medically necessary)
·       Private duty nursing
·       Personal items, such as toothpaste, socks, or razors (except when provided as part of your hospital admission pack)
·       A phone or television in your room (if there's a separate charge for these items)
If you receive or request any of these items, you must pay for the full cost out-of-pocket.
How much does inpatient rehabilitation cost in 2023?
For each benefit period, you pay:
·       Days 1-60: $1,600 deductible*; Medicare will cover all other costs
·       Days 61-90: $400 coinsurance each day
·       Days 91 and beyond: $800 co-insurance per each "lifetime reserve day" after day 90 for each benefit period (up to a maximum of 60 reserve days over your lifetime)
·       Each day after the lifetime reserve days: All costs
A benefit period is the way that Medicare measures your use of hospital and skilled nursing facility (SNF) services. The period begins the day you're admitted as an inpatient in a hospital or SNF and ends when you haven't gotten any inpatient hospital care for 60 days in a row. If you go into a hospital or SNF after a benefit period has ended, a new one begins.
You must pay the inpatient hospital deductible for each benefit period, and there is no limit to the number of benefit periods you can have.
*You don't have to pay a deductible for inpatient rehab care if you were already charged a deductible for care you got in a prior hospitalization within the same benefit period. This is because your prior stay counts toward your deductible.
If you receive rehab in an SNF:
·       You pay $0 co-insurance for days 1 to 20 (after meeting the Part A deductible)
·       For days 21 to 100, you must pay $200 co-insurance per day
·       After day 101, you are responsible for all costs
For any services you receive that are covered by Part B, such as medical office visits, you will owe up to 20% of the Medicare-approved amount.
Medicare coverage for outpatient rehabilitation
Medicare Part B will also cover any medically necessary outpatient therapy services such as physical therapy, occupational therapy, and speech-language pathology services.
This therapy will be covered on a temporary basis to improve or restore your ability to function, or on an ongoing basis to prevent you from getting worse. This includes for both temporary and chronic conditions.
To be eligible:
·       You must need skilled therapy services (performed by or under the supervision of a skilled professional) that are considered safe and an effective treatment for you
·       Your doctor or therapist must create a plan of care before you receive any services
·       Your doctor or therapist must regularly review the plan of care and make changes as necessary
You can get outpatient therapy services at a doctor's office, outpatient hospital setting, rehabilitation agency, comprehensive outpatient rehabilitation facility (CORF), or your home. You may also get covered therapy while at a SNF or through a home health agency, though you may have to meet additional eligibility requirements.
How much does outpatient rehabilitation cost?
Medicare will cover 80% of the Medicare-approved amount for outpatient therapy. You would be responsible for the remaining 20% after meeting the Part B deductible ($226 in 2023).
Medicare Advantage coverage for rehabilitation
Medicare Advantage (Part C) plans are required to provide the same benefits as Original Medicare, though many offer additional benefits not covered by Original Medicare such as routine hearing, vision, dental, and prescription drug coverage.
Because benefits must be at least equal to Parts A & B, Medicare Advantage plans will cover qualifying inpatient and outpatient rehabilitation. However, your out-of-pocket costs may be different and can vary from plan-to-plan.
Will Medigap cover rehabilitation costs?
Medicare Supplement, or Medigap, helps fill the "gaps" in Medicare coverage. These private plans will help pay some costs such as deductibles, co-insurance, and co-pays. This means that Medigap plans may help cover costs associated with rehabilitation as long as it's covered by Original Medicare.
Note that Medigap only works with Original Medicare; you cannot have a Medicare Advantage and Medigap plan at the same time.
What's the right coverage for YOU?
When you're looking at Medicare plans, it's important to remember that what's right for one person may not be right for another. That's why working with a licensed Medicare agent can help, like the dedicated team at ClearMatch Medicare. We'll answer your questions in plain English, no industry jargon. Or, see what's available in your area with our Find a Plan tool. Just enter your zip code to get started.
Find a Medicare plan in your area
It's FREE with no obligation
Speak with a Licensed Insurance Agent
M-F 8:00am-10:00pm | Sat 9:00am-6:00pm EST