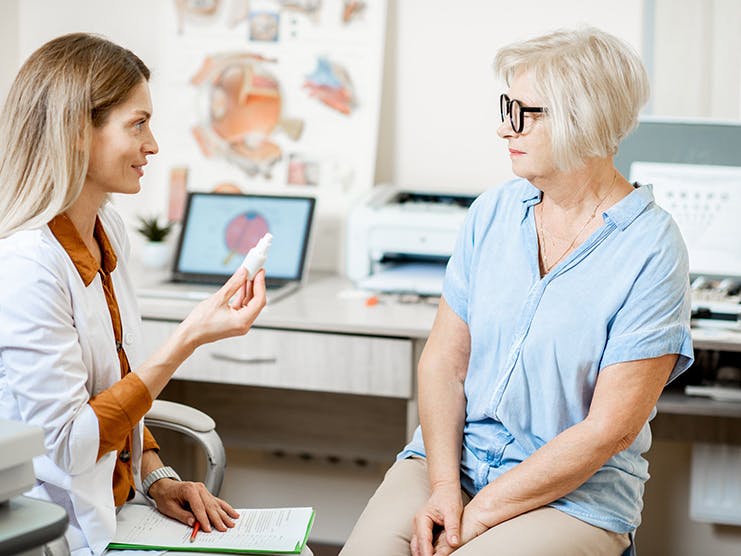 While Medicare's coverage for routine vision care is extremely limited, medically necessary vision services are usually covered.
An ophthalmologist is an eye care specialist, with specific training and experience diagnosing and treating eye and vision conditions. Unlike optometrists, who examine, diagnose, and treat patients' eyes, an ophthalmologist performs medical and surgical treatments for eye conditions.
While it's important to get an annual eye exam for the sake of your eye health, routine vision care is not covered by Original Medicare. However, Medicare does cover fees charged by ophthalmologists and optometrists for certain covered services. Read on to learn more about Medicare's vision coverage.
Is an ophthalmologist covered by Medicare?
Ophthalmologist services that are necessary due to medical or surgical concerns are typically covered by Medicare. This includes any diagnosis or treatment of eye diseases, operation on the eye, or fitting of corrective lenses.
An example of a vision-related surgery covered by Medicare is implantation of conventional intraocular lenses (IOL) during cataract surgery. Services are also covered under specific circumstances, such as a result of a birth defect, traumatic incident, or surgery.
Medicare vision coverage
Original Medicare does not cover:
Routine eye exams
Eyeglasses*
Contact lenses*
*If you just had cataract surgery, Medicare Part B will cover some of the cost of a pair of glasses or set of contact lenses. Medicare may also cover custom eyeglasses or contact lenses if you have a medical condition that requires need beyond corrective lenses.
Note these services are not covered even if they are performed or prescribed by an ophthalmologist.
However, Medicare does cover the cost of diagnosing and treating most eye diseases and conditions. It also covers several vision tests and treatment if you meet eligibility requirements, including:
Glaucoma screening: Medicare Part B covers glaucoma tests once every 12 months if you're at high risk for developing glaucoma. You're considered high risk if you have diabetes, a family history of glaucoma, are African American and age 50 or older, or are Hispanic and age 65 or older. Glaucoma treatment is also typically covered by Medicare.
Eye exam for diabetic retinopathy: Part B covers these once per year if you have diabetes, but the exam must be done by an eye doctor who's legally allowed to do the test in your state. Diabetic retinopathy can damage blood vessels in your eye and cause vision problems, and these exam help get ahead of any issues.
Macular degeneration tests and treatment: Certain diagnostic tests and treatment of eye diseases and conditions are covered by Part B if you have age-related macular degeneration (AMD).
Cataract surgery: If done using traditional surgical techniques or using lasers, cataract surgery is covered by Part B, as are corrective lenses if your cataract surgery includes implanting an intraocular lens.
Additionally, exams or treatment for eye-related issues that are not "routine" are typically covered, such as detached retinas, dry eyes and allergies, or eye injuries.
Do Medicare Advantage plans cover eye exams?
Medicare Advantage plans (Part C) are offered by private health insurance companies. They cover everything Original Medicare does but most provide additional benefits. For example, they may offer additional coverage for hearing exams, dental services, out-of-network care, or even fitness memberships.
Additionally, many MA plans cover routine vision services, including eye exams and reimbursement for eyeglasses or contact lenses. Contact your plan for more information.
Does Medigap cover vision care?
Medicare Supplement Insurance, more commonly known as Medigap, helps pay some of your out-of-pocket expenses for covered services. This means your co-payments or co-insurance for Parts A and B. Unfortunately, you cannot use your Medigap plan to pay for services NOT covered by Original Medicare, such as routine vision care or prescription lenses.
How much do vision services cost with Medicare?
The cost of eye care, including an eye exam, depends on factors such as:
Your insurance, because Original Medicare doesn't cover most routine vision services, but many Medicare Advantage plans do.
The doctor or facility because some charge more than others.
The services you receive. A routine eye exam may cost less than getting fitted for glasses or contact lenses.
To get the most accurate estimate of your out-of-pocket costs, start by contacting your insurance provider to understand what services are and aren't covered. Then, talk to your eye doctor to learn about the cost of the exam and any other tests or services.
Find a Medicare Plan in your area
It's FREE with no obligation
Speak with a Licensed Insurance Agent
M-F 9:00am-9:00pm | Sat 9:00am-3:00pm EST