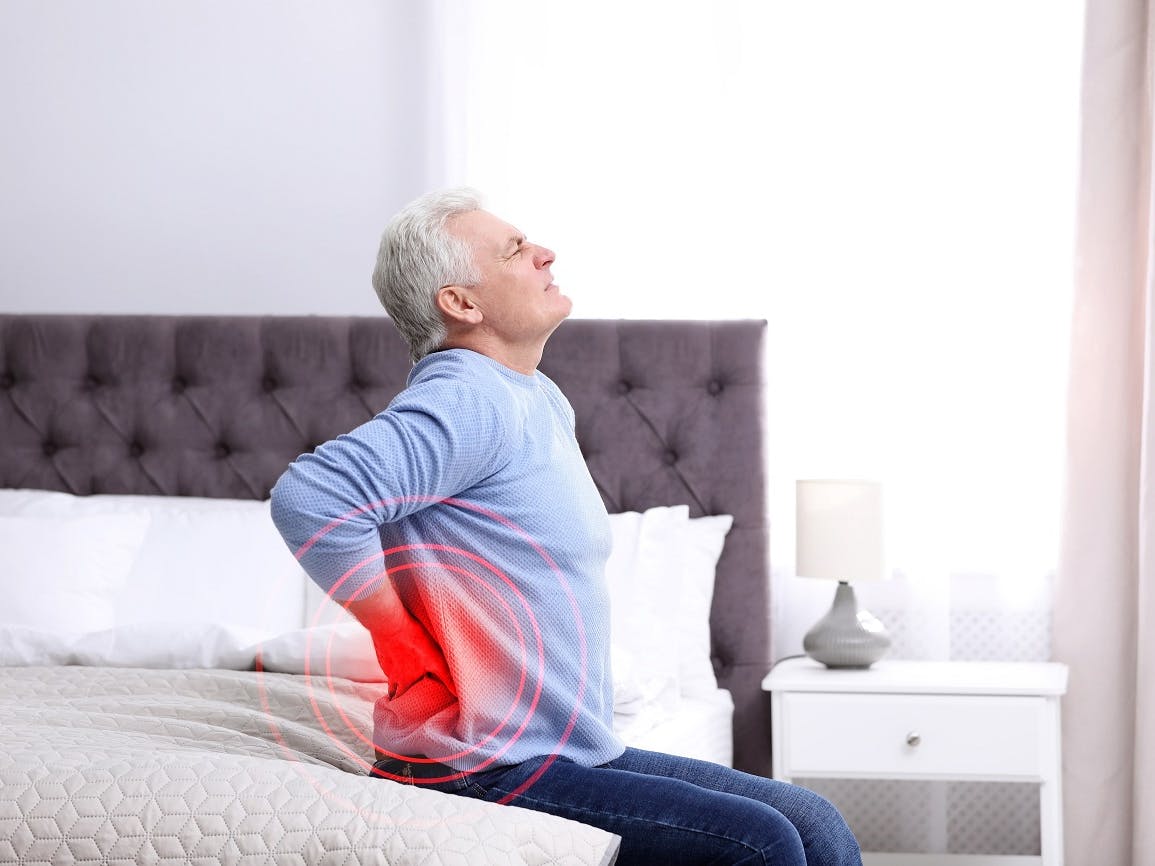 Medicare may cover the cost of a new mattress under your durable medical equipment benefits, assuming your doctor prescribes it.
Having the right mattress can make a huge difference in the amount and quality of sleep you get. In fact, research suggests that sleeping on the right mattress promotes comfort, proper spinal alignment, and quality sleep, and that the actual surface you sleep on makes a significant difference in your comfort, especially if you have body aches and pains.
The fact that a mattress can have such an effect on your health, either in a good or bad way, is why your doctor may recommend you get a new or specific type of mattress. Certain medical conditions may also benefit from specialty mattresses.
However, these mattresses and beds can be expensive, so it's important to understand what the Original Medicare coverage is for mattresses and know how to ensure yours is covered.
Does Medicare pay for mattresses?
Because it's considered a type of durable medical equipment (DME), Medicare Part B may cover your new mattress cost if:
·       It's considered medically necessary
·       Your doctor and DME are enrolled in Medicare
·       You get the mattress through a Medicare-approved mattress and bed supplier in your area
·       The mattress meets the criteria for covered DME
You'll also want to make sure your DME supplier accepts Medicare assignment. Otherwise, there's no limit on the amount they can charge you for your mattress.
In some cases, Medicare may only cover the rental of some equipment, so it's important to talk to your doctor about your specific situation.
Are mattresses covered by Medicare Advantage plans?
Because Medicare Advantage (Part C) plans are required to offer the same benefits as Original Medicare, your plan will cover some or all the cost of a new mattress. You'll likely have to meet the same requirements, such as the mattress being medically necessary and having an order from your doctor. Check with your plan to learn more about its specific coverage.
Additionally, you'll want to use a covered DME supplier, which you can find by searching your plan's provider directory.
What types of mattresses are covered by Medicare?
Many types of mattresses and beds are covered by Medicare, but not all types are. Pressure-reducing mattresses are the most common covered type, such as air-fluidized beds.
Air-fluidized beds and other support surfaces are covered by Medicare Part B. These support systems minimize pressure over bony areas through body "flotation" on fine ceramic beads that are set in motion by warm, pressurized air that stimulates the movement of fluid.
Some examples of other mattresses covered by Medicare include:
·       ThevoRelief Pressure Relief Mattress
·       Defend Pressure Relief Mattress
·       Joerns Prevamatt Defend Pressure Relief Mattress
·       Solace Resolution Glissando Heavy Duty Mattress
·       Drive Medical Therapeutic 5-Zone Support Mattress
·       Drive Medical Alternating Pressure Low Air Loss Mattress System
These mattresses can help those who have pressure sores or ulcers, as many provide pressure redistribution and shear/friction reduction. You may also benefit if you have chronic pain or an injury that needs additional pressure relief.
It's important to talk to your doctor to learn which is the best mattress for you and your condition, as well as to find one that's covered by your Medicare benefits. Remember, the key is that you and your doctor must prove medical necessity.
How much does a covered mattress cost?
First, you must meet the Medicare Part B deductible, which is $226 in 2023.
If you meet all criteria, you'll be responsible for 20% of the Medicare-approved amount and Medicare will cover the other 80%.
Medicare-approved mattresses and beds can range in price from a few hundred dollars to several thousand dollars. Depending on the type you need, you may still have a large amount to pay out-of-pocket. Work with your doctor to ensure the mattress they prescribe is one that fits into your budget.
Medicare durable medical equipment coverage
In order for DME to be covered, it must meet the following criteria:
·       It's durable (can withstand repeated use)
·       It's used for a medical reason
·       It's designed for someone who is sick or injured
·       It's used in your home
·       It has a life expectancy of at least three years
In most cases, you'd be responsible for 20% of the Medicare-approved amount (after meeting the Part B deductible) and Medicare will pay the other 80%.
Note that not all DME is covered by Medicare. If the equipment is not deemed medically necessary, you'll likely have to pay most or all the cost out-of-pocket.
How to get your DME request approved
To ensure your DME is covered by Medicare, your doctor will write an order or prescription for the DME. You'll then take that order/prescription to a Medicare-approved DME supplier. Or, your doctor may send the prescription directly to the supplier. Find approved suppliers near you on Medicare.gov.
Depending on the type of equipment you need and its coverage, the supplier will work with you to either rent or purchase it. You can also ask the supplier to deliver it to your home or make arrangements for picking it up.
In some cases, your DME may require prior authorization. This process gives Medicare a chance to review how necessary a medical treatment or supplies may be in treating your condition. Without getting prior authorization before purchasing your equipment, it may not be covered by Medicare. Check with your doctor to learn if this is necessary for your order.
Does Medicare cover home hospital beds?
Medicare Part B covers hospital beds as DME as long as your doctor prescribes one for use in your home. Additionally, your doctor and DME supplier must be enrolled in Medicare and your supplier must accept Medicare assignment.
After you meet the Part B deductible, you'd pay 20% of the Medicare-approved amount for the hospital bed. Medicare will pay the other 80%.
Like mattresses, depending on the type of bed, you may need to rent the equipment or buy it, or you may get to choose whether to rent or buy.
Does Medicare cover adjustable beds?
An adjustable bed can be a good option if you have trouble getting in and out of bed. Medicare Part B also covers a rental or purchase of an adjustable bed that you can use in your home if:
·       It's medically necessary to treat your medical condition
·       Your doctor prescribes it
In some cases, your doctor may need to provide supporting medical records. Adjustable beds are also considered DME, so the same qualifications apply when it comes to the DME supplier: They must be enrolled in Medicare and accept Medicare assignment.
An adjustable bed may have foot, head, and/or height adjustments and can benefit those who require frequent repositioning due to pain caused by cardiac disease, spinal cord injuries, severe arthritis, or other similar conditions.
ClearMatch can help
With a ClearMatch Medicare agent on your side, you never have to navigate Medicare alone again. We'll answer your Medicare questions in plain English to help you find the right coverage for your unique needs and budget. Call us toll-free at 888-992-0738 to get started.
Or, if you'd like to do a bit more research, try our Find a Plan tool. Just enter your zip code to review Medicare plans in your area.
Find a Medicare plan that covers mattresses
It's FREE and no obligation
Speak with a Licensed Insurance Agent
M-F 9:00am-9:00pm | Sat 9:00am-3:00pm EST