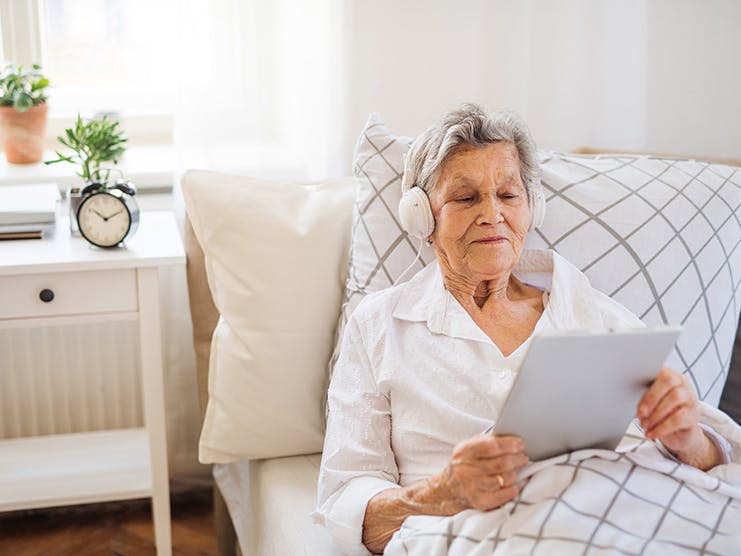 As with most services, your healthcare provider must prescribe a hospital bed as medically necessary before Medicare will cover it.
If you have certain medical conditions or injuries, your doctor may prescribe you a home hospital bed to make sleeping and getting in and out of bed easier. There are several different types of hospital beds with different features. The one that's best for you depends on your condition and needs and what your doctor prescribes.
Hospital beds may be a short-term or long-term solution for you, and the costs are covered by Medicare if certain conditions are met. Read on to learn more.
Medicare coverage for hospital beds
Medicare Part B (medical insurance) will cover a hospital bed as durable medical equipment (DME), but only if your doctor prescribes it for use in your home when it's medically necessary. Your provider will need to order the bed and show it's medically necessary to help your condition.
Medicare will pay for your hospital bed if:
You have a documented medical condition that requires a home hospital bed
You're under the care of a doctor for that condition and being seen at least once every six months
Your doctor orders the bed for home use and includes your condition and why a hospital bed will help you, clearly outlining medical necessity
Your doctor and DME supplier must also be enrolled in Medicare.
There are multiple different types of hospital beds that are covered by Medicare, including:
manual hospital beds
adjustable beds
semi-electric beds with adjustable head and feet
beds with side rails
extra-wide bariatric beds
Hospital beds are available with and without a mattress. Medicare will also cover mattress pads such as lambswool sheepskin pads, synthetic sheepskin pads, gel or dry pressure pads, or water or air pressure pads.
Additional features may also be covered if they are medically necessary, but things considered convenience features will likely not be covered. For example, an over-the-bed table is not covered.
While Medicare does cover semi-electric hospital beds, it does not cover fully electric beds as that's also considered a convenience feature.
Be sure to check with your provider and DME supplier, as well as Medicare, to learn if the bed you're buying or renting is covered and how much you'll owe.
What is durable medical equipment?
Medicare Part B covers medically necessary DME if prescribed by a doctor for use in your home. While there are a number of medical supplies included and covered as DME, it must meet the following criteria:
Be durable (withstand repeated use)
Used for medical reason
Not usually useful to someone who isn't sick or injured
Used in your home
Generally, has an expected lifetime of at least three years
To find medical equipment and suppliers covered by Medicare, use the search tool on Medicare.gov.
Make sure the supplier you choose both accepts Medicare and is a participating provider enrolled in Medicare. If the DME supplier you choose is not enrolled, Medicare will not pay any claims they make. That leaves you on the hook for the full cost. And providers who don't participate or accept assignment can charge more than the Medicare-approved amount.
Do Medicare Advantage plans cover hospital beds?
Medicare Advantage (Part C) plans are offered by private insurance companies and must cover at least everything Original Medicare does, though most offer additional coverage for things like hearing, vision, and dental. This means that MA plans do cover hospital beds as long as they are deemed medically necessary. The primary difference in coverage is that your cost may be different (more or less) than Original Medicare depending on your specific plan.
Does Medicare supplement insurance cover hospital beds?
Medicare Supplement plans, more commonly known as Medigap, help pay your out-of-pocket expenses when you have Original Medicare. These plans cover some of the out-of-pocket costs associated with Medicare such as deductibles, co-pays, and co-insurance.
If you use Medicare Part B to get a hospital bed, a Medigap plan may cover the 20% co-insurance you'd need to pay out-of-pocket. How much it covers depends on the plan. All 10 Medigap plans cover the Part B co-insurance. However, Plan K only covers 50% and Plan L covers 75%. The rest of the plans cover your Part B co-insurance at 100%.
You cannot have a Medigap plan if you're enrolled in a Medicare Advantage plan.
How much does a hospital bed cost?
You would pay 20% of the Medicare-approved amount for the hospital bed, as long as your DME supplier accepts assignment. Medicare pays the other 80%.
Depending on the specific type of hospital bed your doctor orders and the policies of the DME company you use, you may need to rent it, buy it, or you may get to choose whether to rent or buy, so this can impact how much you end up paying.
You must also meet the Part B deductible ($226 in 2023).
The cost of a hospital bed depends on the type of bed and the supplier, as well as additional features you may need. According to Consumer Affairs, the cost of a hospital bed can range from $500 to several thousand dollars.
Why would I need a hospital bed?
A home hospital bed has additional features to help make sleeping or getting in and out of bed easier or safer. These features can include side rails, gel cushioning, or the ability to raise your head or feet at the touch of a button.
Your doctor may order a hospital bed for you to use at home if you have:
Arthritis, osteoporosis, or another chronic pain condition
A heart condition that requires you to keep your head, heart, or limbs elevated
A condition that requires you to be repositioned while sleeping
Pain from some surgeries, such as back or abdominal surgery
High risk of falling, such as those with cognitive impairment
Need for regular repositioning to relieve pain or promote body alignment
Need to improve respiratory function while sleeping, such as if you have chronic obstructive pulmonary disease (COPD)
It can also help caregivers who must help a loved one in or out of bed or to reposition easier to help alleviate pressure points.
Find a Medicare Plan in your area
It's FREE with no obligatiom
Speak with a Licensed Insurance Agent
M-F 9:00am-9:00pm | Sat 9:00am-3:00pm EST