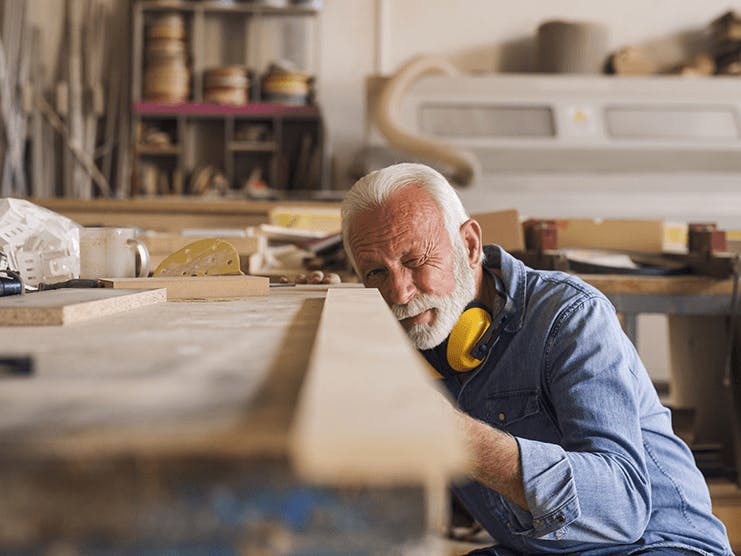 If you feel at loose ends after retirement, you aren't alone. Here are 18 ways to make the most of your golden years.
After years, even decades, in the workforce, retirees finally get the time to make the most of their days. Retirement can be what you make it, whether you want to develop new skills, try new things, travel, or spend more time with friends and family or doing things you love. There are no deadlines, no bosses, and you can do what you want, when you want to.
Even though you're now living on a fixed income, that doesn't mean you can't make the most of this new freedom. There are nearly endless things you can do after retirement. However, being able to take advantage of retirement requires proper planning and preparation.
Not only do you need to plan financially, investing and saving for as many years as possible, but you also need to prepare for some of the downsides of retirement, such as feeling like you've lost your sense of purpose now that you're no longer working, losing the social aspects of going to the office, or not being on the same page as your partner when it comes to ideal retirement life.
That said, we've put together a list of 18 things you can do after you retire, as well as some tips for making the most of this time.
18 things to do after you retire
Think about your goals as a retiree. Do you want to get or stay healthy? Relax? Connect more with family or friends? Have fun? Learn? Give back? With increased flexibility and freedom to do what you want, here are some things you can do in retirement:
1. Travel
There are no longer limits on vacation days or paid time off, so you can travel wherever you want for as long as you want to be there. Travel to different areas in your state, new parts of the U.S., or countries around the world. Plan excursions and adventures or visit an all-inclusive resort where the primary goal is to relax. Make it even more memorable by taking friends or family with you.
Related reading: Travel During Retirement: Are You Ready to Hit the Road?
2. Learn
Just because you're retired doesn't mean you have to be done being curious or learning. Take a college class, attend online webinars, listen to podcasts, visit museums or science centers, earn an online certification, or get training on how to do a new hobby. Many colleges or other educational institutions even offer free or discounted classes for seniors.
3. Start a hew hobby
Use this time to embrace any of your current hobbies, or to pick up a new one. Hobbies can be done both alone or in a group, adding a social aspect to your activities. And with all the time in the world, you can do as many hobbies as you like. Try things like gardening, dancing, biking, reading, bird watching, hiking, baking or cooking, pottery making, painting, crocheting or knitting, exercising, crafting, and more.
Related reading: Why You Need a Hobby – Plus 7 You Can Master Right Now
4. Volunteer
A great way to spend your time as a retiree is by giving back to your community by volunteering your time. There are likely dozens of groups or places you can volunteer at depending on your interests or skills. Check out local libraries, hospitals, hospices, theaters, churches, animal shelters, homeless shelters, food banks, veterans' homes, museums, zoos, and other non- or not-for-profit places in your town.
5. Exercise
Staying healthy and fit is super important, especially as an aging adult. The more active you are, the more likely you'll stay healthy, longer. Set new fitness goals, join an exercise class or walking group, or try new activities like swimming or yoga.
Related reading: 6 Free Online Workouts for Older Adults
6. Join a club
Talk to your local senior center, church, or community center for clubs you may be interested in, like book clubs, walking clubs, gardening clubs, or others. If there isn't one that interests you, start your own.
7. Start a side hustle
Whether you miss aspects of working, or you want an additional source of income, take this time to start a side hustle or business doing something you enjoy. This can take advantage of the knowledge you've gathered over the years in the workforce or be something new you'd like to monetize.
Related reading: 10 Side Hustles That Will Earn You Money in Retirement
8. Work a part-time job
Along those lines, consider working a part-time job as an additional source of income, and for more structure in your days.
9. Learn a new skill
Teach yourself a new language, how to play an instrument, new cooking or baking recipes, how to ride a horse, or anything else you can think of that you didn't know how to do before. If you've imagined how interesting or cool it would be to do or know something, now is the time to do it.
10. Foster or adopt a pet
Now that you're not working during the day, it's a great time to open your home to a shelter pet to foster, or even adopt. Fostering helps shelter animals learn how to live in and adjust to a home and can help provide them a stable environment until they find their forever home. Pets are great for companionship, and even force you to be active.
11. Do some home improvement projects
Whether it's to make your home more beautiful, or more convenient for you as you age, home improvement projects can be a fun way to pass time. They can be small, like painting a wall, gardening, or updating décor, or large, like installing new floors or cabinets, adding shutters, or converting a room into something else.
Related reading: 4 DIY Projects that Can Increase Your Home's Value
12. Write
You may find nostalgia setting in once you're retired and spend more time remembering the old days and reflecting on your life. Perhaps you realize you have many special stories or memories you'd like to share, or thoughts you don't want to forget. Consider journaling, writing a book, or creating something else for loved ones to hold on to when you're gone. Or, you can start a blog online. Not only can writing be a great way to document memories and thoughts, but it can also be a stress reliever and a way to work through emotions. Plus, it can be fun.
13. Hang out with friends
Set up weekly or monthly dates with your friends to get together at home, meet at a restaurant, or do an activity. Staying social is an important part of life and being retired gives you more time to enjoy being with friends without an agenda.
Related reading: 6 Ways to Make New Friends After You Retire
14. Go to the theater
Whether you like movies, plays, or musicals, take advantage of matinée show times, get some popcorn, and enjoy.
15. Join a sports league
Sports and staying active can help you stay healthy and socialize. Choose a physical activity you may like, and search for groups or leagues in your area based on your age or skill level. You can also ask friends to join a community center or gym together or create your own team. Don't be afraid to try something new, like pickleball, which is one of the fastest growing sports in America.
16. Learn to operate a motorcycle, RV, or boat
Many motorcycle shops offer training classes for new riders. RVs are a great way to travel in style, and boats can provide countless hours of entertainment and enjoyment. Consider purchasing one of these fun toys, learn about how to operate and maintain them, and have fun.
17. Move to a new city or buy a second home
If you've always dreamed of living by the beach or in the mountains, now is the time. You can either move there full-time, or consider buying or renting a home, apartment, or condo in the new place and visiting or staying there for part of the year.
18. Relax
One of the best things about retirement is you don't have to do anything you don't want to. Be sure to spend some of your time simply relaxing, enjoying the downtime without feeling guilty about doing nothing. You've earned this time, so take advantage of it.
Making the most of retirement
When it comes to finding things to do in retirement, there are a few things to keep in mind. First, go slow. Don't spend your first day of retirement filling up your calendar with every activity you can imagine. Take time to ease into the lighter schedule and more free time, and remember you likely have decades you can take advantage of.
Next, communicate with your partner. Make sure you both are on the same page when it comes to goals for retirement. While you don't have to all your activities together, it's important to generally be on the same page and communicate well with each other to avoid conflict.
You should also spend some time reflecting. Think about what you want to learn or do. Ask yourself how you can still feel useful and valued. Look at your bucket list (whether written down or in your head) and think about things you've always wanted to do throughout life or in retirement. Don't get stuck analyzing too much, but creating a rough plan in your head can help you feel on track and making the most of your time.
Find a Medicare Plan in your area
It's FREE with no obligation
Speak with a Licensed Insurance Agent
M-F 8:00am-10:00pm | Sat 9:00am-6:00pm EST