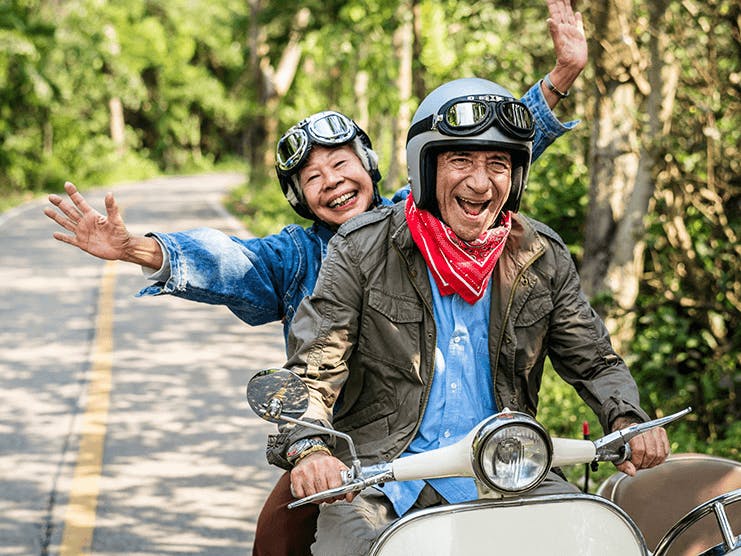 Want to travel during retirement? Start planning now.
When asked how they'd like to spend their retirement years, the vast majority of Americans answer with one word: Travel.
Of course, the difference between having a dream and having a goal is planning. If you're ready to turn your travel dreams into reality, it's important to spend time determining what "travel" means to you, where you want to go, and how you plan to get there. Let's get started.
What does "travel" mean to you?
Travel means something different to everyone. Some people plan to sell everything they own after they retire, hit the road, and never look back. Daytrips and weekend jaunts are enough to scratch the travel itch for others. There's also the ever-popular RV and a roadmap, cruises, and overseas vacations. (Although cruise opportunities are still limited in the age of COVID-19.)
Determining where you fall on this spectrum is the first step to creating your travel plan. If you aren't sure, ask yourself a few questions:
Are there specific locations you hope to visit?
Do you plan to travel alone? With a spouse or significant other? Friends? Family?
How often do you want to travel? Weekly? Monthly? A few times a year? Or do you want to pull up roots altogether, your only permanent address a PO box?
You may not have a single answer to these questions. Maybe you've always pictured exploring your home state with weekend jaunts coupled with the occasional one- or two-week vacation. You may dream of fun weekend getaways with a few close friends mixed with solo adventures and romantic destinations with that special guy or gal. Until you create a picture of what you want, though, it's impossible to plan for it – or achieve it.
Have you talked to your partner?
If you're married or have a long-term partner, it's important to ask them about their travel plans for retirement. Even couples who communicate well often find they made a lot of assumptions when it comes to what to do after they leave the nine-to-five world behind. The important thing here is to learn whether you and your partner have similar post-retirement goals.
Even if you both want to travel, you may find that your ideas of what that means are vastly different. That's okay. All relationships require compromise. Do you dream of a trip to France but your significant other can't stand the thought? How about a tour of California's wineries instead? Dream of skiing in the Alps? Maybe beautiful Lake Tahoe can fill in for Switzerland.
There's also no law that says you and your partner have to vacation together. Take that dream trip with a friend, family member, or even alone. The great part about traveling alone is you can be completely selfish – seeing what you want to see, eating what you want to eat – without worrying whether someone else is having a good time.
How will you pay for travel during retirement?
Figuring out how to bankroll travel during retirement is another challenge, but not an insurmountable one. Much depends on where and how you hope to travel. If possible, talk to a financial advisor about your retirement plans. They can advise you on the best ways to meet your travel goals (and whether they're realistic).
There are also some terrific ways to save money when you travel.
Instead of staying in a hotel, why not swap houses with someone in another country? Home Exchange lets you list your own home and find others who are looking to swap houses.
You can also consider house sitting. Water a few plants, take care of a pet or two, and avoid the high costs of hotels – and loud neighbors who come and go at all hours. Trusted Housesitters is a great resource.
Want to pair your desire to travel with a wish to help others? Try a volunteer vacation. International Volunteer HQ lists projects like construction, education, healthcare, wildlife conservation, and more, with both domestic and international options available.
Some cruise lines also offer incredible deals on repositioning cruises. They'll take you from Point A to Point B. What happens after that – including getting back to Point A – is up to you.
Check airlines, hotels, and rental car agencies for senior discounts. Memberships to AARP and AAA may also feature some travel benefits.
You'll also save a bundle by visiting developing countries like Argentina, Brazil, and Thailand, spending less than $10 a day on food and housing combined. That's less than one-tenth of what a trip to any developed nation would cost.
Traveling during the COVID-19 pandemic
Travel is a bit different in a COVID-19 world, but it isn't impossible. In fact, once you get the coronavirus vaccine, you face few restrictions.
For domestic travel, the Centers for Disease Control and Prevention (CDC) says that you may safely travel within the United States without getting tested before or after your tip. There's also no need to self-quarantine. Requirements may vary by state, though, so check the appropriate government website to be sure. Please note that many transportation companies (airlines, bus lines, etc.) still require you to wear a mask, even after you're fully vaccinated, so be sure to check.
COVID guidelines vary for international travel. If you are fully vaccinated with an FDA-authorized vaccine, you do not have to take a COVID test before leaving the United States unless the destination country requires it. You also do not have to self-quarantine upon returning to the U.S. However, it's a good idea to check the COVID-19 recommendations and threat level at your destination. The CDC makes it easy with this map.
Will Medicare travel with you?
Whether Medicare travels with you depends on where you go and whether you have Original Medicare and a Medigap plan, or a Medicare Advantage plan.
Original Medicare rarely covers healthcare services received outside of the U.S. – even in the case of emergency. Some Medicare Supplement plans cover up to 80% of your healthcare costs in a foreign country. They include Medigap Plans C, D, F, G, M, and N. If you have a Medicare Advantage plan, check your plan's benefits to see whether they include foreign travel.
If you plan to travel frequently stateside, you probably want to keep Original Medicare, since you can use it anywhere that accepts Medicare. Most Medicare Advantage plans only cover you outside your plan's service area in the event of an emergency.
Travel insurance helps pay for medical emergencies as well as common issues like canceling a trip or losing your luggage. If you plan to travel outside the U.S., travel insurance is probably a worthy investment.
Find a Medicare Plan in your area
It's FREE with no obligation
Speak with a Licensed Insurance Agent
M-F 8:00am-10:00pm | Sat 9:00am-6:00pm EST