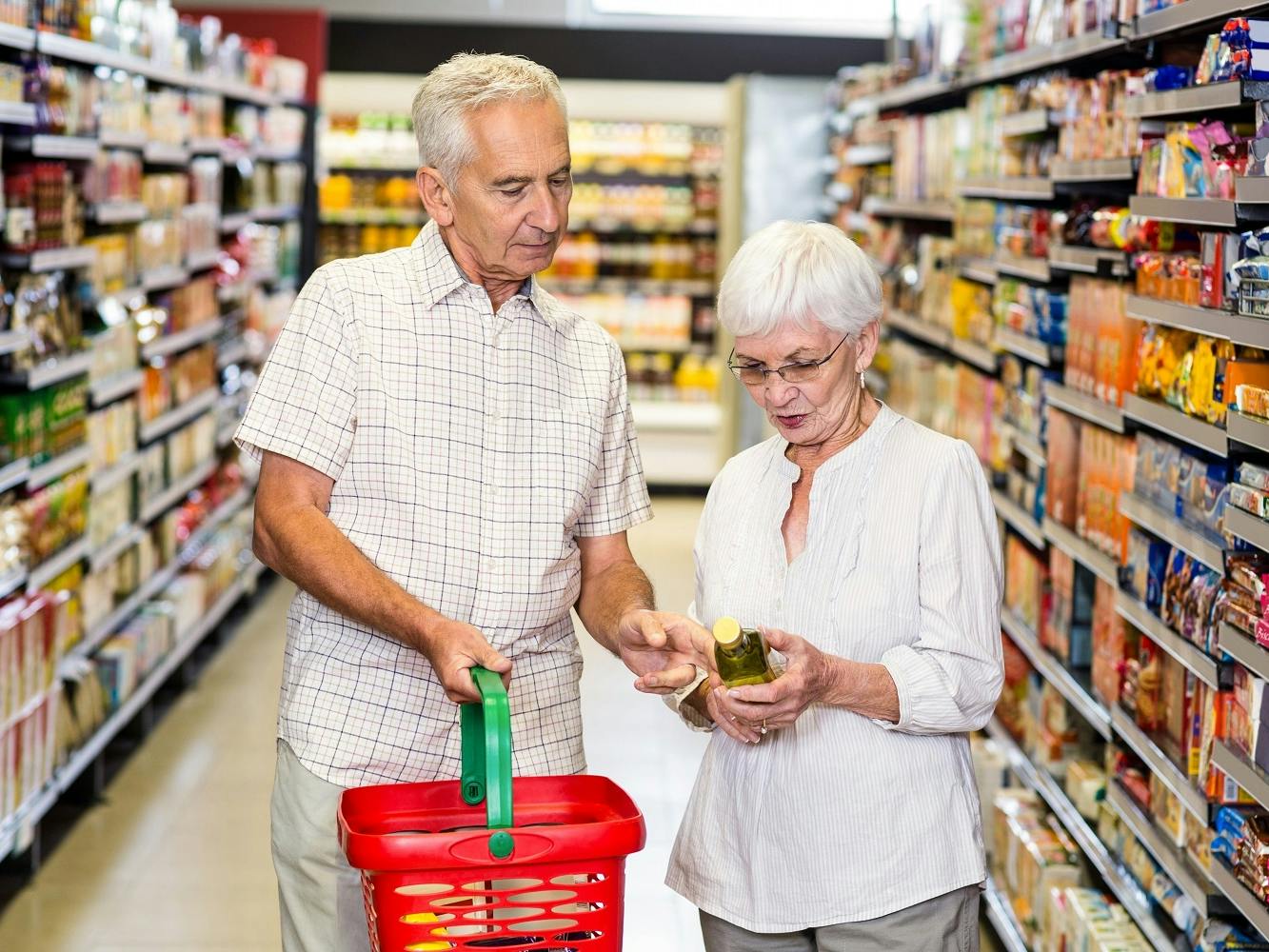 Looking to save at the drugstore? Switching to lower cost store brands for your OTC purchases is the smart money move.
Want to save money? Of course you do. No one likes paying more than they have to. That's especially true when you're retired and living on a fixed income.
One easy way to find savings? Switch to the store brand for your drugstore purchases.
What is a store brand?
Store brands are products produced and sold under the retailer's name. They're sometimes also known as "private label."
Store brands are manufactured in the same kinds of facilities as name-brand products. In fact, sometimes they're produced in the very same factory, right alongside the more familiar name brand!
How can they be cheaper? Retailers invest little or nothing in marketing their products. This savings – usually around 20% of a product's cost – is then passed on to the consumer.
What about the quality?
For some types of products, like chocolate chip cookies, it can be hard to know if the store brand is as good as the name brand until you try it. Often it is, but not always.
But a number of drugstore items do allow you to compare by looking at the active ingredients on the label. The active ingredient is what makes the product "work." The active ingredient in Advil, for instance, is ibuprofen. Inactive ingredients, on the other hand, don't affect how the product works. These can include dyes and preservatives.
Medicines, vitamins, and many other health-related products are easy to compare across brands because, by law, the store brand must contain the same amount of active ingredient as the name-brand equivalent.
Pharmacists know this, which is why they almost never pay more money for a name-brand drug. As economist Matthew Gretzkow told NPR, "In a world where everyone was as well-informed as a pharmacist or nurse, the market share of the brands would be much, much smaller than it is today."
A cost comparison
What a product will cost you is affected by a number of variables. Are you shopping online? Is there a sale price or a BOGO deal? Do you live in a more expensive part of the country?
But for the sake of example, we'll compare a name brand versus a store brand using full prices recently listed online at CVS and Walgreens, the two pharmacies that dominate major US metro areas. Let's consider a hypothetical 65-year-old woman named Sue.
Sue takes a multivitamin every morning and melatonin at night to help her sleep. She suffers from seasonal allergies and a couple of colds a year. She takes ibuprofen for headaches and early arthritis in her knee. Her doctor has told her to get more fiber in her diet, so she stirs a powder supplement into her orange juice every morning. She uses sunscreen (though, like many of us, not nearly as much as she should).
Here's what Sue regularly buys at the drugstore – and what she could save with comparable store brand products:
Potential Annual Savings with Store Brands
| | | | | |
| --- | --- | --- | --- | --- |
| Product | Name Brand Price | Store Brand Price | # Bought per Year | Annual Savings |
| Centrum Silver vs. CVS Health Women 50+, 200 count | $23.99 | $19.49 | 2 | $9.00 |
| Advil vs. CVS Ibuprofen, 200 count | $20.49 | $14.49 | 2 | $12.00 |
| Metamucil vs. CVS Natural Daily Fiber, 180 doses | $43.29 | $34.79 | 2 | $17.00 |
| Nature's Bounty Melatonin vs. CVS Melatonin, 10 mg., 120 count | $28.79 | $19.49 | 3 | $27.90 |
| Nyquil Cold & Flu vs. Walgreens Nighttime Cold & Flu, 12 oz. | $13.99 | $9.29 | 2 | $9.40 |
| Claritin vs. Walgreens Wal-itin, 10 mg., 30 count | $22.99 | $17.99 | 3 | $15.00 |
| Listerine Ultraclean vs. Walgreens Anti-gingivitis Mouth Rinse, 1 liter | $10.99 | $5.99 | 7 | $35.00 |
| Neutrogena Clear Face sunscreen vs. Walgreens Clear Complexion for Face sunscreen, spf 30, 3 oz. | $14.99 | $11.99 | 5 | $15.00 |
| Total Savings | | | | $140.30 |
Buying a year's supply of the name-brand version of these eight products would cost Sue $510.74. By switching to the store brand, Sue saved $140.30, or 27%  – and that's without any sales.
Double check inactive ingredients
Store-brand health products are essentially the same as their brand-name counterparts. But there is a difference. The inactive ingredients are not always the same.
This difference doesn't affect how well the product works. As long as the active ingredient is the same, the store brand will work just as well as the name brand.
But it is possible to have allergies or sensitivities to inactive ingredients, such as gluten or soy. If you know that you have an allergy, be sure to read the labels of all products, both brand name and store brand. And if you have questions, ask your pharmacist if the store brand is generally well tolerated by most people.
Save even more with Medicare Advantage
Did you know that many Medicare Advantage programs come with a discount card or allowance to use on over-the-counter products? In fact, 80% of Advantage plans now offer this perk, giving you a way to save even more. To find out about Medicare options in your area, check out our easy-to-use Find a Plan tool.
Additional resources
Find a Medicare Plan in your area
It's FREE with no obligation
Speak with a Licensed Insurance Agent
M-F 9:00am-9:00pm | Sat 9:00am-3:00pm EST