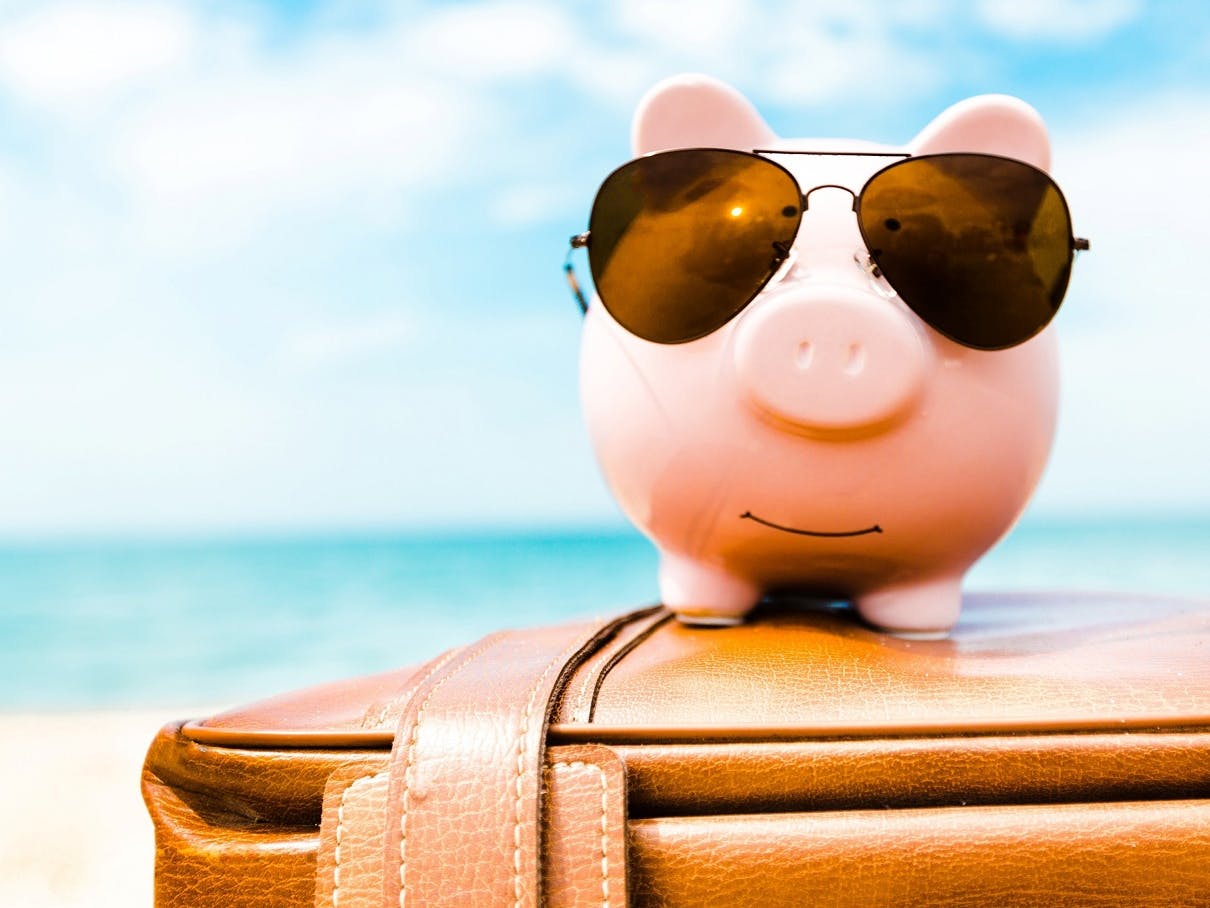 Don't let budget worries prevent you from traveling to places you love. Here are some wallet-friendly ways to satisfy your wanderlust.
If you're like many people, travel for pleasure is a priority now. You may have put it off because of the pandemic, but now you're itching to wander the world. A recent survey found that more than 60% of people over the age of 50 planned to take at least one leisure trip in 2023.
Of course, planning is one thing. Cost is another. Almost half of those surveyed say they're forgoing trips because of how expensive it is. It's particularly painful if you're on a retirement budget.
But you can still vacation without doing too much damage to your wallet. Here are eight ways to travel on the cheap.
1.   Be flexible
If you're not working now — or are working much less — you can make your own schedule and snag the best deals. (Bonus: you'll also avoid the crowds during school breaks.)
You'll see significant savings if you fly during the shoulder season, or the period of time between peak season and off season. You may find that flights for domestic and international trips in September and October are down almost 30% from average prices for trips in the peak summer months, according to the booking app Hopper. You'll also score savings on hotel rooms and rental cars, too: they tend to be down on average 5% from the summer, according to Hopper.
2.   Look for senior discounts
They're offered by many places if you just look and ask for them. One good place to start is AARP, if you're a member. They offer discounts on car rentals, cruises, flights, and vacation packages, as well as hotels and resorts.
Some airlines offer senior discounts when you book certain flights. Amtrak also offers 10% off of domestic rail fares for people aged 65 and up.
Have a yen for hiking? Sign up for the National Park Service Senior Pass, which offers you lifetime admission to national parks for $80 if you're 62 (a regular annual pass is the same amount), or a yearly pass for just $20.
Find out about more than 30 discounts for older people.
3.   Go with a group.
If you travel with a group, you'll get group discounts at hotels, restaurants, attractions, and more. One good option: Elderhostel's Road Scholar program. You'll save about 20% per night compared with similar trips offered by other commercial tour companies.
Look for programs that include most meals, accommodations, tips, taxes, and activities. Check out local universities, museums, and religious organizations, too: They may all offer more affordable trips for people aged 65 and older.
Learn 6 ways to make new friends after you retire.
4.   Extend your trip
It may not seem to make sense on the surface — after all, the longer your travels, the bigger the bill, right? — but there are some advantages to an extended stay. You may be able to negotiate your rate, according to Suzan Haskins, a senior editor at International Living. She told the New York Times that she uses stays of several weeks at an AirBnB as leverage to negotiate a lower price. "I always message the owner, especially if I'm coming at a time that's not high season," she says, adding she's often able to score a 10% discount.
5.   Opt for an airline credit card
Your purchases will earn you frequent-flier miles. The American Airlines card through Citibank, for example, has no annual fee and you earn 2x miles at grocery stores. The United Airlines card through Chase is fee-free the first year, and costs $95 per year after that. You also get 2X miles on United purchases, dining, and hotel stays. Use the cards for everyday purchases – but be sure to pay off the balance each month.
6.   Stay with friends
Remember your college roommate who lives in London or your old co-worker who's in Rome? Now's the time to ask for a visit. According to the research firm ValuePenguin, lodging costs make up about 26% of your budget on domestic trips, and 21% if you travel abroad.
 Lost touch? Learn how to reconnect with old friends.
If you don't have anyone you can crash with (or feel uncomfortable asking), look for a motel room with a kitchenette – or even a room in an Airbnb with access to a kitchen. Overall, Americans spend about $35 a day per person eating out when traveling internationally, with almost 90% of that money going to restaurant meals. You can save a lot of dough if you whip up your own meals in your motel kitchen.
7.   Volunteer abroad
Want to take care of animals in Rome? Protect native wildlife in New Zealand? Teach in Zambia? Groups like International Volunteer HQ allow you the opportunity to spend time abroad doing good, while learning about a new country and culture. Some of their programs are as low as $20 a day. You'll only have to volunteer for a few hours, and then you'll have plenty of time to explore the region.
Read up on volunteering and other post-retirement passions.
8.   Act like a local
Avoid touristy locations. They tend to be overpriced. Instead, ask locals for names of their favorite shops, attractions, and restaurants. This won't just help you save money—you'll get a different, insider view of your destination. Visiting a city? Walk everywhere (most cities also offer free walking tours) and take public transportation rather than pricy cabs.
Does Medicare cover me when I travel?
If you have Original Medicare, it covers healthcare when you're in the United States (including the US Virgin Islands and Puerto Rico), but nowhere else except in cases of emergency, when the closest hospital is in Mexico or Canada.
Please note: for Medicare to cover care received in a foreign hospital, you must be within the United States when the medical emergency occurs AND the foreign country's hospital must be closer than the nearest American hospital.
If you have a Medicare Advantage Plan, you may not be covered for non-emergency healthcare if you're outside its service area, or you may have to pay a higher co-pay. Check your Part C plan for details about coverage both within and outside of the United States.
Travel abroad is a different story — international medical care isn't covered under Original Medicare, even in the event of an emergency. If you're planning to travel abroad frequently, you may want to look into Medicare Advantage plans or Medicare Supplement Insurance (Medigap). Some of those plans provide coverage for emergency healthcare in foreign countries.
Learn more about Medicare Supplement insurance.
Check out the Medicare options in your area with our easy-to-use Find a Plan tool.
Additional resources
Find a Medicare Plan in your area
It's FREE with no obligation
Speak with a Licensed Insurance Agent
M-F 8:00am-10:00pm | Sat 9:00am-6:00pm EST