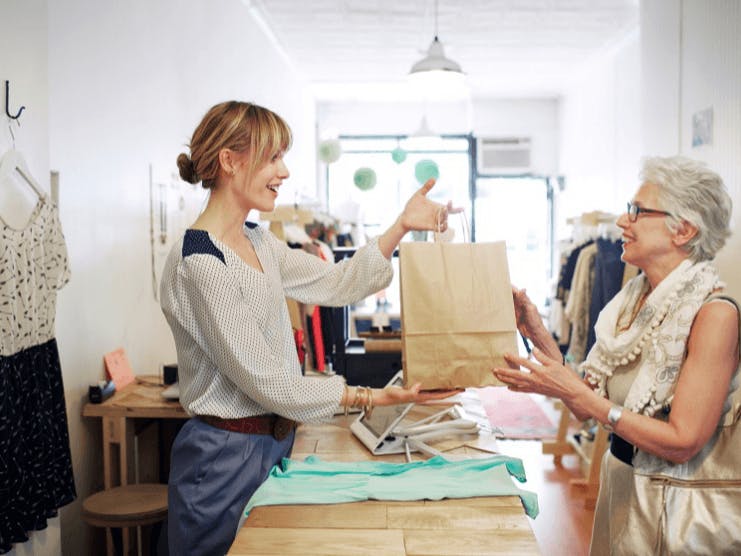 Take advantage of your age and start saving money every time you shop, dine, or have fun. Here's how.
Growing older has its perks. One of them is nabbing good deals on all sorts of services simply because you've turned 65 — or in some cases, even 55.
If you're not taking advantage of these special prices, you could be missing out on discounts of 10% to 20% at every type of location you visit, says Greg Wilson. He's the founder and publisher of SeniorAffair.com, a website that serves boomers and offers information on companies that provide special pricing to people 65-plus.
The first step to saving, says Wilson, is to admit your age, which some people are hesitant to do. He even urges his 58-year-old mom to take advantage of these special prices. "She may not want to claim the title, but she's going to start claiming the discounts," he jokes.
To start saving money, Wilson suggests the following:
Don't be shy. Ask the cashier or even the manager at every location you visit if they have discounts for people your age. Sometimes it's just a special meal or a specific day for discounts. Sure, the store could say no, but it never hurts to ask.
Take advantage of big-box store deals. Do you shop at a national retail outlet? Call the store or search online for savings. Note that some discounts are regional, or even local, says Wilson. (Verizon's 55-plus wireless plan, for instance, is available only to Florida residents.) Again, it's good to ask regardless of whether it's a big-box store or a mom-and-pop shop.
Join AARP. It has a members-only discount plan that offers deals on many things, including cellphone plans, car rentals, and even cruises. It's only $12 for your first year, and joining can double your savings.
To help you launch your journey into savings, we've rounded up a sample of businesses that give special discounts based on age. These offers may just help you come out of your shell.
Related reading: Money management tips to help you save in retirement.
Retail stores
Kohl's: Every Wednesday, Kohl's gives a 15% discount coupon to people 60 or over. There are restrictions (no premium electronics or Levi's clothes, for instance), so look for signs at the store.
TJ Maxx: There's a 10% discount on Mondays for people 55 and up who live in Florida.
Michaels: People 55 or over get a 10% discount by showing a valid ID.
JoAnn Fabrics: There are 20% discount days for people 55 or over with a valid ID. Go here to check for the next Senior Discount Day.
Restaurants
Chain restaurants are more likely to give discounts, but the offers vary by location. Again, it doesn't hurt to ask.
Applebee's: Some locations offer discounts, but they vary by age and amount. Contact your local Applebee's to find out.
IHOP: Certain items, ranging from breakfast specials to buttermilk pancakes and BLTs, are available only to customers 55 and over.
A&W Restaurants: There's no nationwide discount, but some locations offer savings, which vary by age and amount.
Denny's: It offers a senior menu for customers 55-plus, and AARP members save 15% when they show their membership card. Discounts vary according to location, though, so ask.
Boston Market: It offers a 7% discount for those 65 and over at the restaurant, for dining in and takeout.
Grocery stores
With the price of food skyrocketing, it's good to know about these discounts when you're minding your bottom line. It's always good to ask your local supermarket because most chains don't have a national policy. (Related: We found the healthiest low-cost foods in the supermarket.)
Fred Meyer: This chain offers a 10% discount for those 55 and over on the first Tuesday of every month. This includes clothes, shoes, accessories, many electronics, sporting goods, and toys, as well as groceries.
Piggly Wiggly: It offers discounts, but check with your local store because there's no nationwide policy.
Publix: It has a 5% discount on Wednesdays for shoppers 60-plus at select locations.
Cellphone plans
Check your bill to see what you're paying now. If these deals can save you money, it might be worth switching providers.
T-Mobile: Plans for those 55 and over start at $27.50 for two lines and include unlimited talk, text (including abroad) and smartphone data. T-Mobile also offers plans for $35 to $45 for two lines that come with even more perks (including Netflix).
Verizon: There's an unlimited plan for two lines for people 55 and over, but only for new customers who live in Florida.
Consumer Cellular: AARP members get a 5% discount on plans.
Mint Mobile: Unlimited talk and text plans are available for $15 for new customers 55-plus.
Car rentals
If you're an AARP member, you can get up to a 30% discount at Avis and Budget. Even if you're not, you can still get deals at the following:
Hertz: Anyone 50 and over can enjoy 20% off the base rate.
Thrifty: It offers 5% off mileage and rental time for customers 50 and up.
Hotels
Most of the big chains have discounts for people over 60 (and some over 55). Others are just for AARP members (who save between 5% and 10% at Radisson, La Quinta and DoubleTree by Hilton, to name a few).
Here's a sample of non-AARP discounts:
Best Western: Savings of 15% for those 55 and up, subject to availability and location.
Choice Hotels: People 60 and over and AARP members save 10% when they book early.
Wyndham Hotels & Resorts: People 60 and older save when they book online or by phone. (Call for full details.)
Extended Stay America: Those 55 and over are eligible for special deals. (Call for full details.)
Staybridge Suites: People 62 and over are eligible for special deals. (Call for full details.)
Marriott: Those 62 and over are eligible for special deals. (Call for full details.)
Gyms
Some Medicare Advantage plans will provide you with a gym membership and classes as a benefit. (That's just one of Medicare's most surprising benefits.) If you don't have one of these plans, ask at your local gym or YMCA about deals. They could offer discounted plans or classes too.
SilverSneakers: It offers a wide range of online and in-person classes with expert instructors. You can access some free content online, but full members get the most benefits. Aetna and Humana Medicare Advantage offer benefits to plan members.
United Healthcare Renew: Some UnitedHealthcare Medicare Advantage plans give you free membership at participating gyms.
Movie theaters
Most chains have been offering specially priced tickets for years to people over 60. These include Bow-Tie Cinemas, AMC, and Regal Cinemas.
In addition, some theaters (usually local) have special discount days for moviegoers over 60. In addition to getting tickets at a lower price, you can score deals on popcorn and a drink. So again, it doesn't hurt to ask (or call) if you're ready to see movies on the big screen again.
Museums, parks, and zoos
Many museums and zoos offer special discounted tickets for patrons over 60 (or 65). If you're traveling, check online or call to find out. If you're going to New York City, for instance, you can check out the NYC-Arts site to find museums and art venues that offer discounts to people over 60 or 65.
Here's a sampling of other places that will offer tickets or memberships for less.
Bronx Zoo: It offers a 20% discount on annual memberships for people 65-plus.
National Park Service: If you're 62 and a U.S. citizen or permanent resident, you can get a free annual or lifetime pass that gets you into every national park (including historic houses, such as FDR's estate in Hyde Park, New York). You may also get 50% off at selected campsites and boat launches. The annual pass costs $20, and the lifetime pass is $80.
Toledo Zoo & Aquarium: Daily discounted tickets plus discovery days (with free parking and discounts at the store, among other perks) are available Wednesdays in September and October for patrons 60-plus.
San Diego Zoo: Those 65 and older can find a 10% discount on membership.
You see? Growing older has some major perks. Your age isn't just a number — it can also be your ticket to impressive savings.
Find a Medicare Plan in your area
It's FREE with no obligation
Speak with a Licensed Insurance Agent
M-F 9:00am-9:00pm | Sat 9:00am-3:00pm EST