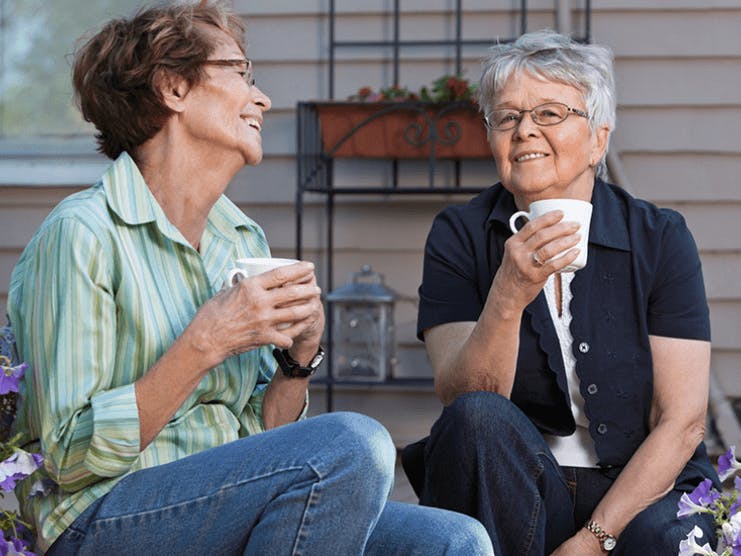 In the midst of building a career and family, you may have lost touch with people over the years. But retirement is a great opportunity to make up for lost time and reconnect with those old friends.
As we age, it's important to remain socially connected because isolation is one of the biggest risks to mental health. In an interview in a Mayo Clinic news release, psychologist Craig Sawchuk noted the impact of social interaction on mental and cognitive health.
"We are social animals by nature, so we tend to function better when we're in a community and being around others," he explained.
It can be nerve-racking reaching out to someone you haven't talked to in a long time, but it's usually worth the effort. Give it a chance, and you may see how an old friendship can become new again.
Finding a long-lost friend
It's never been easier to track down long-lost friends. Here are a few ways to do it:
Ask around
Are you from a small town? People who still live there can be an amazing resource. Even if you're from the city, good old-fashioned word-of-mouth can sometimes be your best bet in trying to get in touch with someone. Let people know you're looking for your friend. You may be surprised at how much help you receive.
Social media
Although it gets a bad rap, social media platforms like Facebook are a great way to reconnect with people you haven't seen or heard from in decades. It's easy to set up an account, and you need little more than an internet connection to do so.
Keep an eye on your suggested friend list. Sometimes people you haven't spoken to for a long time will pop up because of a mutual connection.
Interestingly, social media may have a positive effect on older people's mental health. One study found that Facebook increases cognitive function in older adults!
Related reading: How to be a Better Facebook User
Check alumni websites or databases
If you're looking for an old classmate, they may have given their email or phone number to the school's alumni association. If a database isn't available, try reaching out directly to the alumni office.
Check the White Pages
Like an old-school phonebook, the White Pages allows you to search for people by name, address, phone number, and/or business. You don't need every piece of information, although the more you have, the easier it is to pinpoint the right John Smith.
Another site, AdvancedBackgroundChecks, lets you search by name, age, and any town your friend once lived in.
You found them! Now what?
Once you have an address, email, or phone number, you might get a little nervous. What will you say?! Here are some ideas on how to proceed.
Pick up the phone. But instead of just dialing, consider sending a text. Texting your friend and setting up a convenient time to talk will often work out better than calling out of the blue.
Share a laugh. Wondering what you'll talk about? Think of some funny memories to share from the old days. Laughter is a quick way to re-establish your connection.
Find a mutual interest. Shared hobbies and interests are a great reason to reconnect with a friend. Have you always wanted to join a gardening club? Do you have a friend from long ago who liked to garden, too? That's the perfect excuse to call them up!
Make a plan. Don't just say, "We should get together soon!" Finish the thought with a question like: "What day works for you?"
Don't just sit there. Afraid of awkward silences over lunch? Add an activity into the mix. See if your local art store hosts painting nights, where you can socialize and channel your inner Bob Ross at the same time. Or see how many strikes you can throw while hanging out at your local bowling alley.
Write a letter. There's nothing like an old-fashioned handwritten letter to tell someone how much they meant to you. Write from the heart and drop it in the mailbox. Maybe include an old photo and say that you were thinking of them. (Of course, email and texting work here, too!)
Organize a video chat. Is your old posse spread out in different places? Can't get together any time soon? Video call programs like Skype, Zoom, Google Duo, and FaceTime offer a convenient way to gather virtually.
Plan a Reunion. This one takes a bit more effort, but planning a full-blown reunion will give you the added happiness boost that comes from anticipating an event, too. Pick a date, find a venue (even if it's just someone's house), track down and invite old friends, and have a proper party!
There are so many ways to connect with people, whether virtually or in person. Figure out what works best for everyone and make it happen!
Do you have Medicare questions? We have answers.
When it comes to Medicare, one plan definitely does not fit all. At ClearMatch, it's our mission to match you to the policy that best serves your unique needs. It's all we do, and we do it better than anyone. Check out our extensive library of articles for answers to your Medicare questions. Or, compare plans in your area to get started finding the policy that's right for you.
Find a Medicare Plan in your area
It's FREE with no obligation
Speak with a Licensed Insurance Agent
M-F 9:00am-9:00pm | Sat 9:00am-3:00pm EST