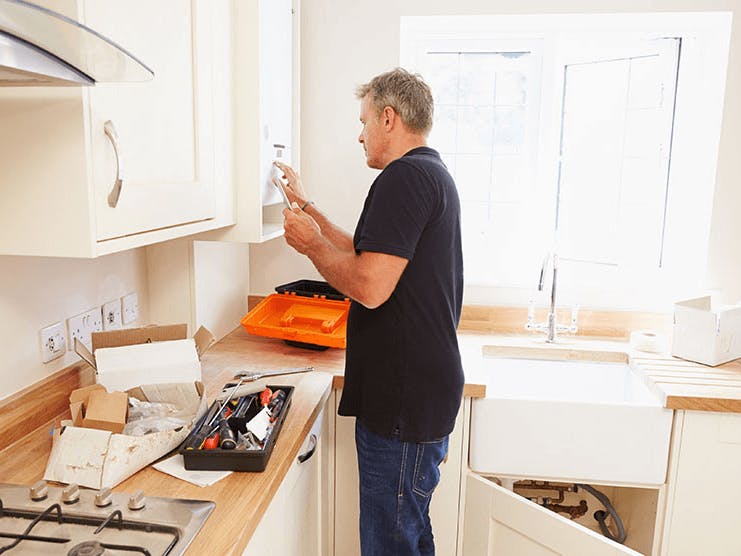 Even if you're an amateur at do-it-yourself home improvement, you can tackle these updates in a couple of days.
If you're thinking about selling your home, you're not alone. With mortgage rates still low and prices still high, many homeowners are wondering if now's the time to cash in.
According to the CoreLogic Home Price Insights report, home prices climbed nationwide more than 17% between June 2020 and June 2021. And prices don't appear ready to level off or fall just yet. The CoreLogic report showed prices rose more than 2% from May 2021 to June 2021. And the authors of the report predict prices will go up 3.2% more in the coming year.
Maybe climbing home prices have you seeing dollar signs. Or maybe you're just ready to downsize or update your space. Whatever the reason, if it's time to make your house shine, we've got four projects even the most amateur of fixer-uppers can pull off over a weekend.
1. Turn a closet into a home office
During the pandemic, home offices have become a must-have on many homebuyers' lists. In fact, according to Pew Research, 71% of employed adults surveyed were working from home in October 2020.
Even if you don't have a dedicated room for an office, you can give buyers what they want with a little closet space. An open walk-in closet may be big enough to serve as a small office, while a shallow reach-in closet could convert into a modern desk nook.
To make it work, paint the inside of your closet a different color from the rest of the room, says Jessica Welling, a professional interior designer and DIY blogger. "Another option is to use wallpaper on the back wall," she says. "Then find a desk or table that fits inside. You can mount organizers or shelves on the walls above it to keep clutter at bay."
If you're hoping to sell soon, keep the trends in mind. A consumer survey by the furniture company Living Spaces showed that the most popular office styles for 2021 are modern and industrial. Only 21% of people said their favorite office style is traditional.
Safety tip: When working up high, be sure that you're using an appropriate ladder and that the ladder is on a level, sturdy floor. Wear shoes with good tread to avoid slipping.
2. Update a tiled fireplace
A beautiful fireplace is a nice selling point and something you can enjoy too. If your fireplace doesn't look its best, give it new life. For a brick fireplace, a good cleaning may be all you need.
But if you have a tiled fireplace that looks a bit dated, you can spruce it up with a tile stencil, paint, and a grout pen, says Welling.
Welling offers step-by-step instructions and before-and-after pictures of her own fireplace here.
Safety tip: Be sure to wear kneepads while kneeling to stencil and paint — your knees will thank you! And remember that some paint and grout products have dangerous fumes. You may need a mask or respirator. You'll want to open the windows for good ventilation.
3. Give your cabinets a new look
Updating the hardware on your kitchen cabinets is one of the best uses of your time and money when it comes to home improvement, says Vineta Jackson, owner and founder of The Handyman's Daughter, a home improvement website.
"New cabinet hardware gives you one of the biggest bangs for your DIY bucks," she says. "And, if you choose hardware that matches the old holes, you won't even have to drill new ones."
From there, removing the old knobs and pulls is easy to do with a screwdriver, and you can usually use the same screws to attach the new pulls, Jackson says.
Likewise, Jackson says you don't need to rip out your old cabinets or vanity to give your bathroom a makeover. You can change the entire look of the room by replacing the doors and drawer fronts, she says.
With a few measurements, you can order new doors and drawer fronts to fit your vanity, Jackson says. You also can give it a new style or color.
Safety tip: Wear work gloves when removing cabinet drawers and vanities to avoid cutting your fingers on bolts and screws.
4. Refinish outdated popcorn ceilings
If you can't stand the popcorn ceilings in your home, you're in luck: It's not that difficult to get rid of that bumpy surface. And smoothing the ceiling will update the room right away, says Austyn Hoelter, a construction adhesives, caulks, and patching merchant at Home Depot. Here are her tips for getting the job done:
Gather tools and materials. Plan to have a ladder, tarp, spray bottle, paint scraper, primer, and paint. Don't forget your safety goggles and a good mask.
Prepare your workspace. Cover furniture with the tarp to collect falling dust and debris.
Remove the ceiling texture. Use a paint scraper to remove the material. Work in small sections of about 4-feet square. If you've got a stubborn surface, try wetting a small area using a spray bottle of warm water mixed with a few drops of dish soap. Use enough to loosen the material without damaging the drywall underneath. Wait 15 to 20 minutes and try scraping again. You can wet the surface again if the material is still difficult to remove.
Patch and paint. You may need to patch some areas of drywall after the texture has been removed. Be sure to cover any visible nails or screws with joint compound. Once any repairs are dry, sand the ceiling. Finish with a fresh coat of paint.
Safety reminder: Be sure to wear eye protection for this project. Looking up at the ceiling while scraping and sanding puts your eyes in the path of falling debris. A mask or respirator will also help keep you from breathing dust and paint fumes.
Find a Medicare Plan in your area
It's FREE with no obligation
Speak with a Licensed Insurance Agent
M-F 8:00am-10:00pm | Sat 9:00am-6:00pm EST