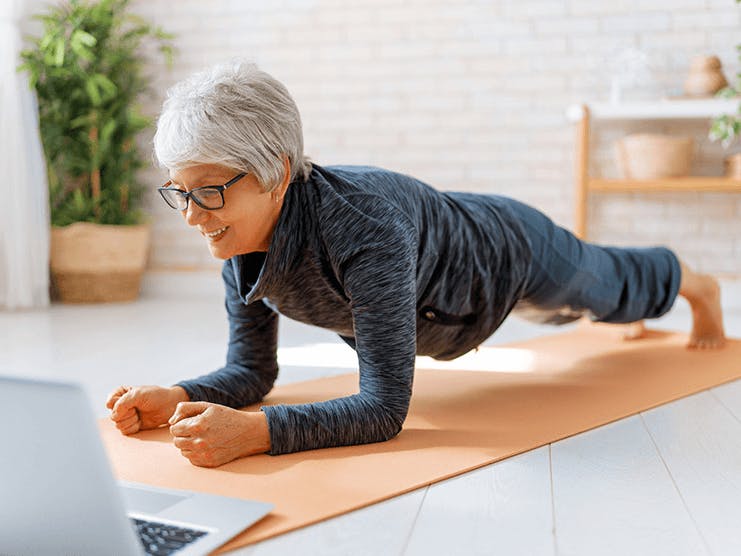 Online workouts offer a host of benefits besides the physical - they're free, convenient, and make it easy to try out new routines.
No matter your age, exercise does a body good. The rewards of breaking a sweat can seem endless, from strengthening your immune system to cutting your heart disease risk to boosting your mental health and mood.
But older adults can benefit from some lesser known perks as well. Exercise can help prevent bone loss and reduce your risk of falling. It can also ease chronic pain and increase your flexibility and range of motion, making it easier to do day-to-day activities.
And there's more good news. In an interview with Consumer Reports, Dr. Zaldy Tan, director of the Goldrich Center for Alzheimer's and Memory Disorders, says exercise can even help ward off mental decline.
"Regular aerobic exercise boosts blood flow to your brain and also increases the size of your hippocampus, the part of your brain that's involved in verbal memory and learning," Tan told the magazine.
To reap these rewards, experts say you should aim for 150 minutes – that's 2-and-a-half hours – of moderate exercise each week. Make sure to include some strengthening exercises at least two days a week. Oh, and don't forget to work on your balance three times a week. (It can start to sound like a lot of exercise!)
Online workouts can be a convenient way to meet all these goals – and a great backup for those days when the weather's crummy or you just can't get to the gym. Below are six terrific online workout classes geared to older adults. They'll get your heart pumping, and best of all, they're free!
1. Senior Fitness With Meredith
This website has a huge variety of classes for all levels of fitness. Videos include chair exercises, cardio workouts, boxing classes, yoga and balance courses, and weightlifting. Find your perfect workout by entering the type of class you want, the difficulty level, and how long you want to exercise.
2. HASfit
A free YouTube channel, HASfit offers over 1,000 full-length workout routines, along with complete 14- to 90-day fitness programs for various goals and fitness levels. The channel's community page features workout tips, recipe ideas, and lots of feel-good pep talks to keep you motivated. You can also download the free HASfit app on any smartphone.
3. SeniorShape with Lauren
This YouTube channel offers videos geared towards beginners and older adults. A certified fitness instructor, Lauren has extra training in the fitness needs of older people. The easy-to-follow classes include weight training, barre, pilates, chair yoga, cardio, and more.
4. Do Yoga With Me
Yoga for Seniors is part of the massive Do Yoga With Me website. Choose from dozens of options, including gentle yoga, slow flow, and chair yoga. You can search for classes by difficulty level and session length. While some of the classes are only for paid subscribers, many are completely free.
5. NativePath
A personalized health and nutrition company, NativePath offers "tools and resources to restore natural vitality through ancestral wisdom and cutting edge science." The company's mission is to help people reverse pain, shed unwanted pounds, and get to the root of their health issues. The website has a blog, a recipe page for healthy meals, and nearly 100 exercise videos at a variety of skill levels – all free of charge.
6. SilverSneakers
SilverSneakers is a free fitness program for people with certain Medicare Advantage plans. Members enjoy access to live, online fitness classes and an on-demand library of workouts. But if you want to take your fitness offline, you can also take advantage of SilverSneakers' network of more than 15,000 fitness locations. In addition to the classes, you can access gym equipment, walking tracks, pools, saunas, and more.
Our Find a Plan tool makes it easy to find Medicare Advantage plans that include fitness benefits. Just enter your zip code and check Fitness Benefits under Plan Features.
How Medicare can help you keep fit
Your Medicare coverage includes a variety of preventive services designed to keep you healthy, starting with your yearly wellness visit, covered 100% by Medicare.
It isn't an annual physical but a health risk assessment, during which your healthcare provider works with you to design a personalized prevention plan to lower your risk of disease. Your yearly wellness visit is also the perfect time to talk to your provider about your fitness goals and what type of exercise is safe for you to do.
Medicare's preventive benefits also include obesity behavioral therapy (if you have a BMI of 30 or higher) and nutrition therapy services (if you have diabetes or kidney disease). Both of these services are covered at 100% and are designed to guide you through healthy lifestyle changes.
If you're struggling to understand your Medicare coverage and options, our licensed agents are only a phone call away. They'll answer your questions in plain English and help you find the right coverage for your unique needs and budget.
Additional resources
Find a Medicare plan that covers gym benefits
No obligation. No hassle. No charge.
Speak with a Licensed Insurance Agent
M-F 9:00am-9:00pm | Sat 9:00am-3:00pm EST