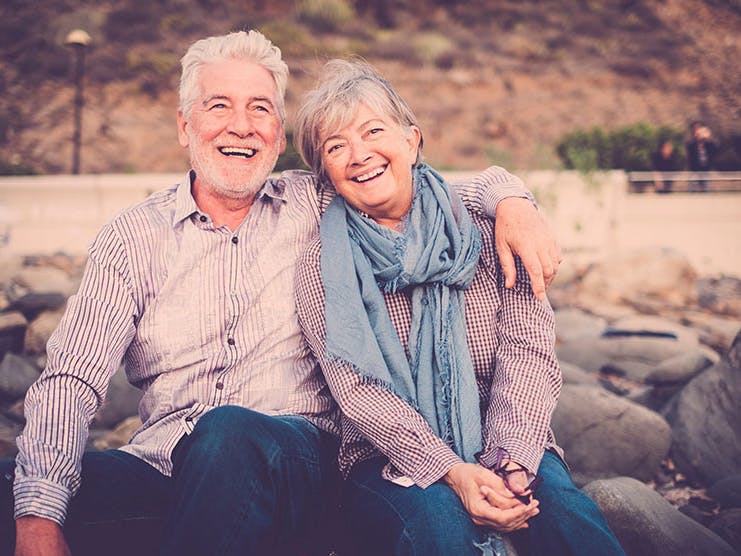 Unlike most private health insurance, you cannot add "dependents" to your Medicare coverage – not even your spouse.
Original Medicare Part A (hospital insurance) and Part B (medical insurance) does not offer family packages or different pricing for married couples. Each individual beneficiary must pay the Part A deductible and Part B premium and deductible separately.
This also applies for Part D prescription drug coverage and Part C Medicare Advantage plans, as each enrollee must have their own coverage and pay their own premiums and deductibles.
Read on to learn more about 2023 Medicare costs, coverage for married couples, and alternatives to Original Medicare to explore based on your needs.
Medicare costs in 2023
What you pay for Medicare depends on what coverage and services you get, as well as what providers you visit. With Original Medicare, there's no limit on what you pay out-of-pocket, but you should be aware of the following costs you may have:
Part A costs, 2023
Remember, each of these costs would be paid by every individual enrollee, even if you are married.
Premium
As long as you or a spouse paid Medicare taxes for at least 10 years and you qualify to get (or are already getting) retirement or disability benefits from Social Security or the Railroad Retirement Board (RRB), you'll pay $0 for Part A. If you don't qualify for premium-free Part A, you may be able to buy it for either $278 or $506 each month depending on how long you or your spouse worked and paid Medicare taxes.
Deductible
$1,600 for each inpatient hospital benefit period. Note there's no limit to the number of benefit periods you can have in a year, so you may have to pay the deductible more than once per year.
Inpatient hospital stay
Days 1-60: $0 after you pay the Part A deductible
Days 61-90: $400 co-pay each day
Days 91-150: $800 co-pay each day while using your 60 lifetime reserve days
You get an additional 365 lifetime reserve days when you have a Medigap plan

After day 150: You pay all costs
Skilled nursing facility (SNF)
Days 1-20: $0 co-pay
Days 21-100: $200 co-pay per day
Days 101 and beyond: You pay all costs
Home health care
$0 for covered home health care services, and 20% of the Medicare-approved amount for durable medical equipment (DME)
Hospice care
$0 for covered hospice care services
Part B costs, 2023
Some of the out-of-pocket costs you may each have for Medicare Part B include:
Premium
$164.90, or higher depending on your income (see the IRMAA graphic below). You may also pay a monthly penalty if you don't enroll in Part B when you're first eligible for Medicare, which you'd pay for as long as you have Part B.
Deductible
$226 paid each year before Medicare will start to pay
Co-insurance
Typically, you'll pay 20% of the cost of each Medicare-covered service after you've met your deductible and if your provider accepts assignment
You'll also pay $0 for home health care services and other preventive services.
Outpatient hospital care, outpatient mental health care, inpatient hospital care, and partial hospitalization for mental health care will all cost 20% of the Medicare-approved amount and you may have additional co-pays or co-insurance depending on the services provided.
And again, these costs are per person, even for married couples who may both be on Medicare.
Part D costs
Prescription drug coverage (Medicare Part D) must be purchased separately as either a standalone drug plan or as part of a Medicare Advantage plan (MA-PD). These plans each have a formulary which outlines the prescription drugs the plan covers and what they will cost.
Part D costs, including premium amounts, deductibles, co-pays, and co-insurance, can vary by plan. It can also vary by pharmacy you use, as well as the tier of the prescription drug. Typically, the higher the tier, the more expensive the price.
Note that even if you and your spouse choose the same Part D plan, you'll each have to meet the deductible separately before Medicare starts to pay anything. You will also each have a separate premium.
What is the Medicare income-related monthly adjustment amount?
If married couples file a joint tax return and have a higher income, they may have higher premiums for Medicare Part B and Part D.
The Medicare income-related monthly adjustment amount (IRMAA) is an amount you pay in addition to your Part B monthly premium if your income is above a certain amount. This applies to both individuals and couples and depends on the adjusted gross income (AGI) you reported on your IRS tax return two years prior.
If you are expected to pay IRMMA, the Social Security Administration will let you know.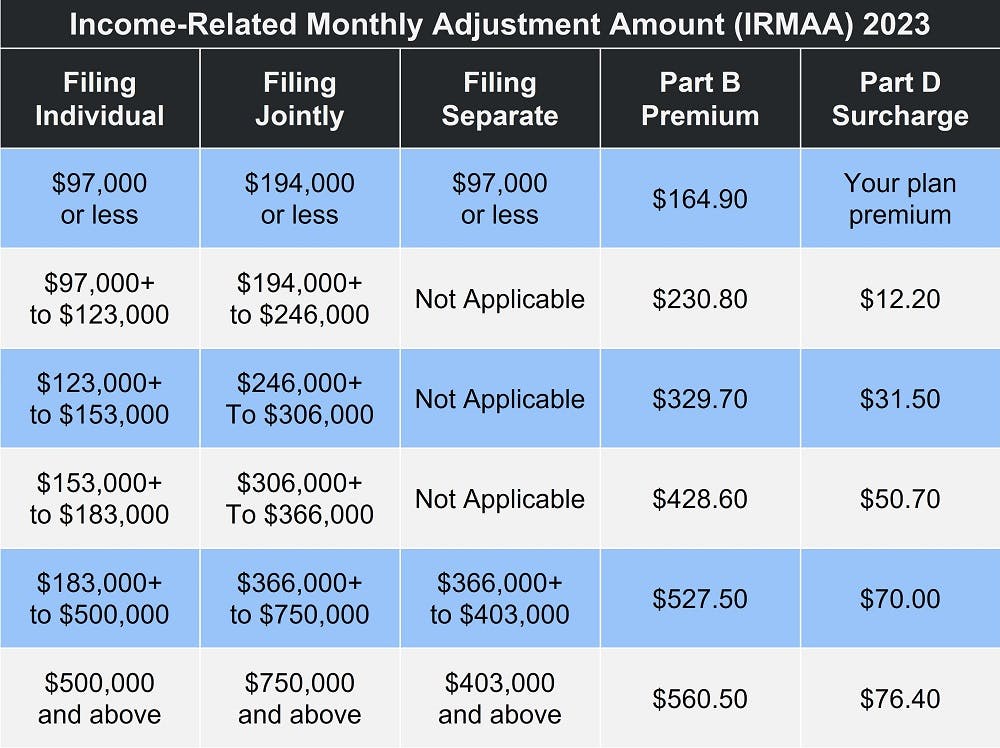 Medicare coverage for married couples
Each beneficiary who qualifies for Medicare does so separately. You cannot add a dependent to Medicare, and unless your spouse qualifies due to age or disability, they must get their health insurance in a different way. Unlike other types of health insurance you may have had in the past, there are no family packages, dependents, or other special treatments for married couples.
As noted above, each individual must have their own coverage and pay the deductibles and premiums separately.
Alternatives for health insurance coverage for spouses
When it comes to health insurance coverage for seniors, there are several options to explore and choose from. The good news is there are tools out there to help find the best plan for you, such as our free online Find a Plan tool. Enter your zip code, answer a few questions, and compare plan options picked just for you.
Additionally, a few options you may want to research include the HealthCare Marketplace, Medicare Advantage plans, and Medicare Supplement plans.
Healthcare Marketplace
The HealthCare Marketplace is available for people who don't have insurance through Medicare, Medicaid, or an employer. The Marketplace is a service that helps people shop for and enroll in a health insurance plan, providing answers to health insurance questions and educating about plans that fit your needs.
To be eligible, you:
Must live in the U.S.
Must be a U.S. citizen or national
Can't be incarcerated
Must not be eligible for Medicare or have Medicare coverage
There are a number of ways you can apply for and enroll in a Marketplace plan, including through an agent/broker, directly through a certified enrollment partner's website, online at HealthCare.gov, by calling the Marketplace Call Center, or through a paper application.
Learn More: What is the HealthCare Marketplace?
Medicare Advantage plan
Medicare Advantage plans, or Part C, are an alternative way to get your Medicare benefits. Offered by private insurance companies, these plans provide the same coverage as Medicare Part A and Part B, but they also have additional benefits for things like:
Hearing
Vision
Prescription drug coverage (Part D)
Fitness memberships
To enroll in a Part C plan, you must have Medicare Part B and continue paying that premium. You also must live in the plan's service area.
Costs for Part C plans can vary. This includes premiums, deductibles, co-pays, and co-insurance. The amounts can also change each year. However, one protection Medicare Advantage plans have is an out-of-pocket limit. While this varies by plan as well, once you pay the plan's limit, the plan pays 100% of your covered health services for the rest of the calendar year.
Note that like Original Medicare, there are no combined plans, discounts, or similar treatments for married couples. Each must have their own coverage and pay separate costs.
Medicare Supplement plan
Medicare Supplement plans, or Medigap, are also sold by private insurance companies to help fill the "gaps" in Original Medicare. These plans will help Medicare beneficiaries cover costs Original Medicare doesn't, such as:
Co-pays
Co-insurance
Deductibles
Unlike Medicare Advantage plans, Medigap plans typically don't cover services Medicare doesn't, such as vision or dental care.
As an additional way to help beneficiaries save money, some Medigap plans offer a Medigap Household Discount, which is a percentage discount off your monthly plan premium when two people from the same address are enrolled with the same Medigap insurance company. The discount amount and requirements can vary by state and carrier, so research different carriers to find the best one for you.
Our Find a Plan tool makes it easy to find Medigap, Medicare Advantage, and Part D plans. Just enter your zip code to start reviewing Medicare plans in your area.
Find a Medicare Plan in your area
It's FREE with no obligation
Speak with a Licensed Insurance Agent
M-F 8:00am-10:00pm | Sat 9:00am-6:00pm EST