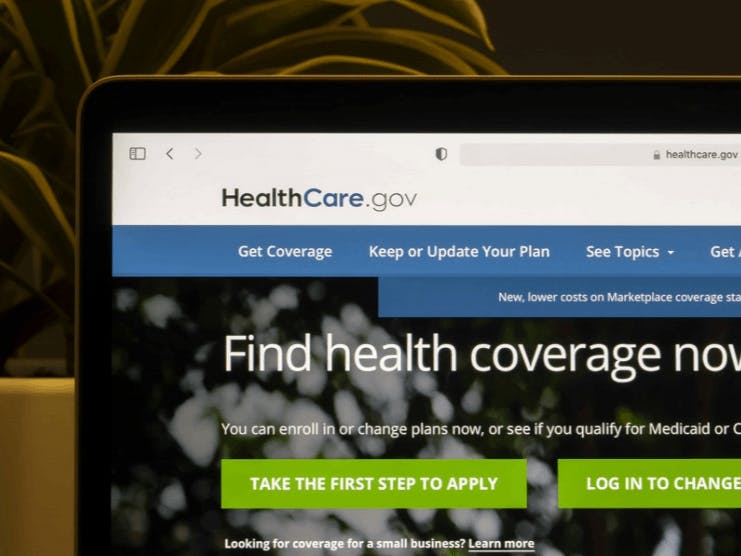 The HealthCare Marketplace is available for people who don't have health insurance through Medicare or Medicaid.
When it comes to health insurance, consumers have myriad options. There are dozens of types of plans, each offering different levels of coverage and costs, from varying networks of providers, and covering specific service areas.
While many people get health insurance through an employer or Medicare when they are eligible, not everyone has access to affordable group health insurance. This is when they'd use the HealthCare Marketplace to research and choose a plan.
Here is more information about what the Marketplace is, who is eligible, and when and how to purchase a plan.
What is the Marketplace?
The Healthcare Marketplace, or Health Insurance Marketplace, is a service that helps people shop for and enroll in a health insurance plan. The Marketplace is operated by the federal government, though some states also run their own Marketplaces.
Consumers can shop and enroll in a plan online, over the phone, and in-person. They have the opportunity to:
Compare health insurance plans, including coverage and costs
Get answers to their healthcare insurance questions
Find out if they are eligible for tax credits for private insurance or health programs like Medicaid
Enroll in the insurance plan that meets their needs
Every plan offers the same set of essential health benefits, such as doctor visits, preventive care, inpatient and outpatient care, prescription drug coverage, and more. Plans can be compared based on cost, benefits, quality, and other important features.
Who is eligible for the Healthcare Marketplace?
In order to be eligible to use the Health Insurance Marketplace, you:
Must live in the U.S.
Must be a U.S. citizen or national
Can't be incarcerated
Must not be eligible for Medicare or have Medicare coverage
You can use the Marketplace regardless of which state you live in.
People may use the Marketplace if they don't have health insurance coverage through an employer, if they are self-employed or unemployed, or to find a plan that may be more affordable than what is available from their employer.
If I have Medicare, can I choose the Marketplace instead?
It's against the law for someone who knows you have Medicare to sell you a Marketplace plan, so generally you cannot choose the Marketplace if you have Medicare.
However, there are a few situations when you can choose a Marketplace plan instead of Medicare:
If you're paying a premium for Part A, you can drop Part A and Part B and get a Marketplace plan instead.
If you're eligible for Medicare but haven't enrolled because you'd have to pay a premium, you have a medical condition that qualifies you for Medicare but you haven't applied for coverage, or you're not collecting Social Security retirement or disability benefits before you're eligible for Medicare, you can choose a Marketplace plan.
It's important to note that if you enroll in Medicare after your Initial Enrollment Period ends because you opted for a Marketplace plan, you may have to pay a late enrollment penalty for as long as you have Medicare. Additionally, you can only enroll in Medicare during the General Enrollment Period, which could mean a gap in coverage.
When can I buy a plan on the Marketplace?
Typically, you can only enroll in a Marketplace plan during the open enrollment period, although you can enroll in Medicaid or CHIP at any time. This is a period during the fall when people can enroll in a health insurance plan for the next calendar year. For coverage in 2022, open enrollment happens from November 1 through December 15, 2021, with a coverage start date of January 1, 2022. Find the full list of 2022 Healthcare Marketplace dates on this calendar.
You could also qualify during a special enrollment period due to a life event such as losing other coverage, getting married, moving, or having a baby. Typically, you have up to 60 days after this life event to enroll in a plan. You can see if you can still get health coverage by using the eligibility tool on HealthCare.gov.
How to enroll in a Marketplace plan
There are several ways to apply for and enroll in a Marketplace plan.
Whether you're searching for options, comparing plans, or ready to make a decision and enroll, there are a variety of options available to you to do so.
Find a Medicare Plan in your area
It's FREE with no obligation
Speak with a Licensed Insurance Agent
M-F 8:00am-10:00pm | Sat 9:00am-6:00pm EST