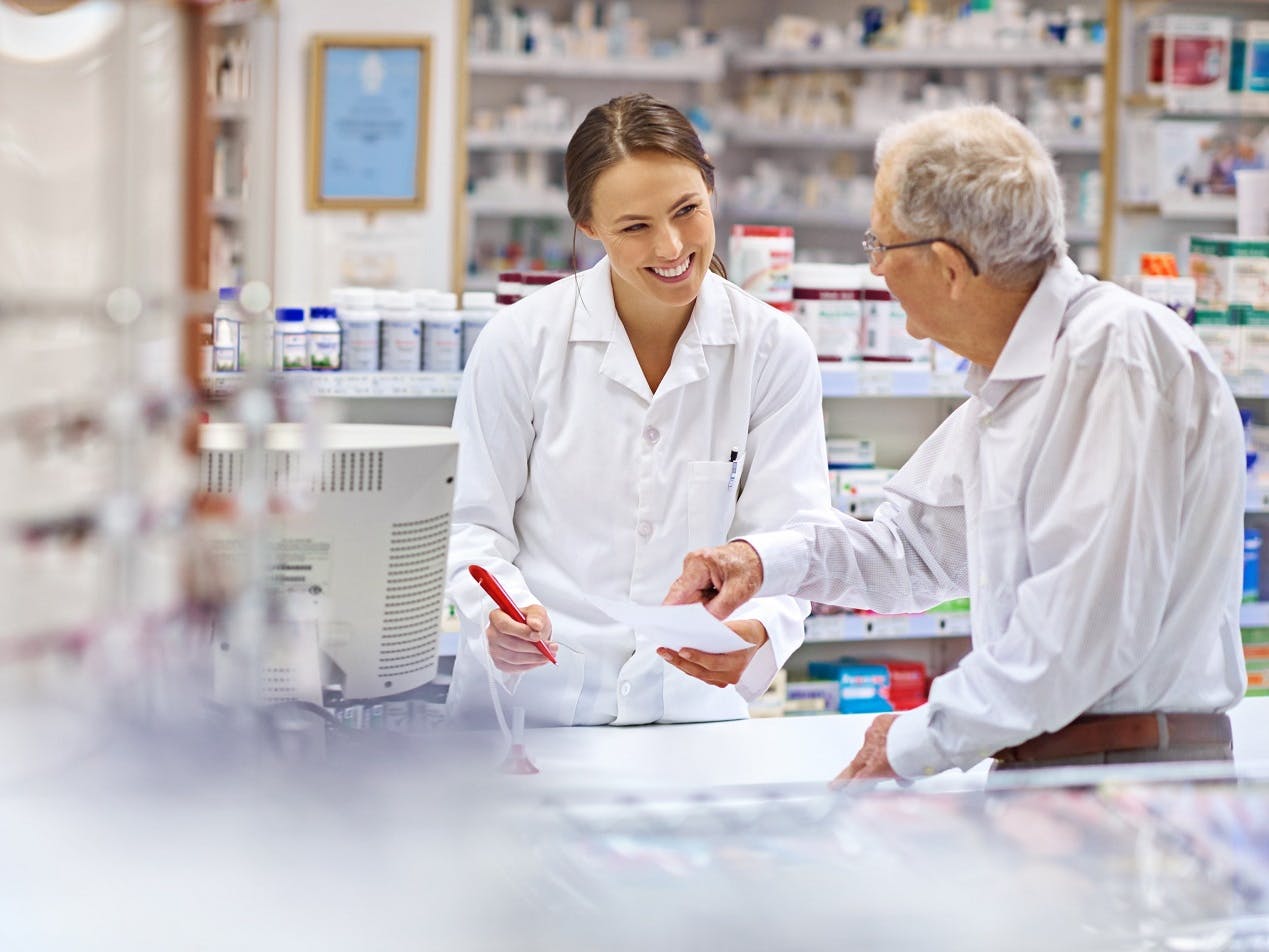 If you require prescription medication in a healthcare setting, Part B likely applies. Otherwise, you need Medicare Part D.
To put it simply, Medicare Part B does not cover self-administered prescription drugs. Instead, you get prescription drug coverage through either a standalone Medicare Part D plan or by joining a Medicare Advantage Prescription Drug plan (MA-PD). Below we will go into the different ways Medicare helps cover the costs of medications.
What does Medicare Part B cover?
Medicare Part B is one-half of Original Medicare (Parts A and B). Part A is often referred to as hospital insurance because it covers services like inpatient hospital care, home health services, and hospice care. It may also cover nursing care, so long as it is not custodial or long-term.
Part B is your medical insurance. It covers outpatient care such as doctor appointments, lab work, mental health care, preventative screenings, and some vaccines.
While Part B does not cover your regular prescriptions, it will pay for medications administered in a healthcare setting, or that you would not generally give to yourself. Here are some of the outpatient drugs Medicare Part B covers:
●      Some oral and injectable cancer medications and medications to combat chemotherapy side effects
●      Drugs administered with durable medical equipment, such as a nebulizer or infusion pump
●      Vaccinations and other shots related directly to treatment of an illness or injury
●      Injectable osteoporosis drugs
You can find more examples of the medications Part B covers at Medicare.gov here. Outside of these examples, all drug costs would be covered through a Part D or Part C plan.
Part B drug costs
For a medication to be covered, your doctor and/or pharmacy must accept assignment for any Part B covered drugs. This means you should never have to pay more than the coinsurance or copay for the covered medication. Once you've hit your Part B deductible, this is usually 20% of the Medicare-approved amount. If your drugs are not covered by Medicare Part B or another drug plan, you pay the full amount. Flu, Hepatitis B, and pneumococcal vaccinations have no out-of-pocket cost.
What is Medicare Part D?
Medicare Part D is Medicare's prescription drug coverage. A Part D plan is how most of your prescription needs are covered. It does not replace any aspect of Original Medicare; it simply adds drug coverage to your existing Medicare coverage. All Part D plans have to cover a wide range of prescription medications, including most drugs in protected classes, such as cancer and HIV medications.
Every plan has what is called a formulary, which is a tiered list of the medications the plan covers. Drugs in the lower tiers cost less and are typically generic drugs, while higher tiers have more expensive, brand name drugs.
It is imperative that you review a drug plan's formulary to ensure it has the medication you need before making a decision. While keeping your premiums and deductibles low is important, it means little if your medication is not covered, or is priced out of your range. Also be sure to consult your doctor about any medications you might need in the future before reviewing formularies, and that the plan works with a pharmacy near you.
Because Part D plans are offered through private insurers, prices vary based on the plan you choose and the company you go with. Cost also depends on the benefit phase you're in (i.e., have you met your deductible?) and the tier your medication is on. If you qualify for Extra Help, it can reduce these costs.
What is Medicare Advantage?
Medicare Advantage, or Medicare Part C, can combine all aspects of Medicare into a single plan. (Remember, though, even if you have a Part C plan, you still have to pay your Part B premium.)
At a minimum, all Advantage plans cover the same things as Original Medicare, but nearly all have a host of additional benefits. The most common additions are dental, hearing, vision, gym benefits, and prescription drug coverage. It is important to note that, in most cases, you cannot have both a Medicare Advantage plan AND a Medicare Part D prescription drug plan; you must choose one or the other.
Part C plans operate similarly to Part D plans, in that they are provided by private insurance companies. Though they must all include the same level of coverage as Original Medicare, they do not all come at the same cost or with the same benefits.
It can be convenient to have all of your Medicare needs in a single plan, but you need to make sure it has the appropriate coverage for you.
Since Advantage plans vary in cost and coverage, thoroughly review everything a plan has to offer before making a choice. Choosing a plan with no drug coverage when you take medication daily, or that offers more than your current coverage but is outside your budget, only hurts in the long run.
If you are looking for a Medicare Advantage plan, the easiest, quickest way is with our Find a Plan tool. Just enter your zip code to start comparing Medicare plans in your area. You can also call toll-free at 888-992-0738 to speak with a licensed ClearMatch Medicare agent. We'll explain your options in plain English and help you find the right coverage for your unique needs.
Find a Medicare plan with extra benefits
It's FREE with no obligation!
Speak with a Licensed Insurance Agent
M-F 8:00am-10:00pm | Sat 9:00am-6:00pm EST