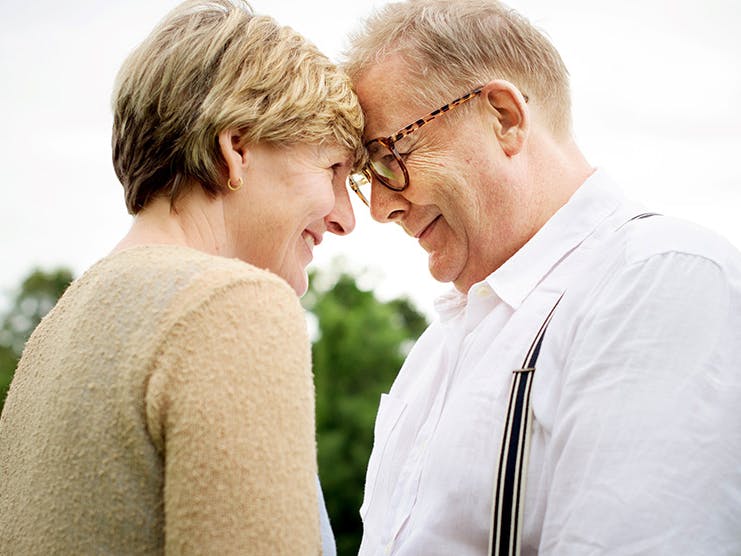 Few prescription drug plans cover Viagra, but you may have options.
Erectile dysfunction (ED) is a medical condition when the penis cannot obtain or sustain an erection. Considered a form of sexual dysfunction and potentially vascular disease, there are medications that can be prescribed to treat ED. One of the most common is Viagra.
Since it was first introduced in 1998, more than 65 million prescriptions for Viagra have been filled. Read on to learn more about what Viagra is, whether it's covered by Medicare, how much you'll pay for Viagra, and other options available to you for ED.
What is Viagra?
Viagra is a prescription drug primarily used to treat erection problems in men. Often known as "the little blue pill," Viagra is an oral tablet taken in doses of 25, 50, and 100 milligrams.
Erections require the release of a certain chemical called nitric oxide (NO), which allows the smooth muscles in the penis to relax and permits the increased blood flow that causes an erection. Viagra suppresses the enzyme responsible for the breakdown of NO (called a phosphodiesterase-5 inhibitor, or PDE-5), therefore increasing its effect.
Viagra and its generic alternatives can also be prescribed to treat pulmonary arterial hypertension (PAH), which involves high blood pressure in the arteries in the lungs.
It's important to talk with your doctor about your current medications and health conditions prior to using Viagra to ensure you take the correct dose at the right time. Common side effects can include flushing, headache, body aches, nausea, upset stomach, and diarrhea. Additionally, taking certain medications along with Viagra or its generics can cause dangerous side effects, so they should not be taken together.
Why is Viagra prescribed?
In most cases, Viagra is prescribed to treat ED, which means you're unable to have or maintain an erection. It's also used to improve the ability to exercise in adults with pulmonary arterial hypertension, which can cause shortness of breath, dizziness, and tiredness. Because it's a PDE-5 inhibitor, it increases blood flow to the penis during sexual stimulation or can relax blood vessels in the lungs, allowing blood to flow easier.
Viagra does not cure ED or increase sexual desire, nor does it prevent pregnancy or protect against the spread of sexually transmitted infections (STIs).
Medicare coverage for Viagra
Neither Medicare Part A (hospital insurance) nor Part B (medical insurance) cover general prescription drugs. Medicare Part D prescription drug plans do not cover Viagra or other brand name medications for erectile dysfunction, including Cialis and Levitra. This is because the treatment of ED is considered lifestyle-enhancing, not medically necessary.
However, some generic versions of erectile dysfunction drugs, including Sildenafil, are covered by most Medicare Part D plans as well as private insurance plans.
To learn if an ED medication is covered, check the plan's drug formulary. This will tell you if the prescription is covered, as well as how much it will cost out-of-pocket. Note that prior authorization may also apply depending on your plan.
If the drug is being prescribed to treat PAH, it will likely be covered by Part D drug plans, as it would be considered medically necessary. This includes a brand of Sildenafil known as Revatio, specifically used to treat PAH.
Do Medicare Advantage plans cover Viagra?
Medicare Advantage plans(Part C) are required to cover at least everything Original Medicare Part A and Part B cover, though most offer additional benefits for vision, hearing, dental, and prescription drug coverage. A few Medicare Advantage plans that offer prescription drug coverage (MA-PD plans) do cover brand name drugs for erectile dysfunction, and most cover generic ED drugs. Check with the particular MA plan and their formulary to learn what drugs it covers.
Cost of Viagra
According to GoodRx, the lowest price for the most common version of generic Viagra is around $0.53 per pill, originally retailing at $54.73 per pill. If the generic Sildenafil is covered, you'll likely be charged a $10 co-pay, although this varies depending on your plan.
Other drug costs depend on whether it's a brand name drug or generic, as well as whether the medication is covered by your plan at all. Restrictions on the number of pills a patient can receive per month can also impact the cost. Typically, the cost per pill is around $15 to $20, though after you reach the monthly limit, one pill can be $20 to $50.
You can use our Find a Plan tool to search plan coverage and costs before choosing one that's right for you. Just enter your zip code to see Medicare Part D plans in your area and close out of any popup boxes you don't want to answer.
How to save money on ED medication
Because ED medication coverage varies depending on your plan, costs can add up. A few ways to save money include:
Coupons or discount codes can sometimes be found online, further lowering the price when filled at a qualifying pharmacy. Check out sites like GoodRx or ask your doctor about manufacturer discounts.
The Extra Help Program is a Medicare program that helps beneficiaries with limited income or resources pay for a Medicare prescription drug plan. Some people automatically qualify, though you can also apply online.
Shop around different pharmacies to find the best price. You can also compare prices online.
You can also always ask your doctor about a generic option as those are typically cheaper and have the same effects, or alternative medications that may be better for you. They may also have information about a Patient Assistance Program you may qualify for.
What other erectile disfunction medications are there?
Viagra and related generic oral medications are just one option for treating ED. Other available medications and options you can explore with your doctor include:
Injectable, pellet, oral, or topical forms of testosterone
Other injectables like Edex or Muse
Vacuum pumps
Blood vessel surgery
Alprostadil urethral suppositories
Additionally, there are some nonmedical treatment options like relationship counseling, kegel and other physical exercises, dietary changes, or talk therapy for stress, anxiety, and other psychological causes of ED.
Find a Medicare Plan in your area
It's FREE with no obligation
Speak with a Licensed Insurance Agent
M-F 8:00am-10:00pm | Sat 9:00am-6:00pm EST