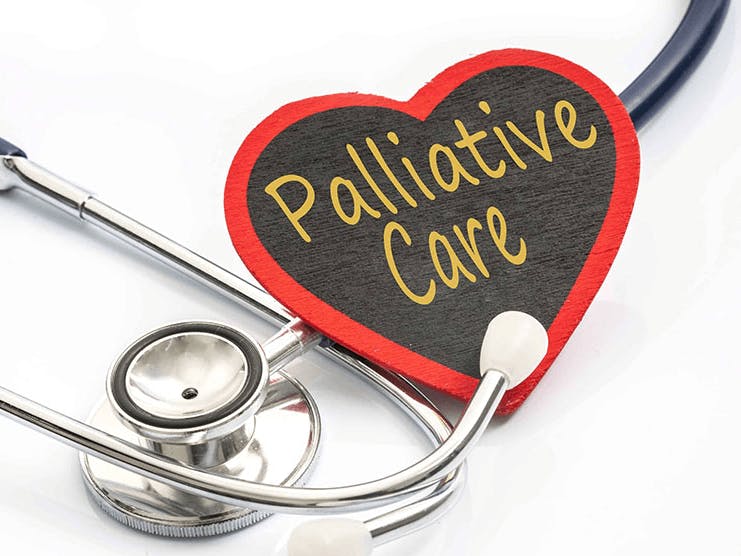 When a patient decides to forego treatment intended to cure their illness, they may choose palliative care to help manage symptoms like pain.
Palliative care can be a confusing term to understand, for many reasons. This form of care doesn't require a specific set of treatment options or even a consistent, limited group of diseases to treat. Rather, palliative care services can be thought of as an approach to care that focuses on making you feel better, rather than healing your condition.
For this reason, it can be even more confusing to understand whether or not Medicare will cover your palliative care options. We'll discuss how Medicare decides if a given care option is covered, as well as how different parts of Medicare cover palliative care options.
What is palliative care?
Palliative care is, simply put, medical care that is intended to make you feel better, rather than curing your condition. This can take many forms, from physical and occupational therapy to mental health services. Palliative care can involve medications and inpatient care as well. In theory, there is no limit to which care options may be involved.
Many people confuse palliative care with hospice care. While hospice care also focuses on your general comfort rather than healing, there are a few key distinctions. Hospice care applies only to those for whom full healing from their affliction is no longer under consideration. Patients in hospice care focus only on care options that improve quality of life.
Palliative care, in contrast, can refer to treatment options for those who are undergoing a more general treatment plan. For example, patients with a serious illness may receive mental health treatments as a form of palliative care, to help them cope with the news of their condition. While this doesn't directly impact their medical condition, it does impact their well-being, and can therefore be considered palliative care.
Understanding medical necessity: The key to coverage
While Medicare does cover palliative care, it doesn't cover every option out there. Instead, Medicare will usually only cover medically necessary palliative care. This is distinct from hospice care. Medical necessity is important to understand because it is the guiding principle behind most Medicare coverage options out there.
Both parts of Original Medicare -- Parts A and B -- only cover medically necessary services. The basic idea behind medical necessity is that the service in question is needed to diagnose or treat an illness. In this sense, many palliative care options may not qualify for Medicare coverage, although palliative care is covered in a general sense.
Medical necessity will also vary from patient to patient. This means that you will have to consult with your doctor about your specific situation. There is no way to know in advance whether or not a treatment option will count as medically necessary. If it is not, then it will likely not be covered.
Palliative care under Medicare Part A
Medicare Part A covers medically necessary inpatient care. This includes things like hospital stays, skilled nursing facility treatment, as well as some home-care options.
Depending on your condition and medically necessary designations from your doctor, your palliative care options under Medicare Part A could vary widely. You may have a dedicated palliative care team that helps with your conditions and develops a treatment plan for you, or there may be a single nurse or nurse practitioner who administers a limited set of treatment options that are palliative in nature.
Your palliative care can be covered in a hospital no matter what form it takes. You can be covered for therapies, IV drug treatments, diagnostic tests, mental health care, and equipment coverage. While there is no limit in theory, it is all bound by a designation of medical necessity from your doctor.
Palliative care may also cover temporary inpatient services to give respite to your primary caregiver. This can be the case whether or not they are a family member, but coverage will vary, as usual.
Medicare Part B and palliative care
Medicare Part B covers outpatient care options that are medically necessary. This includes things like doctor visits, wellness checks, outpatient therapeutic services like physical therapy, most mental health care options, some instances of home care, and durable medical equipment.
If you aren't an inpatient at a hospital, then it is more likely that your palliative care option will be covered under Part B, if covered at all. Most forms of palliative care, like mental health care and therapeutic treatment, will take place in an outpatient setting.
Overall, the rules for palliative care coverage under Medicare Part B are similar to those for Part A. If the care is medically necessary, then it will be covered. This designation depends on your specific condition, your treatment options, and your doctor's judgment of the situation as a whole.
Palliative care team options are also available for outpatient services. Your doctor may put you in contact with palliative care specialists that can help coordinate different aspects of your treatment, including diet, prescription drug use, and therapeutic treatment.
Medicare Advantage plans and palliative care
Medicare Advantage, also known as Medicare Part C, offers you a way to receive your care options through a private insurance plan. These insurance plans cover the same things that Original Medicare covers, with no exceptions. This means that any palliative care option that is covered under Original Medicare will also be covered by Medicare Advantage.
There are, however, a few notable things about Part C coverage. Your Part C plan may have different out-of-pocket costs than Original Medicare, and this can apply to your palliative care. For example, you may have a different deductible, copayment, or coinsurance than what you would pay under Original Medicare. In most cases, your premium for Part C will be lower, but your out-of-pocket costs will be slightly higher. However, this is far from uniform.
Another difference is that Medicare Advantage may cover long-term care options that aren't covered by Original Medicare. While Part C plans must cover at least what Original Medicare covers, they can also cover more. This means that Part C plans may offer you even more options for palliative care. However, like with most things related to Part C, this can vary. Make sure you examine the details of your plan.
Lastly, your Part C plan may cover prescription drugs, which are not covered by Original Medicare. In this case, your plan will function straightforwardly; just make sure the drugs you need are covered by your plan.
Part D Prescription Drug Plans: Options for palliative care
Part D drug plans will function simply when it comes to palliative care. Simply put, if you need a drug covered, and it's covered by your plan, then they will pay for it. Any out-of-pocket fees will apply. In essence, Part D plans won't distinguish between palliative and non-palliative care.
These insurance plans are offered by private insurance companies, so each plan will be different. Each plan will provide you with its own out-of-pocket costs, as well as a formulary which tells you how much each drug will cost. Usually, copayments for certain drugs will be higher than others, and this can vary from plan to plan.
Hospice care: A special case of palliative care
Hospice care can be thought of as a special instance of palliative care. While all hospice care is palliative, the opposite is not true, and hospice care tends to be reserved for those with a terminal illness.
Hospice services have special conditions and requirements under Medicare. According to medicare.gov, the following services are covered under Medicare hospice care:
All items and services needed for pain relief and symptom management
Medical, nursing, and social services
Drugs for pain management
Durable medical equipment for pain relief and symptom management
Aide and homemaker services
Other covered services you need to manage your pain and other symptoms, as well as spiritual and grief counseling for you and your family.
The general theme here is pain relief and symptom management, rather than curative treatment. All of the care that one receives in a hospice should be directed towards these ends: not medical healing.
Original Medicare and Medicare Advantage provide a lot of hospice benefits. You will generally pay nothing at all, with a few exceptions. You may have to pay a copay, no higher than $5, for prescription drugs. Additionally, you may have to pay for boarding if you receive hospice care in a different location, or if your treatment center moves.
Palliative care: A summary of your coverage options
Overall, there are no clear answers for specific situations regarding palliative care outside of a hospice. While Medicare does cover palliative care, the options and possibilities will vary depending on your situation, your doctor, and your treatment options. Options may be expanded under Medicare Advantage, and are expanded significantly for hospice care.
Find a Medicare Plan in your area
It's FREE with no obligation
Speak with a Licensed Insurance Agent
M-F 9:00am-9:00pm | Sat 9:00am-3:00pm EST