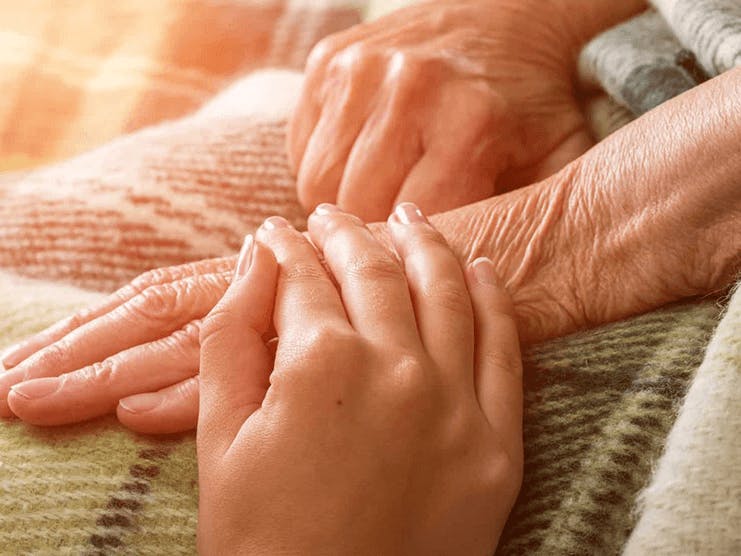 Hospice care is included in your Medicare Part A benefits.
End-of-life care can be difficult to think about or plan for, but it's important to be prepared ahead of time in order to help make the transition as smooth as possible for you and your family. When planning, you may want to consider your options around hospice.
Hospice care focuses on quality of life for you and your caregivers if you're experiencing terminal illness. Hospice treats you as a person, not your disease, and the care will focus on providing you with the most comfort possible until the end through medical care, pain management, and emotional and spiritual support.
Choosing to start hospice care can be a difficult decision for you and your family but brings support and comfort in a time of need. And, if you have Medicare Part A (hospital insurance) and meet certain requirements, your end-of-life care is likely covered.
Note: You are eligible for Medicare Part A if you are age 65 or older and you or your spouse worked and paid for Medicare taxes for at least 10 years. You must also be a U.S. citizen or permanent legal resident who has lived in the U.S. for at least five years.
Does Medicare Cover Hospice?
Medicare covers hospice care and services if you meet all the following requirements:
You must have Medicare Part A (hospital insurance).
A hospice medical director, as well as your primary care doctor, must certify you are terminally ill and have a life expectancy of six month or less.
You or your legal guardian must accept palliative care (comfort and quality of life) instead of care to cure your illness.
You or your legal guardian must sign a statement choosing hospice care instead of other Medicare-covered benefits to treat your terminal illness and related conditions.
You must also choose a Medicare-approved hospice provider. There are thousands of Medicare-approved hospice providers in the U.S. To find one, you can talk to your primary care doctor or call your state hospice organization. You can also ask your preferred hospice provider if they are Medicare-approved.
Note: If you belong to a Medicare Advantage plan, ask your plan to help you find a covered hospice provider near you.
What Is Hospice Care?
Hospice provides comfort and care to people who are terminally ill, as well as their families and caregivers. Typically to enter hospice care you must have a life expectancy of six months or less if the illness runs its course, and the focus is on comfort instead of treatment or cures.
Hospice care teams are made up of doctors, professionals and other caregivers who work to meet the physical, emotional and spiritual needs of a person entering their final stage of life. Services usually include physical care, counseling for you and your families, prescription drugs, medical equipment and supplies, and other needs you may have. They will help you be as comfortable and pain-free as possible, while also remaining independent for as long as you can. They will even help you and your family through the stages of dying, providing comfort and information to help ease the grief.
While hospice care is typically given in your home, you can also receive inpatient hospice care in which you stay in a hospice facility. Some hospitals and skilled nursing facilities also have hospice units, but check with your doctor or state hospice organization to ensure those facilities are covered by your Medicare plan.
When choosing a hospice care provider, consider asking:
Is the hospice provider certified and licensed by the state or federal government?
Does the hospice provider train caregivers to care for you at home?
How will your doctor work with the hospice care team?
How many other patients are assigned to each member of the hospice care team?
How often will the hospice staff meet with you and your family to discuss your care?
How does the hospice team staff and respond to after-hour emergencies or questions?
What measures are in place to ensure quality care from the hospice?
What services do the hospice volunteers offer?
Palliative Care
Palliative care is the type of care provided in hospice, focusing on helping people who are terminally ill maintain comfort and quality of life. Typically, it starts with the diagnosis of the terminal illness and continues until the point at which it is clear the patient will not survive.
This care will help with your physical, mental, emotional, social and spiritual needs, and can also provide support for your family. Palliative care supports and encourages you to help make the choice about your health care and end-of-life support, if you are able.
Respite Care
Caring for a loved one near the end of their life can be both emotionally and physically draining. Sometimes your caregiver may need time for a break, whether to rest, run errands, or take care of other duties.
With Medicare, you can receive inpatient respite care in a Medicare-approved facility, such as a hospice inpatient facility, hospital or nursing home, to give your caregiver time to rest. Each time you get respite care, you can stay for up to five days, and while you can get it more than once, it should only be on an occasional basis. Your hospice provider will help arrange this for you and your family.
What Does Medicare Cover?
Once your hospice benefit begins, Medicare will cover nearly everything you need, as long as you're with a Medicare-approved hospice provider.
Depending on your illness, conditions and care needs, you may receive hospice care either in your home or at an inpatient facility. Your hospice team will create a plan of care to help you with all of your end-of-life comfort and care needs. This may include:
Doctor and nursing services while in hospice
Medical equipment (like wheelchairs, walkers, or hospital beds)
Medical supplies (like bandages, catheters, etc.)
Prescription medications (such as pain relief medicine)
Hospice and home health services
Therapy services (such as physical and occupational)
Speech-language pathology services
Social worker services
Dietary counseling
Grief counseling for you and your family
Short-term inpatient care (for pain and symptom management)
Short term respite care (up to five days each time)
Other Medicare-covered services needed to help manage your condition and related symptoms
You can also still get Medicare-covered services for conditions not related to your terminal illness while you are receiving hospice care. Medicare will continue to cover services for any other health problems that may occur; however, you must pay the deductible and copay/coinsurance amounts for these services.
Even if you have a Medicare Advantage plan or other Medicare health plan, Original Medicare will cover your hospice services and needs. As long as you continue to pay your premiums, you can stay in your MA plan, which means you can choose to get other covered services not related to your terminal illness. This may include dental, vision, hearing, prescription drug coverage, and other services. If you have questions about what will continue to be covered for you, contact your plan.
What Won't Medicare Cover?
While Medicare will cover much of your hospice needs, there are a few things it will not cover.
Treatments to cure your illness/conditions. While you can stop hospice at any time if you change your mind about receiving treatment, you should talk to your doctor to understand your options and what will be covered.
Prescription drugs that are meant to control or cure the disease. Medicare will only cover drugs aimed at pain relief and symptom respite.
Care from a non-approved or non-hospice provider. All care you receive must be provided or arranged by the hospice provider, and you cannot see more than one hospice provider at a time. However, you are still able to see your primary care doctor if they are your attending medical professional.
Room and board. Medicare will not cover room and board for hospice patients who live at home, in a nursing home, or in assisted living facilities, unless your hospice team determines that you need short-term inpatient or respite care services. If your hospice team determines you need these services, and they arrange them, Medicare will cover your stay in the facility.
Note that in some cases, you may have to pay a small copayment for a respite stay.
Outpatient care, inpatient care, or ambulance transportation, unless it is arranged by your hospice team or is unrelated to your terminal illness and related conditions. Be sure to contact Medicare or your hospice team before receiving any of these services to ensure you are covered. Otherwise, you may have to pay the entire cost out-of-pocket.
How Does My Hospice Benefit Work?
Once you decide on a hospice and qualify for the benefit, you and your family will work with a hospice team to create a plan of care. When your benefit starts, Medicare will cover what you need related to your terminal illness, as long as it is arranged by your hospice provider. Medicare will also cover any services you need related to health problems not related to your terminal illness and associated conditions, though you will be required to pay the deductible and copay/coinsurance amounts.
With Medicare's hospice benefit, you and your family can stay in your home, or an inpatient facility if you need it. Your hospice provider, as well as any hospital or in-patient facility you may need, work together with Medicare and are paid directly by Medicare.
Your hospice team will ensure you get everything you need to be comfortable and as pain free as possible. Your team may include:
Family
Doctors (through the hospice, or you can choose your primary care doctor to be the attending medical professional who supervises your care)
Nurses or nurse practitioners
Counselors
Social workers
Pharmacists
Physical and occupational therapists
Speech-language pathologists
Hospice aides
Homemakers
Volunteers
A hospice nurse and doctor are on call 24/7 so you will receive the help and support you and your family need whenever you need it.
How Long Can I Get Hospice Care?
If you qualify for hospice care, that means you have six months or less to live. You can receive covered care even if your life expectancy is longer than six months, but the hospice medical director or doctor must re-certify that you are terminally ill.
Medicare Part A will cover two 90-day benefit periods, followed by an unlimited number of 60-day benefit periods. A benefit period begins the first day you get hospice care and ends at the end of 90 or 60 days.
At the start of the first 90-day period, your primary care doctor and hospice provider must certify that you are terminally ill with less than six months to live. Then, at the start of each benefit period after that, the hospice medical director must re-certify that you are terminally ill so you will continue to be covered by Medicare. You are able to change your hospice provider once during each benefit period, or you may keep the same care provider throughout all eligible benefit periods.
If your health improves or you decide you no longer want hospice care, you have the right to stop care at any time. If you choose to end the care, you will sign a form that includes the date your care will end. You will still continue to receive Medicare benefits, and can go back to hospice care at any time (if you are still eligible).
Medicare Hospice Costs
If you meet all of the requirements and choose a Medicare-approved hospice, Medicare will pay the hospice provider for your care. You will not pay a deductible, and in most cases, you will have little to no out-of-pocket costs.
You will continue to pay:
Your monthly Medicare Part A (hospital insurance) and Part B (medical insurance) premiums.
Up to a $5 copayment for outpatient prescription drugs for pain and symptom management. In most cases, your prescription drugs will be covered. If it is not, your hospice provider should contact your Medicare drug plan to see if it's covered under your Part D.
You may need to pay up to 5 percent of the Medicare-approved amount for inpatient respite care. Note that the amount you pay for this service can change each year, but the majority will always be covered by Medicare.
If you need to receive inpatient care at a hospital for your terminal illness and/or related conditions, your hospice provider must make the arrangements, or the care will not be covered. Medicare will pay your hospice provider, and your provider will pay the hospital. However, if your hospice provider did not make the arrangements, you may be responsible for all costs associated with your hospital care. This can add up quickly, so be sure to work with your hospice provider if you need inpatient or hospital care.
Find a Medicare Plan in your area
It's FREE with no obligation
Speak with a Licensed Insurance Agent
M-F 8:00am-10:00pm | Sat 9:00am-6:00pm EST