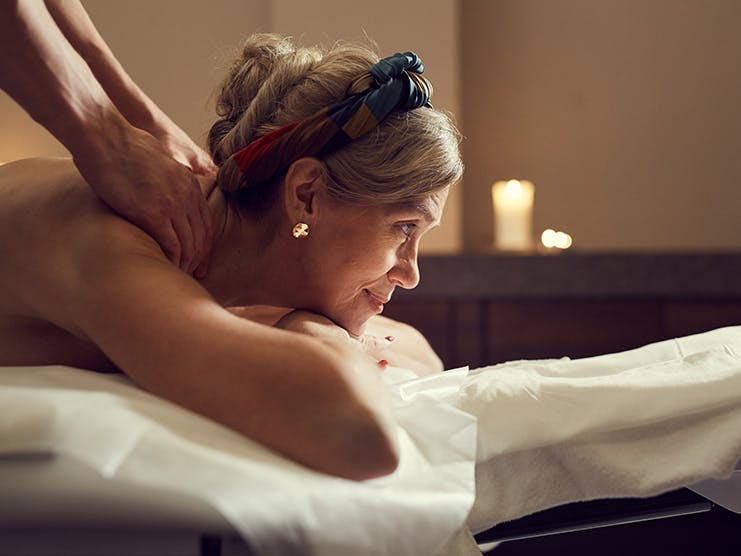 Massage therapy does not pass the medical necessity requirement for Medicare coverage. However, some Medicare Advantage plans include this benefit.
Massage therapy offers numerous benefits, including reducing stress and increasing relaxation. It's also great for reducing pain, muscle soreness, and tension. Massages can even improve circulation and blood pressure and lower your heart rate.
Millions of adults have discussed massage therapy with their health care providers in the past year, with even more getting regular massages for both their physical and mental health and wellness.
The downside to getting regular massages is the cost. On average, you can expect to pay around $100, with costs rising and falling depending on the type of massage, body part being treated, and where you live.
The good news is in some cases, massage therapy may be covered by your health insurance plan. Read on to learn more.
What is massage therapy?
Massage therapy is when a trained, certified massage therapist manipulates the soft tissues of your body, such as muscle, connective tissue, tendons, ligaments, and skin. The masseur uses varying degrees of pressure and movement depending on the area being treated and reason for the massage.
Benefits of massage therapy include reduced stress, lessened pain and muscle tension, increased relaxation, and even improved immune function. In fact, massage therapy may be recommended by your doctor to help cope with pain and stress for several conditions, such as cancer, heart disease, stomach problems, and more.
Is massage therapy covered by Medicare?
Original Medicare Part A and Part B do not cover massage therapy because it's generally not found to be medically necessary, and instead viewed as an alternative treatment. Even if you use massage therapy to treat medical issues, you would be responsible for 100% of the cost out-of-pocket.
Part B does cover other therapy services including:
Physical therapy: Performed by a physical therapist and focuses on rehabilitating body parts to return them to full function, such as limbs and joints.
Occupational therapy: Similar to physical therapy, but the occupational therapist helps you manage activities of daily living, such as eating, bathing, or getting dressed by yourself.
Massage therapy given as part of physical therapy would be covered under Part B.
Do Medicare Advantage plans cover massage therapy?
Medicare Advantage plans are offered by private insurance companies who contract with Medicare to provide services.
Also known as Medicare Part C, these plans are required to cover everything Part A and Part B do, but 90% provide additional benefits like Part D prescription drug coverage, hearing, vision, dental, and more.
Some MA plans may also provide massage therapy benefits depending on your health and needs. While the full cost of massage therapy usually isn't covered, the plan may cover part of the cost or offer some massage services as a benefit if:
It's treatment for a condition that's related to an injury or illness
You have an order or prescription from an in-network provider for massage therapy to treat a covered medical condition
You use a state-licensed massage therapist who is registered with your plan's network and has a National Provider Identifier (NPI)
However, it's important to check with the plan because each state has different requirements for billing insurance companies for massage therapy services, and they typically aren't standardized for insurance billing. This means you must check to see if massage therapy is covered and how the benefit is handled. Also ask your plan about any restrictions.
Related reading: 7 Surprising Medicare Advantage Benefits
Does Medigap pay for massage therapy?
Medicare Supplement Insurance, more commonly known as Medigap, helps fill the "gaps" in Original Medicare coverage. This means your Medigap plan will help pay for out-of-pocket costs like co-pays and co-insurance. It does not mean you can use a Medigap plan to pay for services not covered by Original Medicare.
This includes massage therapy. Since it isn't covered by Original Medicare, your Medigap plan will not pay for any part of massage services.
Does Medicare cover alternative treatments?
There are other alternative medical treatments some beneficiaries may explore for their health conditions. Examples of this may include chiropractic services and acupuncture.
Medicare Part B covers manual manipulation of the spine by a chiropractor to correct vertebral subluxation, but it does not cover other services or tests a chiropractor orders. This could include X-rays, massage therapy, and acupuncture (unless the acupuncture is for the treatment of lower back pain). You would pay 20% of the Medicare-approved amount after meeting the Part B deductible.
Medicare Part B covers up to 12 acupuncture visits in 90 days for lower back pain, and an additional eight sessions if you show improvement. It does not cover acupuncture for any other condition. You would pay 20% of the Medicare-approved amount after meeting the Part B deductible.
Some Medicare Advantage may cover chiropractic services and/or acupuncture as well. Check with the individual plan to learn more.
Find a Medicare Plan in your area
It's FREE with no obligation
Speak with a Licensed Insurance Agent
M-F 9:00am-9:00pm | Sat 9:00am-3:00pm EST