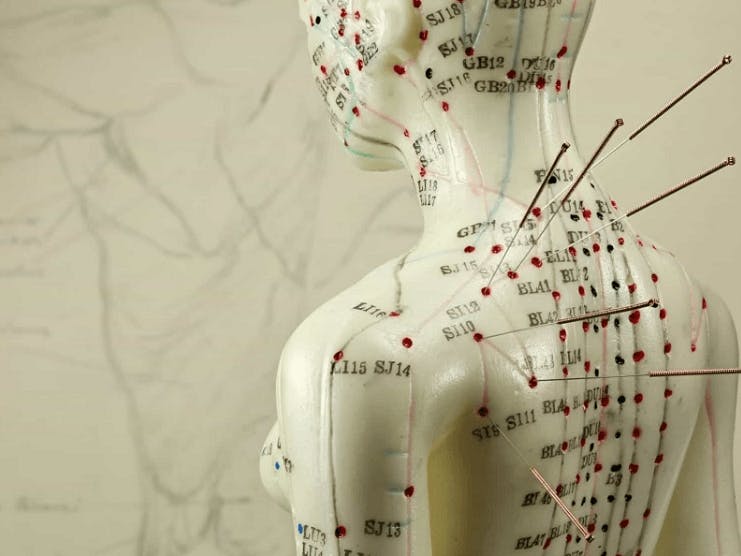 For 55 years, the answer to the question, Does Medicare cover acupuncture, was No. However, that all changed on January 21, 2020, thanks to a decision from the Centers for Medicare & Medicaid Services (CMS). Coverage of acupuncture treatments is limited, though, in terms of both the number of covered sessions and qualifying conditions.
How Does Medicare Cover Acupuncture?
Coverage for acupuncture services falls under Medicare Part B benefits. Treatments are only covered for Medicare beneficiaries who are experiencing chronic low back pain.
The CMS decision to cover acupuncture is part of the Medicare program's response to America's opioid epidemic. Health insurance providers across the country now cover alternative treatment methods to help beneficiaries manage chronic pain.
Medicare Part B covers up to 12 acupuncture treatments over a 90-day period. If your doctor believes you show improvement (i.e. experience less back pain), Medicare will cover an additional eight sessions. The maximum Medicare-coverage acupuncture treatments you can receive in a year is 20.
Does Medicare Advantage Cover Acupuncture?
Yes, since Medicare Advantage plans must provide the same benefits you have with Original Medicare, they must cover acupuncture.
However, it's important to remember that most Advantage plans provide additional benefits as well. If you have a Medicare Advantage plan (also known as Medicare Part C), review your benefits to see how your plan covers acupuncture. For example, it may cover treatments for conditions other than chronic lower back pain. In addition, your provider network may include acupuncturists. To ensure any service you receive is covered by your Medicare plan, always make sure the provider you choose accepts your insurance.
Our Find a Plan tool makes comparing your Medicare plan options easy. Just enter your location information and estimated coverage start date to compare Medicare plans in your area.
Does Medicaid Cover Acupuncture?
Yes, the CMS decision means that both Medicare and Medicaid now cover acupuncture to treat chronic low back pain.
How Do You Qualify for Acupuncture Coverage Under Medicare?
The only way to qualify for acupuncture treatments under Medicare is if you have chronic low back pain.
To meet Medicare's definition of coverage, your lower back pain must:
Not be related to surgery or pregnancy
Last for at least 12 weeks
Not be caused by infectious, inflammatory, or metastatic disease
If you meet all of those qualifications (and have Medicare Part B), your acupuncture treatments will be covered by Medicare.
Additional Information About Acupuncture and Medicare
Medicare also set guidelines on qualifications your acupuncture provider must meet.
Acupuncture treatments must be given by a healthcare provider, such as a doctor, physician assistant, or nurse practitioner
The provider must have a master's or doctoral degree in either acupuncture or Oriental medicine
The provider's degree must be from a school accredited by the Accreditation Commission on Acupuncture and Oriental Medicine
Their license must be current, active, full, unrestricted, and for the state in which the service is being provided
If you aren't sure where to find a licensed acupuncturist, you can start with the National Certification Commission for Acupuncture and Oriental Medicine (NCCAOM). Just click the "Find a Practitioner" button to get started.
How Does Acupuncture Work?
Acupuncture is based on the idea that your body has 12 "channels" known as meridians. Each meridian is associated with one of your major organs and its functions. Your body also has 350 acupuncture points.
Energy known as qi (pronounced chee) flows through these meridians and acupuncture points. In Oriental medicine, illness is believed to be caused by an imbalance that interrupts the proper flow of energy. Acupuncturists insert very thin needles at the appropriate acupuncture point or points, which redirects the energy flow to restore balance to the body.
While this may sound more mystical than medical, Western medicine explains acupuncture's effectiveness this way: Acupuncture points correspond with neural pathways, muscles, and connective tissues. Stimulating these areas helps trigger your body's natural healing response through increased blood flow.
Is Acupuncture Effective?
Although acupuncture has been practiced for literally thousands of years, it didn't start gaining popularity in the United States until the 1970s. And it's only in the past 20 years or so that Western medicine began to recognize the potential of alternative medicine like acupuncture.
Private insurance companies also take acupuncture more seriously these days, with most employer group health plans covering treatments.
In addition to the chronic low back pain covered by Medicare, millions of patients rely on acupuncture to treat a variety of conditions, including:
Addiction
Arthritis
Chronic pain
Headaches and migraines
Insomnia
Stress and anxiety
Many cancer patients also rely on acupuncture to help manage their symptoms, particularly those associated with treatments like chemotherapy and radiation. Of course, Medicare does not cover acupuncture for any conditions beyond chronic low back pain. But, for 55 years, Medicare didn't cover that, either, but now it does. Who knows how Medicare's acupuncture benefits will expand in the future?
Why Does Medicare Cover Acupuncture?
There are two main reasons Medicare chose to cover acupuncture to treat chronic low back pain:
To provide an alternative to highly addictive prescription pain medications
Because studies of adults aged 65 and older proved that acupuncture is effective in treating chronic low back pain
According to the Centers for Disease Control (CDC), two-thirds of all drug overdose deaths are related to opioids. In 2017, doctors wrote over 191 million opioid prescriptions. The most common prescription opioids are:
Hydrocodone
Methadone
Oxycodone
These prescription drugs are highly addictive. And it can be almost impossible to overcome the addiction. The best most patients can hope for is medication that helps satisfy their body's craving for opioids.
The serious risks inherent in taking opioids has led many healthcare providers to explore alternative methods for managing chronic pain. Numerous studies support acupuncture's effectiveness in treating chronic pain.
Find a Medicare Plan in your area
It's FREE with no obligation
Speak with a Licensed Insurance Agent
M-F 9:00am-9:00pm | Sat 9:00am-3:00pm EST