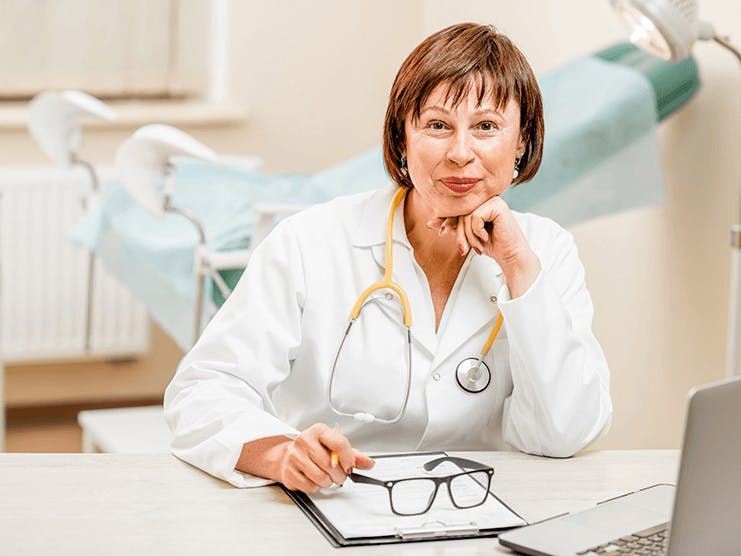 Even if you're past your child-bearing years, you still need to see your gynecologist for a variety of preventive screenings, including Pap smears and mammograms.
Even if you are older than 65, it's important to regularly see a gynecologist for preventive screenings and services such as Pap tests, pelvic exams, and breast exams. As you get older, you could still be at risk for developing cervical, vaginal, or breast cancer. Getting these screenings when you're due can help catch these cancers early, when they are easier to treat.
In fact, more than 20% of cases of cervical cancer are found in women over 65, as are about 43% of people diagnosed with breast cancer.
Preventive screenings and seeing your provider regularly are critical parts to staying healthy and catching and treating illness or disease early. Medicare covers most of these women's health services you'll need, including gynecology and OB/GYN visits.
Medicare coverage for gynecological exams
Medicare Part B covers women's health preventive services and screenings, including:
Pelvic exams
Breast exams
Mammograms
Human Papillomavirus (HPV) tests (as part of a Pap screen)
Pap tests are performed to check for cervical and vaginal cancers. These screening tests are covered once every 24 months; however, if you're at high risk of cervical or vaginal cancers, or are of child-bearing age and had an abnormal Pap test in the past 36 months, these screenings are covered once every 12 months.
The HPV test is covered once every five years if you're age 30-65 without HPV symptoms.
You may be high risk depending on:
Your personal health history
History of a sexually transmitted infection
Fewer than three negative Pap tests in the last seven years
Sexual history (you were sexually active before age 16, or you've had five or more sexual partners)
Pelvic exams can also help detect precancers, vaginal cancers, infections, sexually transmitted infections, reproductive system abnormalities, and other conditions. Typically, these exams are done at the same time as a Pap test. Medicare also covers a clinical breast exam, which happens during the same visit as your Pap test, and can help detect lumps or abnormalities that could lead to breast cancer.
If your doctor or provider accepts assignment, you pay nothing for the Pap test, lab HPV with Pap test, Pap test specimen collection, and pelvic and breast exams. While some primary care providers (PCPs) offer these screenings, many women choose to have them done with a gynecologist.
Other gynecological services covered by Part B may include treatment for pelvic and vaginal infections, contraception counseling, care for menstrual pain and irregularities, and menopausal management.
Does Medicare cover mammograms?
An additional women's health service Medicare Part B covers is mammograms:
One baseline mammogram if you're a woman between ages 35-39
Screening mammograms once every 12 months if you're a woman ages 40 or older
Diagnostic mammograms more frequently than once a year, if medically necessary
Mammograms are screenings done to check for breast cancer. You pay $0 for screening tests if your doctor accepts assignment. For diagnostic mammograms, which you'll only get if there are suspicious or concerning results from your annual screening mammogram, you'd pay 20% of the Medicare-approved amount, and the Part B deductible applies. Medicare covers the other 80%.
Gynecologists covered by Medicare
To ensure your gynecologist accepts Medicare and that the services they provide are covered, do some research prior to scheduling your appointment. First, you can ask the gynecologist office directly if they accept Medicare as an insurance.
Or, you can contact Medicare or use their online Find a Doctor tool to search for a covered provider in your area. Enter your location and search for "gynecologist" or "OB/GYN" in the search bar. You'll then be shown a list of providers in your area who accept Medicare for gynecology.
If you have a Part C Medicare Advantage (MA) plan, contact your plan directly or check your Provider Directory.
Find a Medicare Plan in your area
It's FREE with no obligation
Speak with a Licensed Insurance Agent
M-F 8:00am-10:00pm | Sat 9:00am-6:00pm EST