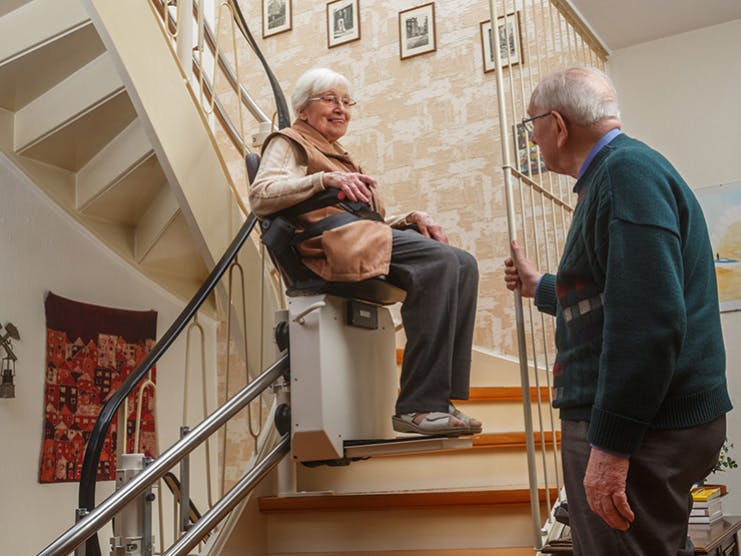 Stair lifts can make aging in place easier, but will Medicare cover them?
While most of us prefer to live independently in our own homes, known as aging in place, that can become more difficult as we get older.
Chronic illness, pain, and decline in overall strength and balance can make aging in place more difficult. Especially if you live in a home that has more than one floor. Not only can climbing up and down stairs be challenging, but it may also create a safety concern for people with mobility issues.
Stair lifts are one type of assistive technology that make it possible to move around your home more freely and safely. However, they can be costly to purchase and install. Read on to learn more about what a stair lift is, whether they are covered by Medicare, and how much they cost if you choose to purchase one.
What is a stair lift?
A stair lift is a mechanical device that transports people up and down stairs. A rail is mounted to the treads of the stairs or the wall along the staircase, and a chair or lifting platform is then attached to the rail. A person sits in the chair and, with the touch of a button, the motorized device takes them up or down the stairs.
These devices come in a variety of designs, shapes, and sizes depending on your needs and your stairs. Relevant factors include how long the stairs are as well as if they are straight, curved, narrow, or wide. Seats on the lift include seatbelts and some feature motion sensors, call buttons, and braking systems.
Stair lifts are not to be confused with chair lifts, which are motorized platforms designated for people in wheelchairs. They are also not the same as lift chairs, which are like standard recliner chairs with an internal lifting system that elevates the chair forward to help a person go from a sit-to-stand position and vice versa.
Will Medicare pay for a stair lift?
While Medicare Part B (medical insurance) does cover several types of durable medical equipment (DME), it does not typically cover stair lifts or the installation of stair lifts.
However, individuals who are dual eligible for Medicare and Medicaid may get assistance with paying for a stair lift through Home and Community Based Services (HCBS). These state programs vary by state, so check with your local Medicaid program to learn more.
While there are a number of medical supplies included and covered by Medicare as DME, it must meet the following criteria:
Be durable (withstand repeated use)
Used for medical reason
Not usually useful to someone who isn't sick or injured
Used in your home
Generally, has an expected lifetime of at least three years
Stair lifts are not covered because they are installed in the house (the wall and stairway), which classifies them as a "home improvement." Additionally, they aren't always considered medically necessary because for most homes, adjustments can be made where stairs can be avoided.
Do Medicare Advantage plans cover stair lifts?
Medicare Advantage plans are health insurance plans sold by private insurance companies. Also known as Medicare Part C, these plans are required to offer at least everything Original Medicare does. Most also offer additional benefits for things like vision, dental, hearing, and prescription drug coverage (Part D).
Prior to 2019, MA plans did not cover services and items that were intended for "daily maintenance." The Centers for Medicare & Medicaid Services (CMS) changed this ruling recently, though an item must still be considered medically necessary and advised by a licensed health care professional to be covered.
As of 2020, MA plans could also offer supplemental benefits for persons with chronic illnesses. They don't necessarily have to be health related, but items must provide "a reasonable expectation of improving or maintaining the health or overall function" of that person.
This means that items that assist with a functional need due to an injury or health issue, or that can reasonably help improve or maintain the health of someone with a chronic condition, may now be covered by an Advantage plan. This may include stair lifts.
Check with the individual MA plan to understand if stair lifts are covered and at what level.
Do Medicare supplement plans cover stair lifts?
Medicare Supplement plans, or Medigap, help pay a variety of out-of-pocket costs in Original Medicare. To qualify, though, items must be covered by Parts A and B. This means that you cannot use your Medigap benefits to help pay for a stair lift.
Please note that you cannot have both a Medigap and a Medicare Advantage plan.
Cost of a stair lift
The average cost for a stair lift and installation ranges from about $2,000 to $5,000. Factors like the length of your staircase, whether it's straight or curved, the number of landings, and overall complexity of the install can increase the price to upwards of $10,000.
If you have only a temporary need for a stair lift, you may be able to rent one at a lower cost than purchasing one. Talk to your doctor or medical supplier about your options. If you choose to rent a stair lift, it may cost you between $300 and $500 per month, depending on the factors listed above.
How to get help paying for a stair lift
If you don't qualify for Medicaid assistance through HCBS, there are a few other options available to help pay for a stair lift, depending on your circumstances:
If your injury happened during active service, you may be able to get some support through Veterans Benefits Administration (VA). Check if there are financial support options or grants available.
Many local and state organizations provide financial assistance to low-income seniors, such as the Area Agencies on Aging.
Some charities provide financial assistance with the costs of home modifications. Find one near you on the Eldercare Locator.
Check with your state's State Grant for Assistive Technology Program to learn if you're eligible for a loan or other financial support to purchase/install a chair lift.
You can also ask the stair lift manufacturer if they offer financing options, allowing you to spread your payments out over an extended period. Or, it may be more cost-effective to buy a preowned stair lift.
Find a Medicare Plan in your area
It's FREE with no obligation
Speak with a Licensed Insurance Agent
M-F 9:00am-9:00pm | Sat 9:00am-3:00pm EST