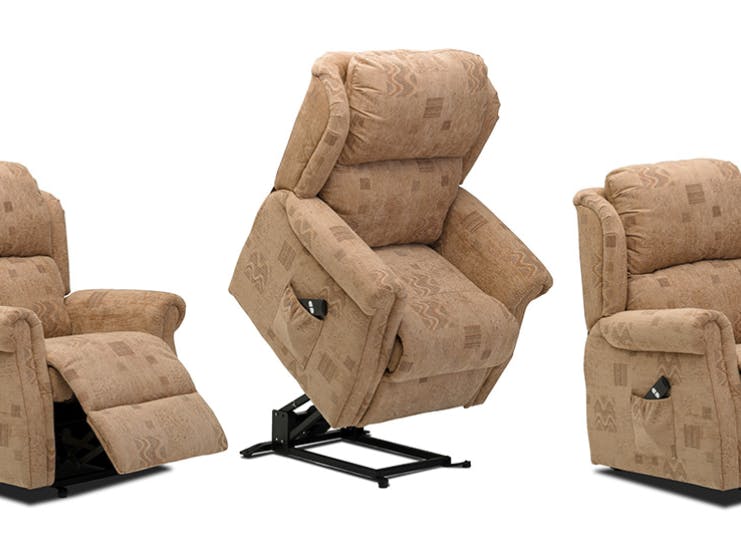 Medicare covers durable medical equipment deemed medically necessary by a licensed healthcare provider.
If you have difficulty sitting or standing on your own, it can make aging in place more difficult. A lift chair can help make this easier.
Lift chairs include a motorized device that raises and lowers the chair to make getting up and down easier. And if you qualify, Medicare will partially cover the motorized portion of the chair, helping to make the cost more manageable.
However, there are a few restrictions on what is and isn't covered, and steps that must be taken to ensure reimbursement. Read on to learn more.
What is a lift chair?
As the name implies, a lift chair is a type of recliner chair that has a motorized device in the base that literally lifts the chair. This can take the form of raising and lowering just the seat or the entire chair with only the touch of a button. The benefit, of course, is to make it easier to get into or out of the chair.
Most lift chairs have a hand-held remote, though some have a power button on the chair itself. When the button is pressed, the chair will move from a standard reclined position to a seated position, and then to a vertical lifted position until you're able to touch the ground and stand easily.
Not only can this benefit those with balance and mobility challenges, but also people with stiff or sore joints or muscle pain.
Common conditions lift chairs may be prescribed for include:
Severe arthritis, especially in your hip(s) or knee(s)
A severe neuromuscular disease, such as muscular dystrophy
Inability to stand on your own from a standard chair
Other medical conditions that make standing or sitting on your own difficult
Types of lift chairs
There are three types of lift chairs you can choose from depending on your level of mobility:
Two-position are the most basic, offering a recline of 45 degrees. As you recline, the footrest will flip into an extended position, but note the footrest can't be operated independently.
Three-position chairs can recline almost completely flat, and the footrest flips up as the chair reclines. The footrest can't be operated independently with these chairs, either.
Infinite-position chairs do recline completely flat, and with individual motors for the back and footrest, you can adjust each separately.
Lift chairs also have a variety of features you can customize, such as adding heat or massage, cushioning levels, fabric, and more.
Does Medicare cover lift chairs?
Original Medicare Part B covers patient lifts as part of durable medical equipment (DME), though there are some eligibility caveats:
Your doctor must prescribe the lift for you to use in your home
It must be medically necessary
Only the lifting device is covered, not the entire chair
Under this third condition, Medicare won't cover lift chairs that use a spring device to propel you up, or the fabric, cushion, or other accessories of a lift chair. Essentially, only the motorized device mechanism is covered.
To qualify, your doctor must determine that without the lift chair, you'd likely be confined to a bed or a chair. In addition, your doctor must fill out a certificate of medical necessity for a seat lift mechanism. Otherwise, you won't be eligible for Medicare reimbursement.
Typically, to qualify for reimbursement from Medicare, you must also be able to walk independently once standing. In addition, you cannot live in a skilled nursing facility, hospice, or nursing home.
You must also be sure to get your lift chair from a medical supplier that participates in Medicare; otherwise, your expenses will not qualify for reimbursement. Find a Medicare-approved supplier here.
Comparing DME suppliers
Just because a medical equipment supplier is Medicare-approved doesn't mean they are a participating supplier or accept assignment. You'll pay less out-of-pocket if your DME supplier accepts assignment, as that means you won't pay more than 20% of the Medicare-approved price for any covered item.
DME suppliers who enroll in Medicare but choose "not participating" can also choose to not accept assignment. In plain English, this means that they'll accept Medicare as a form of payment but do not accept Medicare's prices. This can leave you owing more than 20%, since Part B co-insurance is based on the Medicare-approved cost for covered services.
When comparing DME providers, always ask whether they are a participating supplier and accept assignment.
Is a lift chair and a stair lift the same?
Lift chairs are not to be confused with stair lifts as they are not the same device. A lift chair is a recliner-like chair that helps you stand up and sit down. A stair lift is a chair that can be raised or lowered at the edge of a staircase, carrying a person up and down when they are unable to go up or down stairs on their own.
At this time, Medicare does not cover the cost of stair lifts as they are considered a "home modification," not durable medical equipment.
How much do lift chairs cost?
When you purchase a lift chair from a DME Medicare-approved supplier, you usually must pay the full cost out-of-pocket and then apply for reimbursement from Medicare for the motor device. In most cases, the Medicare supplier will file this claim on your behalf and there's no action for you to take. If not, you can download and print a request for payment.
Once the claim is processed, you'll be reimbursed for the device that's covered by Part B.
How much you actually pay out-of-pocket for the chair can range from hundreds of dollars to thousands. Factors that influence the cost of the chair include:
The type of lift chair
Style
Type of fabric
Amount of cushioning
Size of chair
Other accessories
Remember, Medicare coverage will only apply to the device that actually lifts the chair, and it will be covered at 80%. You'll pay for the other 20% of the Medicare-approved amount out-of-pocket in addition to the cost of the actual chair and accessories. Depending on the type of equipment, you may need to rent it, buy it, or choose whether to rent or buy.
The Part B annual deductible also applies.
Find a Medicare Plan in your area
It's FREE with no obligation
Speak with a Licensed Insurance Agent
M-F 8:00am-10:00pm | Sat 9:00am-6:00pm EST