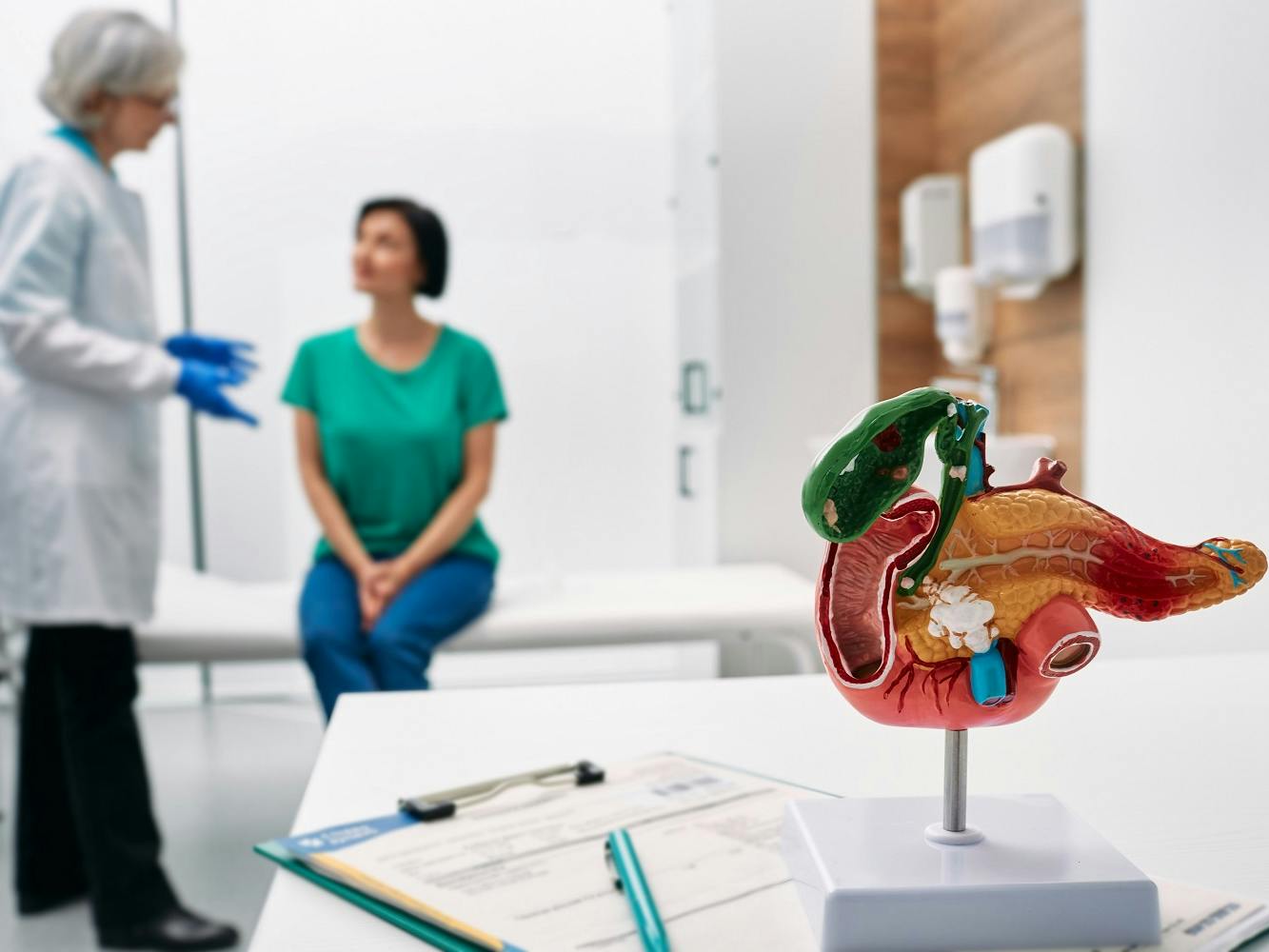 An organ transplant is a precious gift – but will Medicare help make that gift happen?
The pancreas is an organ that lies behind the lower part of the stomach. Its primary function is to make insulin, a hormone that regulates the absorption of sugar into cells. When the pancreas doesn't make enough insulin, blood sugar (or glucose) levels can increase too much, leading to type 1 diabetes.
Typically, pancreas transplants are done to treat and cure type 1 diabetes, though in some cases it can be used to treat type 2 diabetes. However, it's typically reserved for those with serious or extreme diabetic complications. Additionally, a pancreas transplant is often done during a kidney transplant in people whose kidneys have been damaged by diabetes.
Medicare will cover a pancreas transplant in some cases, and understanding your coverage can help ensure you keep your out-of-pocket costs down.
Medicare coverage for pancreas transplants
If you have end-stage renal disease (ESRD) or kidney failure and need a pancreas transplant, Medicare will cover it if:
It's done at the same time you get a kidney transplant, OR
It's done after a kidney transplant
Other requirements may include:
Patients must have type 1 diabetes diagnosis with medically uncontrollable complications, and must have been managed by an endocrinologist for at least 12 months with the most medically recognized advanced insulin formulations and delivery systems
Patients must be a suitable candidate for transplant, including having the mental and emotional capacity to understand risks and the need for continuous immunosuppressive drugs
The transplant must be considered reasonable and necessary
The transplant must take place in a Medicare-approved facility
There are some cases when Medicare may cover a pancreas transplant even if you don't need a pancreas transplant if it's considered medically necessary.
Part A (hospital coverage) would include any inpatient services you receive in the hospital, including organ procurement
Part B (medical coverage) would cover any outpatient and doctor services you need for the transplant, including laboratory tests, exams, office visits, and related services, as well as immunosuppressant drugs
Part D (prescription drug coverage) will cover immunosuppressant drugs, including self-administered drugs, if you do not have Medicare Part A when you get your transplant. Be sure to choose a Part D plan that has the drugs you need on its formulary
Medicare beneficiaries will pay 20% of the Medicare-approved amount for these services in addition to the Part B deductible ($226 in 2023). Note that Part D coverage for these drugs typically means higher costs and additional restrictions, such as using specific in-network pharmacies.
If you only have Medicare because of ESRD, your coverage ends 36 months after a successful kidney transplant. However, if you don't have other health coverage, you may be able to get an extension for coverage of immunosuppressive drugs (though no other services will be covered). Contact Social Security to learn more.
Are pancreas transplants covered by Medicare Advantage plans?
Medicare Advantage (Part C) plans cover the same benefits that Original Medicare does, plus extra coverage for benefits like vision, dental, and hearing. This means your plan will cover your pancreas transplant as long as the requirements are met.
However, if you're on a transplant waiting list or you think you may need a transplant in the future, it's important to ensure your hospital network, doctors, and other providers are in the plan's network. If they are considered out-of-network, you will have much higher costs or some services may not be covered at all.
Also be sure to check the plan's prior authorization rules to ensure you get the authorization you need in order for certain procedures or services to be covered.
FAQs
What are the benefits of pancreas after kidney (PAK) transplantation?
A pancreas after kidney transplantation can significantly improve the quality of life for transplant recipients. PAK transplantation helps improve blood sugar without the need for insulin injections for some patients. It can also help improve the longevity of the kidney transplant, preventing recurrent kidney disease.
Other diabetes-related conditions may also be stabilized or even reversed, including kidney disease.
Who is a good candidate for a pancreas transplant?
You should work with your doctor, endocrinologist, and transplant team to determine if an organ transplant is the best treatment option for you. The best candidates are diabetic patients with serious complications or patients with ESRD.
Additionally, candidates are typically physically healthy, emotionally well, able to manage medication and specific care plans.
What is the success rate for pancreas transplants?
About 90% of patients have a successful transplant and no longer have to take insulin injections. After the first year, more than 2/3 of transplant patients are still not taking insulin. After 10 years, at least half of the transplanted pancreas will still be working and will likely go on to continue to work for many years.
Are there certain prescriptions I must take after a pancreas transplant?
After a functioning transplant you must take anti-rejection medications, also called immunosuppressive drugs or immunosuppressive therapy. These drugs inhibit or prevent activity of the immune system, preventing cell damage and inflammation and lowering the body's ability to reject a transplanted pancreas. You may also need to take additional medications to prevent infection or fluid retention or control blood pressure.
Is there a special diet for people who have had a pancreas transplant?
You should try to avoid raw or undercooked meat, poultry, fish, sushi, raw shellfish, and raw eggs. Additionally, you can't have any grapefruit or juice/beverages containing grapefruit. Otherwise, you can have a normal diet. Just make sure you wash all fruits and vegetables thoroughly and cool any meat completely.
Following a healthy diet in general will help you avoid gaining too much weight. Work with your transplant team for a personalized diet plan in the event you have special needs or restrictions.
Can I exercise after a pancreas transplant?
It may take time to regain your strength, but you can resume normal activity after a transplant, including exercise. However, avoid strenuous exercise for at least two months after the operation. Instead, consider walking at least five to 10 minutes per day and work your way up to longer periods walking or climbing stairs. Be sure to rest when you feel tired.
What restrictions must I follow after a pancreas transplant?
Other than a careful diet, you should not smoke after a transplant.
Your transplant team and doctors will tell you when you can drive, return to school or work, or travel. They will want to ensure your body accepts the pancreas and your immune system can fight off other infection before resuming normal activity.
What happens if I reject the new pancreas?
If your body identifies the new pancreas as a foreign tissue, it will fight to get rid of it and try to reject it. You can help prevent rejection by taking immunosuppressant drugs.
If you think you may be experiencing rejection, it will be verified with blood work, a biopsy, and an ultrasound. The transplant team will first increase the amount of immunosuppressant drugs you're taking or prescribe a different combination. In most cases, the correct medication can successfully reverse rejection.
If the rejection episode is severe, it may shorten the life span of the new organ.
Will a pancreas transplant benefit me?
A pancreas transplant can help treat and even cure type 1 diabetes. The primary benefit to a transplant is a drastic improvement in lifestyle, greater independence, and more activity. The new pancreas will produce insulin correctly, which will help prevent high blood sugar from continuing to damage your body.
Find a Medicare plan that covers pancreas transplants
It's FREE with no obligation
Speak with a Licensed Insurance Agent
M-F 8:00am-10:00pm | Sat 9:00am-6:00pm EST