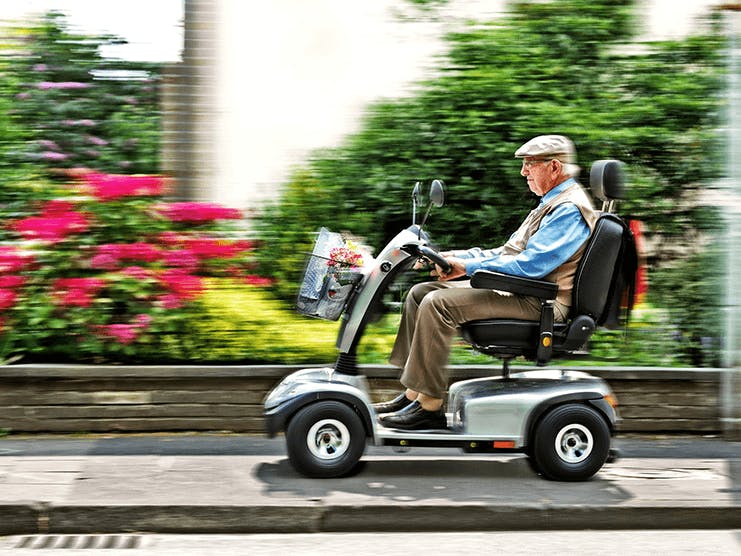 Medicare may cover 80% of the cost of a mobility scooter if your doctor or occupational therapist prescribes it.
Medicare covers durable medical equipment, or DME, through Part B. This type of coverage is available for a variety of mobility aids and other equipment, but there are restrictions and limitations in place as well. Medicare will only cover equipment that has been deemed medically necessary, which means it is essential to your treatment and activities of daily living.
This article discusses how DME Medicare coverage works as well as guidelines you should be aware of as you seek coverage for any type of mobility product.
Will Medicare help pay for a mobility scooter?
Medicare Part B coverage includes durable medical equipment. Medicare will only cover DME that you have a medical need for, so there are some restrictions.
To qualify, relevant DME must be necessary for treating your condition. Medicare has specific criteria for mobility scooter coverage. You must have a condition that makes moving around your home difficult and be unable to perform daily tasks using other mobility aids such as crutches or canes. You also must be able to fully operate the scooter or have an available caregiver who can help you. Lastly, the scooter must be usable in your home. If the hallways and paths are too small, you may need a different type of mobility aid.
In most cases, your doctor will help determine whether you need a mobility scooter. They can also help evaluate what type of mobility aid will work best for you, since some people may benefit more from other aids or specific types of scooters.
Are mobility aids covered during inpatient hospitalization?
If you are hospitalized and require some type of mobility aid, the hospital will provide it for you. This coverage comes from Part A, which covers inpatient care, rather than Part B.
How to get a mobility scooter approved by Medicare
To get a mobility scooter approved by Medicare, you must be evaluated by a doctor to confirm medical necessity. This evaluation can be conducted by an occupational therapist. To go this route, your doctor will have to certify that you need to consult with an occupational therapist and then write a prescription for the scooter. Your doctor can determine which mobility aid will help you the most given your condition.
There are a number of criteria that are used to evaluate your condition and eligibility. These include:
Overall strength, which can limit how well you can operate a scooter.
Upper body strength, which limits what type of controls you can comfortably operate.
Balance, which can limit how long you can sit upright. This posture is required for operating most mobility scooters.
Some durable medical equipment requires prior authorization. In this case, your DME supplier will submit the prior authorization request to Medicare.
What you'll pay for a mobility scooter with Medicare
If you qualify, Medicare will cover your mobility scooter in the same way that it covers most other services. You will have a coinsurance of 20% if your DME provider accepts Medicare assignment, while Medicare pays the remaining 80%. You will also have to meet your Part B deductible before Medicare coverage starts. This comes to $226 in 2023.
The option to purchase DME will not always be available. In some cases, you may only have the option of renting it.
Make sure your DME supplier is enrolled in Medicare
Not every DME supplier is enrolled in Medicare. If you choose a DME supplier that isn't enrolled in Medicare, then Medicare will not pay any claims that the supplier sends them, meaning you will be responsible for 100% of the cost.
Making sure that your DME supplier is enrolled in Medicare is one of the most important things you can do when choosing where to buy your DME. If you see a supplier that has cheaper equipment available but isn't enrolled in Medicare, it will end up costing more for you out-of-pocket.
Medicare provides this tool that helps you find DME from participating suppliers. You can also always ask doctors or suppliers if they are enrolled in Medicare.
Medicare Advantage coverage for mobility scooters
Medicare Advantage, or Part C, is a way for you to get Medicare coverage through private health insurance companies. Although it involves some qualities that are not part of Original Medicare such as provider networks, Part C plans are required to cover the same things that Original Medicare covers.
This means that if an electric scooter is covered by Original Medicare, it will also be covered if you have Medicare Advantage. Medicare Advantage plans will also cover more than Medicare in some cases, such as prescription drugs.
One difference to be aware of is that the cost-sharing under Medicare Advantage may be different from Original Medicare. You may have a different deductible, co-insurance, or co-pay if you have Medicare Advantage medical insurance.
What is durable medical equipment?
Durable medical equipment refers to equipment that you use for medical reasons. This can vary widely, and includes things like canes, blood sugar monitors, oxygen equipment, and hospital beds.
DME is covered by Part B of Medicare when it is medically necessary. This means that you need to use it to treat your health condition. Your doctor will prescribe DME for you and will be able to tell you which equipment you specifically need. DME is subject to the usual Medicare costs, so you will pay a co-insurance in addition to reaching your deductible.
Other types of mobility aids covered by Medicare
In addition to mobility scooters, Medicare covers several other mobility aids. This includes canes, walkers, and both manual wheelchairs and power wheelchairs.
Medicare will only pay for mobility aids at the level that you need. If your doctor says that a cane is sufficient for your mobility, then Medicare won't cover a walker or mobility scooter. In that case, a scooter would not be viewed as medically necessary, even though some other mobility aid is needed.
How to find a durable medical equipment supplier
Because it is so important to only use a DME provider that is enrolled in Medicare and accepts Medicare assignment, you should use Medicare's dedicated DME search tool. This will ensure that any suppliers you find will be covered by Medicare.
If you have any doubts about whether a supplier accepts Medicare, make sure to go over this with them before making any purchases. Purchasing or renting equipment from suppliers that are not enrolled in Medicare may result in no coverage at all for that equipment, so it is very important to have this completely squared away before you take the next steps.
Having trouble understanding your Medicare options? We can help!
Our licensed agents can help you understand your Medicare plan options. Just call us toll-free to get started.
Find a Medicare Plan in your area
It's FREE with no obligation
Speak with a Licensed Insurance Agent
M-F 9:00am-9:00pm | Sat 9:00am-3:00pm EST