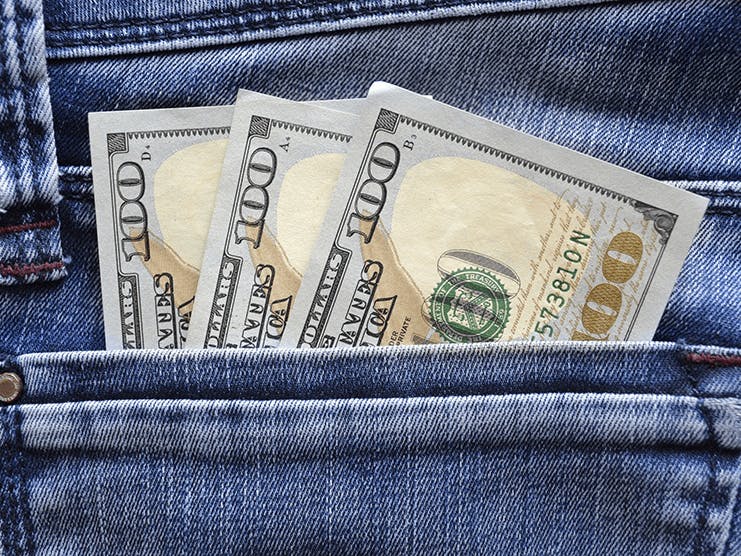 Unlike Medicare Advantage and Part D prescription drug plans, there is no max out-of-pocket with Original Medicare.
There is no max out-of-pocket if you have Original Medicare (Parts A and B). That's why around a third of Medicare beneficiaries supplement their coverage with a Medigap plan.
The only part of Medicare that has an out-of-pocket max is Part C, more commonly known as Medicare Advantage. Although Part D does have the catastrophic coverage phase, at which point you pay only a small copay for covered prescriptions for the rest of the year.
What Are Your Out-of-Pocket Costs with Medicare?
The Medicare program operates under a cost sharing model in which beneficiaries typically pay the following:
Monthly premium: This is the amount you pay each month for your Medicare coverage. Which premiums you pay varies according to which parts of Medicare you have, but nearly everyone owes the Medicare Part B premium – even if they have an Advantage plan.
Deductible: This is the amount you pay out-of-pocket before Medicare or your plan begin to pay. Most deductibles are yearly, but Medicare Part A goes by benefit period. More on that below.
Co-insurance: Medicare Parts A and B both use coinsurance, which is a percentage of the cost for covered services. Under Part B, you usually have a 20 percent coinsurance charge.
Co-payment: This is typically a set dollar amount, such as a $20 copay for doctor visits. You usually only have copays with Parts C and D. However, you may have a copay (in addition to your coinsurance) with Medicare Part B for certain outpatient procedures when they're performed in a hospital setting.
If you have a Medicare Advantage or Medicare Part D prescription drug plan (PDP), your costs vary.
How Much Does Medicare Part A Cost?
The majority of Medicare beneficiaries paid Medicare taxes for the required 10 years to qualify for premium-free Part A. If you or your spouse do not have the required work history, then the monthly Medicare Part A premium is $506 in 2023.
If you owe the monthly premium and did not sign up for Medicare Part A when you were first eligible, you may also owe the Part A late enrollment penalty. You'll pay an additional 10 percent for twice the number of years you could have had Part A but did not.
Please note that, with the exception of the monthly premium, all Part A costs are per benefit period. A benefit period begins the day you're admitted as an inpatient and ends once you go 60 continuous days without receiving inpatient care. You can have multiple benefit periods in a year.
Deductible: $1,600 per benefit period.
Coinsurance: $0 for the first 60 days, $400 per day for days 61 through 90, $800 per day for days 91 through your 60 lifetime reserve days. Once you reach your lifetime reserve days, you're responsible for all costs.
Home healthcare: $0 for home healthcare services and 20 percent for durable medical equipment (DME, which is covered by Part B).
Hospice care: $0, although you may pay up to $5 for covered prescriptions and inpatient respite care.
Skilled nursing facility stay: $0 for the first 20 days, $200 for days 21 through 100, and 100 percent of costs for days 101 and beyond.
You pay the same coinsurance amount for inpatient stays at both medical hospitals and mental health facilities. There is no annual out-of-pocket limit for Part A or Part B.
How Much Does Medicare Part B Cost?
The standard Part B premium is $164.90 per month in 2023. Most people – over 95 percent – pay the standard premium. You'll only pay more if your modified adjusted gross income (MAGI) is over $97,000 per year (filing individually) or $194,000 per year (married filing jointly).
There is also a late enrollment penalty if you did not sign up for Part B when you first became eligible. In this case, you pay 10 percent for every 12-month period you delayed enrollment. So, one full year equals 10 percent, two full years equals 20 percent, and so on. You owe the Part B late enrollment penalty for the entire time you have Medicare.
Other out-of-pocket costs with Part B include:
Part B deductible: $226 in 2023. You must meet the annual deductible before Medicare Part B begins paying its share for covered services.
Coinsurance: Typically, 20 percent of the Medicare-approved amount for covered outpatient services, including doctor visits, DME, and outpatient therapy.
Clinical lab services: Your cost is $0 for Medicare-approved services.
Home health services: $0 for home healthcare and 20 percent of the Medicare-approved amount for DME
Outpatient mental healthcare: $0 for annual depression screening; 20 percent for provider visits.
Partial hospitalization for mental healthcare: You'll owe coinsurance for both covered services and each day of partial hospitalization.
Outpatient hospital services: In addition to the standard 20 percent coinsurance, you may owe a copay to the hospital (varies according to the service and provider).
All costs listed above assume the provider accepts assignment, meaning agrees to accept the Medicare-approved amount for covered services. You can find providers who accept assignment at Medicare.gov by clicking here.
How Much Does Medicare Part C Cost?
Medicare Advantage plans must provide the same coverage you get with Original Medicare. However, most plans offer additional benefits as well. This, coupled with the fact that private insurance companies sell Medicare Advantage plans, means that costs vary.
The average monthly premium for Medicare Part C is around $18. That includes the 60 percent of plans that have no monthly premium. If you look only at the plans that charge a monthly premium, the average jumps to $60 per month.
In addition to premiums, cost sharing may include annual deductibles, coinsurance, and copayments. Medicare Advantage Prescription Drug plans (MA-PD) may have two deductibles: one for your Part B coverage and another for your Part D benefits.
What Is the Maximum Out-of-Pocket for Medicare Advantage in 2023?
The maximum out-of-pocket (also known as MOOP) for Medicare Part C is $8,300 for in-network services and $11,200 for out-of-network services in 2023. Some plans set a lower out-of-pocket limit, though, so check plan details carefully when comparing your options.
Many Medicare Advantage plans set two out-of-pocket max levels, one for in-network services and a second for when you go out-of-network. Your deductibles, copayments, and coinsurance count toward reaching your yearly out-of-pocket max. Premiums, however, rarely count toward the MOOP.
How Much Does Medicare Part D Cost?
As with Part C, Medicare prescription drug plans are provided by private insurance companies, so costs vary. Expect to pay a monthly premium and either coinsurance or a copayment for covered prescription drugs. In addition, there is an annual deductible that you must meet before your Part D plan begins paying its share. In 2023, the maximum Part D deductible is $505. (Some plans have a lower deductible.)
Your costs under Part D depend on what stage you're in.
You start out in the deductible phase. You are responsible for 100 percent of costs during the deductible phase.
Next is the initial coverage phase. You pay 25 percent of costs for covered prescription drugs. You stay here until you and your plan spend a combined $4,660 in 2023.
You now enter the coverage gap phase, more commonly known as the donut hole. You continue paying 25 percent of costs until your total out-of-pocket equals $7,400 in 2023.
The final stage is catastrophic coverage. If you reach this phase, your cost is only 5 percent for covered medications for the rest of the year.
There is no annual out-of-pocket maximum with Medicare Part D.
As with Parts A and B, you may owe a late enrollment penalty for Part D. The difference is that you begin owing this fee after only 63 days without creditable drug coverage (i.e. prescription drug coverage that is comparable to Medicare). For more information, please see our article: Medicare Part D Late Penalty: Late Fees for Late Enrollment.
Can a Medigap Plan Help?
If you have Original Medicare and have a significant health problem, such as a lengthy hospital stay or chronic condition, your healthcare costs could add up quickly. With no yearly out-of-pocket limit, that could leave you owing thousands in medical bills – even with your Medicare coverage.
That's where Medigap comes in.
Medicare Supplement Insurance plans (more commonly known as Medigap) help pay a variety of out-of-pocket costs when you have Original Medicare. At a minimum, every Medigap plan covers your Part A coinsurance and provides an additional 365 lifetime reserve days for inpatient care.
There are 10 standardized Medicare Supplement plans available. Learn more here.
Find a Medicare Plan in your area
It's FREE with no obligation
Speak with a Licensed Insurance Agent
M-F 8:00am-10:00pm | Sat 9:00am-6:00pm EST