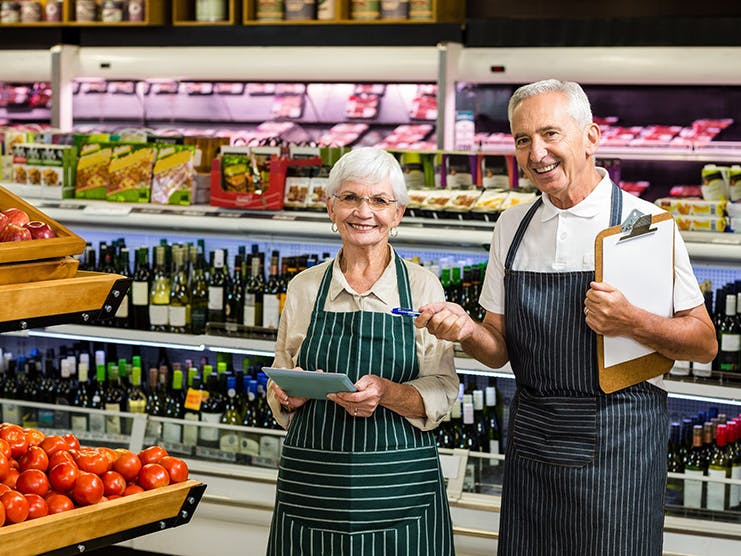 It might sound strange, but it's not uncommon for people to go back to work after they retire. Maybe all that sudden free time wasn't for you, or maybe you miss daily interactions with colleagues. Maybe you just need a little extra cash.
Whatever the reason, older people do seem to be working more and more. The Bureau of Labor and Statistics predicts that 30% of people between the ages of 65 to 74 will still be working in 2026. That's almost double the rate from thirty years ago!
"The unretirement trend is emblematic of what we're seeing in the labor market overall, which is seeing increasing labor force participation for a broad swath of workers," Nick Bunker, economic research director for North America at Indeed, told CNBC.
If you're thinking about returning to work, you might be wondering what happens with your Medicare coverage once you head back into the office.
The answer depends on many factors, like the size of the company and whether your new job even offers health insurance benefits.
Here is some helpful information on what to expect with your Medicare coverage if you plan on returning to work.
If your employer is small
If your new workplace has 20 employees or fewer, your Medicare coverage will usually be primary. You may decide not to sign up for your employer's insurance plan.
Alternatively, you could enroll and use it as your secondary health insurance.
Before you do, though, be sure to weigh the pros and cons. Group health coverage at smaller companies tends to have a high price tag. Two alternatives may be cheaper.
If you're looking for broader coverage than Medicare offers, you might want to consider a Medicare Advantage plan.
Or if you're more interested in coverage for out-of-pocket expenses, enrolling in a Medigap plan might be cheaper than your employer's health insurance.
Review all your options to make the best choice for you.
Learn about the pros and cons of Medicare Advantage and Medigap plans
If your employer is large
For companies with more than 20 people, things can get a little more complicated.
At a large company, you can choose to enroll in employer health insurance as your primary insurance. You can then drop Medicare and any Medigap plan and re-enroll later.
Alternatively, you could keep Medicare. For companies with more than 20 employees, Medicare serves as the secondary insurer. It can cover costs your employer plan doesn't, although it may not cover everything.
If you remain on any part of Medicare and your employer insurance includes a health savings account, or HSA, neither you nor your employer will be allowed to make contributions to it.
If you do decide to drop Medicare, you will need to consult with the Social Security Administration in-person or on the phone. You are required by law to have a personal interview with a social security official before ending your Part B coverage.
How to re-enroll in Medicare
When you decide to retire again, your employer will need to submit a form to the Social Security Administration stating that you had "creditable coverage." That means the benefits met a minimum set of qualifications and covered at least as much as Medicare for a comparable price.
After you retire again, you'll have eight months to re-enroll in Medicare Parts A and B. Don't forget to do this! If you miss the deadline, you'll have to wait until the next enrollment period and may have to pay a late-enrollment penalty.
Similarly, if you want to sign up for Part D or a Medicare Advantage plan, you'll have only two months after your employer coverage ends. If you miss the Part D deadline, you could face a late fee. If you miss the sign-up for Medicare Advantage, you'll have to wait until the next enrollment period.
The gist
There's a lot for "un-retirees" to consider when it comes to Medicare coverage. Be sure to take the time to read over all the relevant information and carefully decide what makes the most sense for your health, family, and finances.
Do you have Medicare questions? We have answers.
When it comes to Medicare, one plan definitely does not fit all. At ClearMatch, it's our mission to match you to the policy that best serves your unique needs. It's all we do, and we do it better than anyone. Check out our extensive library of articles for answers to your Medicare questions. Or, compare plans in your area to get started finding the policy that's right for you.
Find a Medicare Plan in your area
It's FREE with no obligation
Speak with a Licensed Insurance Agent
M-F 9:00am-9:00pm | Sat 9:00am-3:00pm EST