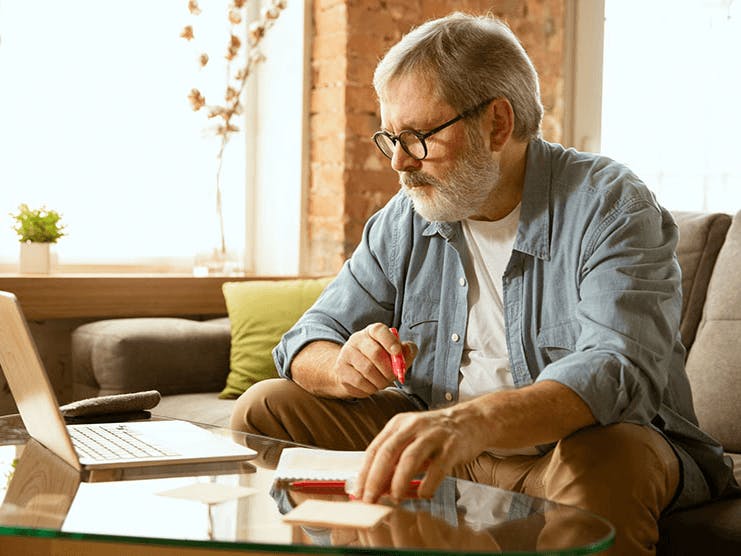 There are pros and cons to both Medicare Advantage and Medigap. Which one is right for you depends on your unique situation.
When you are eligible for Medicare, there are a few ways you can choose to receive that coverage. First, you can opt for Original Medicare Part A (hospital insurance) and Part B (medical insurance), and purchase a stand-alone Part D prescription drug plan.
Another option is to enroll in a Medicare Advantage (Part C) plan, which provides the same coverage as Original Medicare Part A and B, as well as additional coverage for things like dental, hearing, vision and more. Many MA plans also include Part D coverage.
Or, you could choose to purchase a Medicare Supplement plan, or Medigap, which is offered by private insurance companies and helps fill the "gaps" with Original Medicare, helping to pay copays, deductibles, coinsurance and other costs and coverage that Medicare doesn't. You would have a Medigap plan in addition to Original Medicare.
When deciding which plan is right for you, it's helpful to know what your options are, as well as the pros and cons of all and the costs associated, so you can make the most informed decision.
What is a Medicare Advantage Plan?
Medicare Advantage (MA) plans are offered by private insurance companies approved by Medicare and combine Medicare Part A (hospital insurance), Part B (medical insurance) and typically Part D (prescription drug coverage) into one plan. Plus, they may cover additional services that Medicare doesn't cover, such as:
Hearing
Vision
Dental
Travel coverage
Gym memberships or wellness benefits
In order to be eligible for an MA plan, you must be enrolled in Medicare Part A and Part B.
There are a few different types of Medicare Advantage plans to choose from, including:
Health Maintenance Organization (HMO), which utilizes in-network doctors and requires referrals for specialists.
Preferred Provider Organization (PPO), which charges different rates based on whether you use in- or out-of-network providers.
Private Fee-for-Service (PFFS), which are special payment plans that offer more provider flexibility.
Special Needs Plans (SNP), which assist with long-term medical costs for chronic conditions.
Medical Savings Account (MSA), which are medical savings accounts paired with high-deductible health plans (HDHPs).
Advantages of MA plans
Comprehensive coverage and additional benefits. MA plans offer your hospital, medical and prescription drug coverage all in one plan, as well as additional coverage for services Original Medicare doesn't cover. Additional coverage may include hearing aids, vision care, dental care, fitness center membership, travel coverage and more.
Cost savings. Some plans offer $0 or low monthly premiums, and low or no deductibles, which can lead to cost savings. Your cost-sharing may also be less. For example, you may pay a flat, low copay instead of a coinsurance for a doctor visit.
Out-of-pocket protection. MA plans have an annual out-of-pocket maximum, which is the most amount of money you'll spend out-of-pocket each year on medical expenses. This helps protect you from high or unexpected medical costs.
Personalized. Because there are different types of MA plans, you can essentially personalize your plan structure based on your specific needs.
Coordinated medical care. Many MA plans offer coordinated medical care, which means your healthcare providers communicate and work together to coordinate your care and create a health plan that meets all of your needs across specialties. Typically this is done through a primary care provider, which is required to have by HMO plans.
Disadvantages of MA plans
Limited service area. MA plans typically have a limited service area, and you can only enroll in the plan if you live within that area. Not all MA plans are available in all service areas, and you must reside within the plan's service area for at least six months of the year to qualify.
Limited provider network. MA plans have a limited provider network, and you must typically see an in-network provider (or get prescriptions from an in-network pharmacy) in order to be covered. If you go out-of-network, your medical costs may not be covered and you'd have to pay out-of-pocket.
Varying costs. Premiums, deductibles and copays/coinsurance can change each year. These plans can be more costly than Original Medicare due to potentially high copays and coinsurance, and additional fees.
Referrals and prior authorization required. You may be required to have referrals or prior authorization for providers or services before the service or supply is covered. This practice is in place to prevent the misuse or overuse of healthcare services and supplies, but it can also be a barrier to seeing a doctor or getting a supply you need.
Confusing. Because there are several plan options, as well as plan providers, comparing and choosing the right one for you can be overwhelming. They can also be difficult to compare since no two MA plans are alike.
Benefits can change each year. What the plan covers, as well as costs, can change from year to year. Check your Annual Notice of Change (ANOC) each September to find changes in premiums, network, deductibles, copays, coinsurance or other benefit coverage.
Cost of MA plan
The cost of an MA plan can vary from plan to plan based on which plan you choose and where you live. Some plans offer $0 monthly premiums, while others have a monthly premium. Deductibles, copays, and coinsurance costs can also vary.
You're also still required to pay your Part B deductible.
What is a Medicare Medigap plan?
When you're enrolled in Medicare Part A and Part B, you can purchase a Medigap plan to help fill the gaps in your coverage, such as payment for copays, deductibles, and healthcare when you travel.
When you have a Medigap plan, Medicare will pay its share of the Medicare-approved amount for covered health care costs, then your Medigap plan pays its share. This helps cut down on your out-of-pocket costs.
Advantages of Medigap plans
Helps cover out-of-pocket costs. The primary advantage to Medigap plans is the assistance in paying for out-of-pocket Medicare costs like coinsurance, copayments and deductibles.
Additional benefits. Medigap policies may cover services Original Medicare doesn't cover, such as coverage when you travel outside of the U.S., fitness and wellness benefits, and even additional hospitalization coverage.
Guaranteed acceptance. For six months, starting from the month you turn 65 and have Medicare Part B, you are guaranteed acceptance for a Medigap plan. Your policy cannot be rejected, denied, or require additional underwriting if you enroll during this Open Enrollment Period.
Large provider network. With most Medicare Supplement plans, you can use any doctor, hospital or health care provider within the U.S. that accepts Medicare. In most cases, you do not need prior authorization or referrals to see specialists or other doctors.
Automatic renewal. As long as you continue to pay your monthly premium, your policy will automatically renew each year. You do not need to do anything, though it's recommended to reevaluate your plan and coverage each year to make sure it still meets your needs.
Standardized. All of the plans offered are standardized by the government. While not all plans are available in every state, there is no need to compare the same Medigap plan through different insurance agents or companies. The cost and coverage will be the same.
Disadvantages of Medigap plans
No Part D coverage. You must still purchase stand-alone prescription drug coverage (Part D), and do so when you're first eligible to avoid having to pay a late enrollment penalty.
Some limits in plan offerings. Plans C and F, the two plans that cover deductibles, cannot be sold to new Medigap beneficiaries (as of January 2020). If you are already enrolled in one of those plans, you can keep it with no changes. However, they are not being offered to new enrollees.
Medical underwriting outside of enrollment period. While you can apply for a Medigap policy at any time, you're not always guaranteed to be able to purchase one. For the best outcome, you should sign up during the Open Enrollment Period when you turn 65. If you apply for coverage outside of the enrollment period, you may be subject to medical underwriting and could be denied coverage based on your age, medical history, or pre-existing conditions.
Costs aren't standardized. While plans are standardized in regards to coverage and benefits, they are not standardized in regards to cost or which plans are offered in which state. Insurance companies that sell Medigap policies don't have to offer every Medigap plan, and they may vary in cost.
Doesn't pay for everything. Some healthcare Medigap doesn't pay for includes long-term care, private nursing, dental care, hearing aids, or vision care.
Cost of Medigap plan
Once you qualify, you must pay a monthly premium for the coverage in addition to your monthly Part B premium.
Because Medigap plans are sold by private insurance companies, they can charge a higher monthly premium. This is especially the case if you don't enroll during the Medigap Open Enrollment Period or without guaranteed issue rights. In that case, you may be subject to medical underwriting and charged a higher premium.
Some Medicare supplement plans also have a deductible you must meet before the insurance company starts covering your costs.
Plus, Medigap premiums can increase each year.
What does Original Medicare cover?
There are three primary parts of Original Medicare: Part A, Part B and Part D. These parts give you the coverage you need for hospital and medical services and equipment, as well as prescription drug coverage.
Part A (Hospital Insurance)
When you apply for Medicare, you are automatically enrolled in Part A, which covers:
Inpatient hospital care (including any tests, treatments or surgeries you need while admitted in the hospital)
Skilled nursing facility care (short-term). You are covered for up to 100 days each benefit period if you qualify for coverage, though coinsurance may apply. To qualify, you must have spent at least three consecutive days as a hospital inpatient within a short time (typically 30 days) of admission to the SNF.
Nursing home care. Custodial or long-term care is generally not covered.
Hospice care. Your provider must determine you are terminally ill, and you must elect to receive hospice. You're covered for as long as your provider approves you need care.
Home health care, including part-time or intermittent skilled nursing care, physical, occupational or speech-language therapy, medical social services, and other services based on your needs and plan of care from your doctor.
Part B (Medical Insurance)
Part B covers medically necessary services or supplies that are needed to diagnose or treat a medical condition, as well as preventive services to help keep you healthy longer.
Doctors visits
Outpatient care, such as emergency room services and same-day surgical procedures
Lab tests and services
Diagnostic imaging
Therapy (physical, occupational, speech-language)
Diabetes supplies
Clinical research
Ambulance services
Durable medical equipment (DME)
Mental health services (both inpatient and outpatient)
Certain prescription medications
Chemotherapy and radiation
Annual preventive screenings
Part D (prescription drug coverage)
Part D covers most outpatient prescription drugs. This coverage is offered through private companies as either a stand-alone plan you purchase separately, or as an included benefit with your Medicare Advantage plan.
Each Part D plan has a list of covered drugs in its formulary. When choosing a drug plan, make sure any prescription drugs you currently take are listed on the formulary. Otherwise, you may have to pay for the cost completely out of pocket.
Part D also covers most vaccines, other than those covered by Part B.
Is it better to have Medigap of Medicare Advantage?
When considering whether a Medigap or MA plan is right for you, consider:
Whether your doctors and pharmacies are in-network
Premiums, copays and other out-of-pocket costs
Deductibles
Coverage restrictions
Additional coverage benefits
Prescription drug coverage
Long-term healthcare needs
Think about your budget. While Medicare Advantage costs vary, Medigap plans help pay for those out-of-pocket costs you may face. Calculate how much you spent last year and in previous years on healthcare to estimate how much you may have to spend in the upcoming year.
Also consider the coverage you need. Some MA plans may offer more benefits than combined Original Medicare and Medigap plans, such as prescription drug coverage, hearing, dental and vision benefits. Most Medigap plans typically don't include extra services.
If flexibility in providers and network is important, remember MA plans have a narrower provider network. If having a large network is important to you, consider a Medigap plan. Medigap is also a better choice if you don't want to have to get a referral or prior authorization to see a doctor or specialist.
Think about what your medical needs may be in the next year. Would you use the extra benefits a MA plan offers? The good news is, you can always switch back to Original Medicare, or to another plan, during the annual open enrollment period each year.
Both Medigap and MA plans have pros and cons, so compare plans and consider your own needs when deciding which is right for you. Remember, you cannot have a Medigap plan and a Medicare Advantage plan - it's one or the other.
Find a Medicare Plan in your area
It's FREE with no obligation
Speak with a Licensed Insurance Agent
M-F 9:00am-9:00pm | Sat 9:00am-3:00pm EST