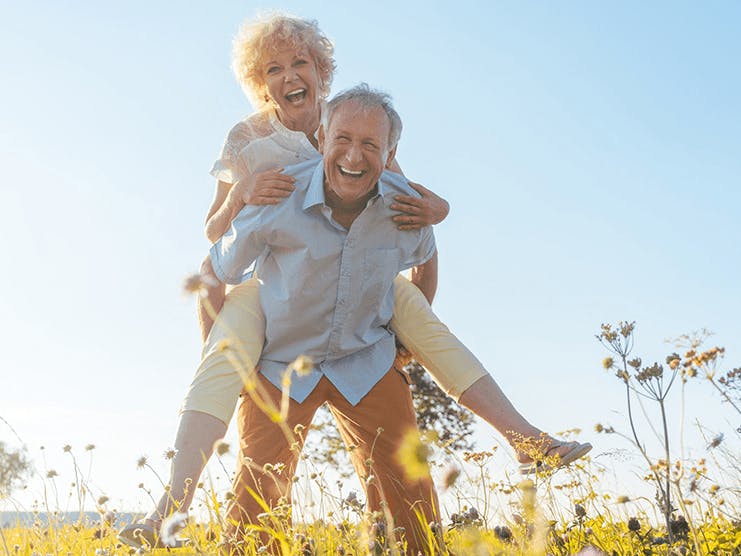 Some Medicare Advantage plans offer a Part B premium reimbursement, but what's the tradeoff?
The Medicare Part B giveback program is offered by some Medicare Advantage plans (Part C), and it reimburses some or all your monthly Part B premium (which is $164.90 in 2023).
In addition to the premium, other Part B costs include the $226 deductible and 20% co-insurance for any medical services and supplies. These costs can add up quickly, which is why some people look for ways to reduce them. The giveback program isn't an official Medicare program, but many beneficiaries enroll in a Medicare Advantage plan that offers this benefit as a way to help save money on Medicare costs.
Read on for more information about what the giveback program is, how to qualify, and pros and cons of the program to help you find the right plan for you.
What is the Medicare Part B giveback program?
Medicare beneficiaries who have Part B coverage are required to pay a monthly premium of $164.90 (in 2023). This is the case whether they are enrolled in Original Medicare or in a Medicare Advantage (MA) plan.
However, some MA plans have a Part B premium reduction, or giveback, benefit that reduces the amount you pay toward your Part B monthly premium. This program doesn't give money back to beneficiaries, but instead reduces the amount they pay toward the premium; therefore, helping them to save money.
This "giveback" amount can range from less than $1 to the full premium amount depending on the plan.
If you pay your monthly premium through Social Security, you'll be paying less out of your benefits so your Social Security check will be greater. However, know that it can take up to three months for the Social Security Administration (SSA) to process the rebate, so you won't see a change immediately.
If you don't pay through Social Security, the benefit would be credited to your monthly statement, and you'd only pay the amount after the giveback benefit deduction.
For example, say your MA plan's giveback benefit is $60. You don't technically receive $60 back, but instead of paying $164.90 for your monthly premium, you'll only pay $104.90. This helps keep money in your wallet because you're paying less toward the premium.
How to receive the giveback benefit
You'll find information about the plan's giveback benefit program in its summary of benefits or evidence of coverage (EOC), including how much of a reduction you'll get. Or, you can contact the plan directly.
It's important to remember, though, you don't actually receive any additional money back and you aren't reimbursed anything. Instead, you just pay the reduced premium amount. After the three-month period, you'll simply start paying the lower Part B premium amount through your Social Security or other forms of payment.
How to qualify for the Part B premium giveback program
Qualifying for the Part B premium giveback benefit is relatively straightforward. The most important thing is you must be enrolled in an MA plan that provides this benefit, and not all plans do. You must also:
Be enrolled in Medicare Part A and Part B
Live in the zip code service area of a plan that offers this program
Additionally, you cannot already receive government or other assistance for your Part B premium, such as Medicaid.
Since not all plans offer this benefit, you must do careful research and comparison of plans, including benefits and costs, to ensure you find the right plan for your needs.
Pros and cons to the giveback program
While it sounds great to be paying less for your Part B premium, there are also some drawbacks:
Overall, it's important to ensure having a lower Part B monthly premium doesn't come with reduction of other benefits or increased costs elsewhere. You should choose an MA plan because it fits your health care needs and your budget, not just because it offers a premium reduction.
How to find a Medicare Advantage plan that offers the giveback program
In order to take advantage of the giveback program, you must first find an MA plan that offers it. To do this, you must live within the plan's service area. Not all plans are available everywhere, so using our Find a Plan tool can help make it easier. Enter your zip code and search under the "premiums" section in Plan Details. Plans with the giveback program will have a "Part B premium reduction" listing and amount.
You can also call us to speak to one of our knowledgeable, licensed Medicare agents who can help you compare your options and find the best plan for you in your area.
Find a Medicare Plan in your area
It's FREE with no obligation
Speak with a Licensed Insurance Agent
M-F 9:00am-9:00pm | Sat 9:00am-3:00pm EST