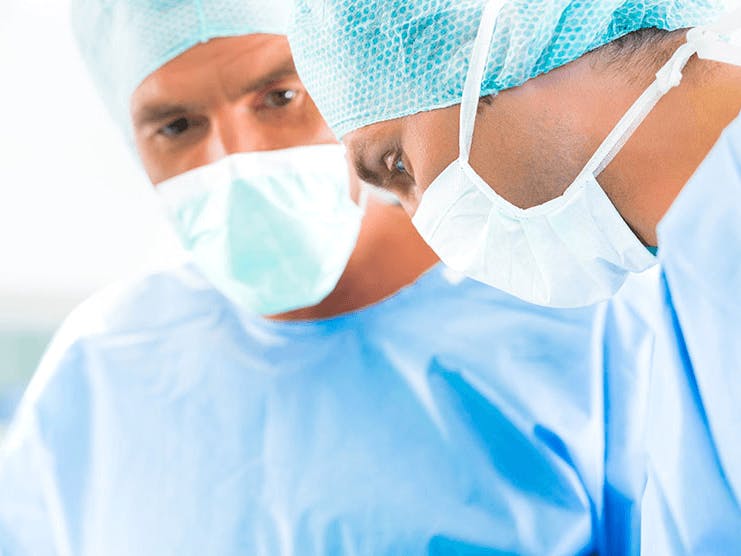 While Medicare covers outpatient procedures deemed medically necessary by a qualified healthcare provider, that coverage is courtesy of Part B, not Part A.
Yes, Medicare will usually cover outpatient surgery. Outpatient surgery is available for some conditions and may lower your overall out-of-pocket costs. Your doctor will be able to advise on whether outpatient surgery is an option for you.
The specific way that outpatient surgery is covered varies a bit compared to inpatient surgery performed in a hospital. We'll go through all the similarities and differences you should be aware of.
Medicare Coverage for Surgery: Part A
Before we understand how outpatient surgery is covered, it can be useful to understand how inpatient services will be covered. This way, you can compare your options more easily.
Medicare Part A covers all of your inpatient healthcare. This includes hospital stays, as well as home health care and care you receive in a skilled nursing facility. If your surgery must be performed while you are an inpatient in a hospital, then it will be covered by Part A.
If you undergo hospitalization for your surgery, then you probably won't stay for more than a few days. If you are admitted to a hospital for under 60 days in a given benefit period, then Part A will cover your services fully after you've paid your Part A deductible. You can read more about the costs associated with longer stays at medicare.gov.
Part B: Outpatient Surgery Coverage
Medicare Part B covers most of your outpatient care. This includes things like doctor visits, most diagnostic tests, and other services you may receive while you are not an inpatient. Because outpatient surgery obviously implies that you are an outpatient, it will be covered by Part B.
When you need outpatient surgery performed, there may be a few options available. Outpatient surgery can be performed in various locations, including a doctor's office, surgical center, or even a hospital. If you receive your surgery in a hospital but aren't admitted as a patient, you will still be covered under Part B. Part B also covers other outpatient hospital services.
Part B will also cover costs associated with the healthcare you receive related to your surgery. This includes non-self-administered drugs, physical therapy, and durable medical equipment (DME) that is medically necessary for your condition.
After you pay your Part B deductible, you will usually have to pay 20 percent of the Medicare allowed amount as your coinsurance.
Part B and Medicare Assignment: What You Should Know
When you get medical care from a healthcare provider, you will usually have to pay 20 percent of Medicare's approved amount as your coinsurance. However, if your healthcare provider doesn't accept Medicare assignment, you can end up paying more. This is referred to as an "excess charge".
Because surgeries can be expensive as it is, you should make sure that the outpatient provider that is performing your surgery accepts Medicare assignment. If they do not, you can look for another provider, pay the excess charge, or have it covered by a Medigap plan. We'll discuss this last option below.
Prescription Drugs and Surgery: What Are My Options?
In a majority of cases, getting surgery done will also involve needing some kind of prescription drug later on. Whether this is a pain reliever, intended to reduce inflammation, or just a normal part of your treatment plan, you need to make sure that you have proper coverage.
If drugs are administered by your doctor, then they will usually be covered by Part B or Part A, depending on where your surgery is performed. However, Original Medicare (Parts A and B) doesn't cover self-administered prescription drugs.
Part D Prescription Drug Plans
Part D plans are prescription drug plans available to Medicare beneficiaries but offered by private insurance companies. Part D plans are not part of the federal Medicare program, which means they can vary more in coverage and cost than Original Medicare will.
Part D plans have a formulary, which is a list of drugs that tells you how much each will cost. Before you buy a Part D drug plan, you should make sure that the drugs you need are covered by that plan.
Medicare Advantage Prescription Drug Plans
We'll discuss Medicare Advantage in more detail below, but it's important here to note that many Medicare Advantage plans include a drug plan as part of their coverage. If you have one of these plans, make sure that the drugs you need are covered.
Medicare Advantage and Outpatient Surgery
Medicare Advantage, also known as Medicare Part C, refers to a way of receiving your benefits through private insurance plans. These plans are offered by private companies, like Part D plans. For some, Medicare Advantage plans can offer a way to get more coverage for cheaper, as many plans offer additional coverage, such as dental and vision care.
Although there are a variety of coverage options, Part C plans must cover at least the same things that Original Medicare covers. This means that you shouldn't have to worry about outpatient surgery. This type of surgery will be covered by Part C plans exactly as it's covered by Original Medicare, and you may even receive a bit more coverage.
The additional complexity that comes with Medicare Advantage plans is that these plans will have a provider network. Like other private insurance plans, your plan will be an HMO or a PPO, meaning that it will be beneficial for you to seek out a provider who is in your plan's network so that everything you need is covered.
As we mentioned above, many Part C plans come with a prescription drug plan bundled with them. If you purchase one of these plans, you won't be able to purchase another Part D plan alongside it. So, make sure it covers all of your needs.
Medigap Plans: How They Can Help
Medigap plans, also known as Medicare Supplement plans, are private plans that can pay for some of your out-of-pocket costs, like your copayment and coinsurance. There is a set list of Medigap plans, and they will always offer the same coverage no matter where you get them from, although the cost can vary.
Medigap plans can help with outpatient surgery in two ways. First, many plans can help cover your Part B coinsurance, which will usually be 20 percent of the Medicare-allowed amount. Second, a few plans -- namely Plan F, which is being phased out, as well as Plan G -- can cover your excess charges.
Medicare supplement insurance isn't worth it for everyone, and it may end up costing you more than you'll save. Medicare.gov offers a comprehensive comparison of every available plan.
Outpatient Surgery: The Key Takeaways
Outpatient surgery can be a more convenient and often cheaper way to get the medical care you need when compared to inpatient surgery. If you are getting ready to undergo surgery as an outpatient, make sure that you:
Know if your provider accepts Medicare assignment
Know if your provider is in-network if you have a Part C plan
Have prescription drug coverage, if needed
Find a Medicare Plan in your area
It's FREE with no obligation
Speak with a Licensed Insurance Agent
M-F 9:00am-9:00pm | Sat 9:00am-3:00pm EST