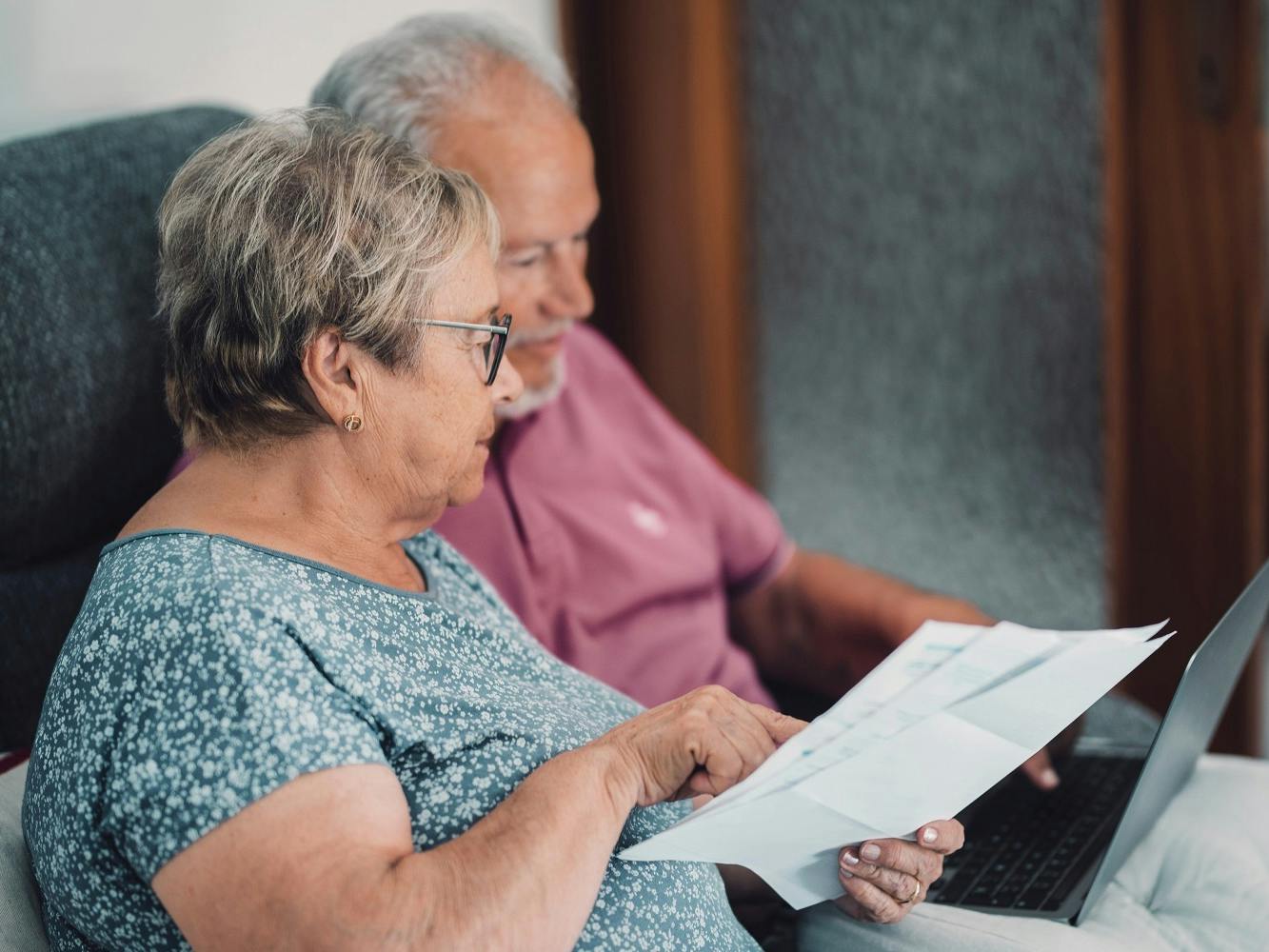 Medicare's DME coverage relies on several factors – including whether the DME supplier accepts Medicare.
Medicare Part B covers many types of durable medical equipment (DME), including canes, wheelchairs, and other mobility devices. To determine coverage, Medicare considers medical necessity, whether the FDA has approved the treatment, and whether the provider accepts Medicare.
Keep reading to learn more about Medicare's DME coverage, especially as it pertains to the UPWalker.
What is the UPWalker?
Made by LifeWalker Mobility Products, the UPWalker is a mobility device that helps the user stand more upright than many other walkers. It includes a backrest, built-in seat, is foldable, and comes in multiple different sizes.
According to the manufacturer, standard walkers force you to slouch, which can cause back and neck pain. The "upright walker" helps you achieve a more normal gait for greater stability, increased endurance, and less pain.
As a walker, it qualifies as DME. But does it meet the rest of Medicare's DME coverage requirements?
How does Medicare durable medical equipment coverage work?
The Medicare definition of durable medical equipment is "Certain medical equipment, like a walker, wheelchair, or hospital bed, that's ordered by your doctor for use in your home." To be considered DME, the equipment must be:
Durable (holds up to repeated use)
Have a projected lifespan of at least three years
Medical (used for a medical necessity)
Not generally useful to someone who is not injured or sick
Used mostly in the home
In addition to this, there are four other requirements medical equipment needs to meet to be covered by Medicare:
The doctor prescribing the equipment and the supplier of it must be enrolled in Medicare
The item must be cost effective
The item must be prescribed by a doctor
The item must be medically necessary
The UPWalker qualifies for Medicare coverage on all counts then.
Unfortunately, Medicare isn't the only entity who has to "opt in" as far as DME coverage goes. The medical equipment supplier also has a role to play. And in this case, the supplier, LifeWalker Mobility Products, does not want to play that role.
Why doesn't Medicare cover the UPWalker?
For DME to be covered by Medicare, it must both meet Medicare's definition of durable medical equipment AND the supplier needs to accept Medicare reimbursement. While the UPWalker does meet the Medicare definition of DME, LifeWalker Mobility Products does not accept Medicare reimbursement, so it is not covered.
When it comes to Medicare participation, there are three types of providers:
Participating providers accept Medicare, but do not accept Medicare reimbursement as full payment. Participating providers can charge up to 15% above the Medicare-approved cost, which is called an "excess charge."
Providers who accept assignment accept Medicare reimbursement as the full payment for care or equipment.
Providers who opt out of Medicare do not accept Medicare as an insurance.
The UPWalker falls under the final category. Its provider does not accept Medicare.
Does Medicare Advantage cover the UPWalker?
Medicare Advantage plans (Part C) are legally required to offer the same level of coverage as Original Medicare (Parts A and B). However, Advantage plans are sold through private insurers and often include a host of additional benefits that Original Medicare does not. Unfortunately, this does not apply to the UPWalker. If a provider does not accept Medicare, it is not allowed to accept Medicare Advantage. And since the producer of the UPWalker has opted out of Medicare, a Part C plan will also not be accepted.
What about Medicare Supplement Insurance?
Medicare Supplement Insurance, more commonly known as Medigap, helps pay some of your out-of-pocket costs when you have Original Medicare. However, it only covers costs for services that are covered by Original Medicare. And, since the UPWalker is not, Medigap cannot help.
How can I pay for an UPWalker?
Though Medicare does not cover the UPWalker, other insurance plans might. If you have a private insurance plan, check with your provider to see what your coverage is on different mobility aids. Again, the primary reason Medicare does not cover it is because the supplier does not accept Medicare, but that does not necessarily mean the manufacturer won't accept any insurance.
You can also pay for the UPWalker out of pocket without insurance. It costs, on average, between $600 and $700.
How does Medicare cover other mobility devices?
As stated above, there are specific criteria equipment must meet to be considered DME by Medicare. If it meets those requirements, then it should be covered under Medicare Part B. Examples of equipment include canes, hospital beds, walkers, and wheelchairs. It is important to make sure the supplier of the equipment you need is enrolled in Medicare, so be sure to check with both the company and your doctor.
After you have met your Part B deductible, you pay 20% of the Medicare-approved amount for any DME. Note that Medicare pays for equipment in different ways:
You might have to purchase the equipment
You might have to rent the equipment
You might get to choose between purchasing or renting the equipment
We discuss Medicare's DME coverage in detail here.
And to learn more about Medicare plans in your area, check out our Find a Plan tool. Just enter your zip code to compare costs and benefits of Medicare plans in your area.
Additional resources
Find a Medicare Plan in your area
It's FREE with no obligation
Speak with a Licensed Insurance Agent
M-F 9:00am-9:00pm | Sat 9:00am-3:00pm EST