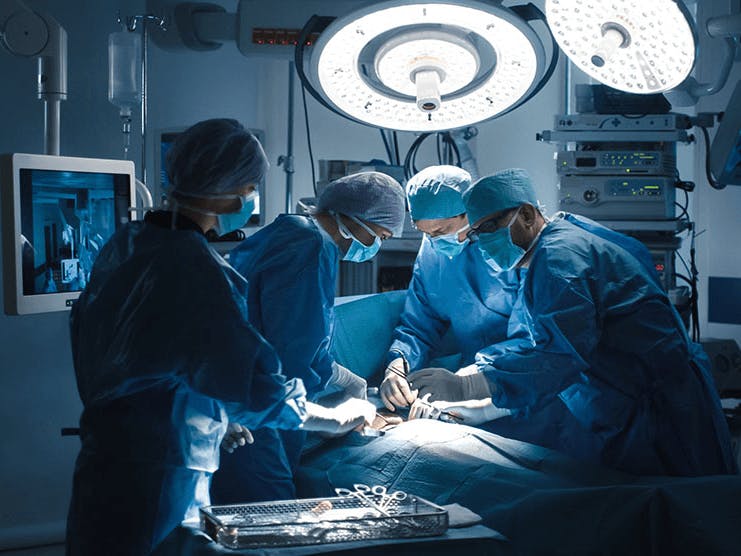 Medicare typically covers medically-necessary surgeries ordered by a qualified healthcare provider.
When it comes to the Medicare program, coverage typically depends on whether a service is deemed medically necessary by a qualified healthcare provider. This includes surgical coverage, which depends on the reason for the surgery, the type of procedure needed, and whether you're admitted as an inpatient or an outpatient. In addition, you must use a hospital or ambulatory surgical center that accepts Medicare.
The list of items that Medicare pays for is enormous and frequently updated. This page on Medicare.gov explains covered tests and services.
What Does Original Medicare Cover?
Original Medicare includes two parts: A and B.
Medicare Part A is also known as hospital insurance. It helps pay for inpatient care, such as you'd receive in a hospital or skilled nursing facility (SNF). Part A also covers hospice care and inpatient services in a rehabilitation facility or psychiatric hospital.
Medicare Part B is also known as medical insurance. It helps pay for services like doctor visits, durable medical equipment (DME), mental health care, and lab work. Part B also covers medically necessary outpatient procedures, such as cataract surgery.
If your doctor orders surgery to treat a medical condition or injury, Medicare should cover both the surgery and any related treatment or services you require before and after the procedure. This may include:
Doctor's visits
Durable medical equipment
X-rays and other diagnostic tests
If you aren't sure whether a service or item is covered, talk to your doctor. You can also call Medicare at 1-800-MEDICARE (633-4227) or TTY 1-877-486-2048.
Please note that Medicare rarely covers elective procedures like cosmetic surgery.
What Will You Pay for Surgery with Medicare?
Your Medicare costs for surgery depend on whether it's an inpatient surgery or outpatient procedure. As an inpatient, Medicare Part A applies. As an outpatient, you're covered under Medicare Part B.
All costs below are for 2023.
Your Costs Under Medicare Part A
Out-of-pocket costs for Medicare Part A include a deductible and coinsurance. If you or your spouse did not pay Medicare taxes for the required 10 years (40 quarters), you may also pay premium of up to $506 per month.
The Part A deductible is $1,600 per benefit period, which begins the day you're admitted as an inpatient and ends once you go 60 consecutive days without receiving inpatient care in a hospital or skilled nursing facility.
You also have to pay coinsurance for hospital stays lasting longer than 60 days (it's $0 per day for days 0 through 60. For days 61 through 90, you'll pay $400 per day. Days 91 through your 60 lifetime reserve days have a coinsurance of $800 per day.
After you use your 60 lifetime reserve days, you are responsible for all costs. If you join a Medigap plan, though, you get an additional 365 lifetime reserve days for inpatient care.
Your Costs Under Medicare Part B
Part B pays 80 percent of the Medicare-approved amount for covered services, leaving you owing the remaining 20 percent coinsurance. In addition, there may be a copayment charged by the surgical facility.
Typically, you must meet your annual deductible before Part B begins paying. In 2023, the Medicare Part B deductible is $226.
Most people also pay the Part B premium, which is $164.90. If your annual income exceeds $97,000 (filing singly) or $194,000 (married filing jointly), you may owe the Income-Related Monthly Adjustment Amount (IRMAA). This is a surcharge paid by what Medicare calls high earners. Fewer than 5 percent of Medicare beneficiaries have to pay the IRMAA surcharge.
What Does Medicare Part C Cover?
Medicare Part C is more commonly known as Medicare Advantage (MA). These are health plans provided by private insurance companies. The most common type of health insurance plans you find in Part C are health maintenance organizations (HMOs) and preferred provider organizations (PPOs).
According to the Centers for Medicare & Medicaid Services (CMS), every Medicare Advantage plan must provide the same benefits you get with Original Medicare. However, they are not limited to this coverage and in fact, most Advantage plans offer additional benefits as well. The most common is prescription drug coverage, which is included with around 90 percent of Part C plans (known as a Medicare Advantage Prescription Drug plan, or MA-PD).
Other common add-ons with an Advantage plan are fitness programs like SilverSneakers, vision care, routine dental exams, and hearing aids. Plan costs and benefits vary, so check with your insurance provider to see what your Medicare Advantage plan covers.
You cannot join both a Medicare Advantage and a Medicare Supplement plan (more commonly known as Medigap).
What Does Medicare Part D Cover?
Original Medicare does not include prescription drug coverage. Enter Medicare Part D prescription drug plans.
Provided by private insurance companies, there are two main types of Part D plans:
Standalone prescription drug plans can be added to either Original Medicare or an Advantage plan that doesn't include prescription drug coverage
Medicare Advantage Prescription Drug plans
You cannot join both an MA-PD and a standalone Part D plan. If you're enrolled in an MA-PD and then sign up for a standalone plan, you will be unenrolled from your Advantage plan and returned to Original Medicare.
What Does Medigap Cover?
Medicare Supplement Insurance helps pay a variety of out-of-pocket costs when you have Original Medicare. What your Medigap plan covers varies depending on which plan you join.
There are 10 standardized Medigap plan options: A, B, C, D, F, G, K, L, M, and N. There are also high deductible versions available in some areas.
Medicare beneficiaries who qualified on or after January 1, 2020 may not join Medigap Plan C or Medigap Plan F. This is due to a new law that restricts Supplement plans from covering the Part B deductible. You can get the same benefits – minus the deductible – with either Medigap Plan D or Medigap Plan G, respectively.
Although Medicare Supplement plans vary, the following benefits are included with every plan:
Part A coinsurance
An additional 365 lifetime reserve days for inpatient hospital care
Part B coinsurance (Plans K and L only cover 50 percent and 75 percent, respectively)
First 3 pints of blood
Part A hospice care coinsurance (Plans K and L only cover 50 percent and 75 percent, respectively)
Three states manage their Medigap program in a different way: Massachusetts, Minnesota, and Wisconsin. Our Ultimate Guide to Medicare Supplement Plans provides detailed information on coverage, costs, and guidelines.
Compare Your Medicare Plan Options
It's easy to compare your Medicare plan options with our Find a Plan tool. Just enter your zip code to start reviewing Medicare Advantage, Part D, and Medigap plans in your area.
Find a Medicare Plan in your area
It's FREE with no obligation
Speak with a Licensed Insurance Agent
M-F 9:00am-9:00pm | Sat 9:00am-3:00pm EST