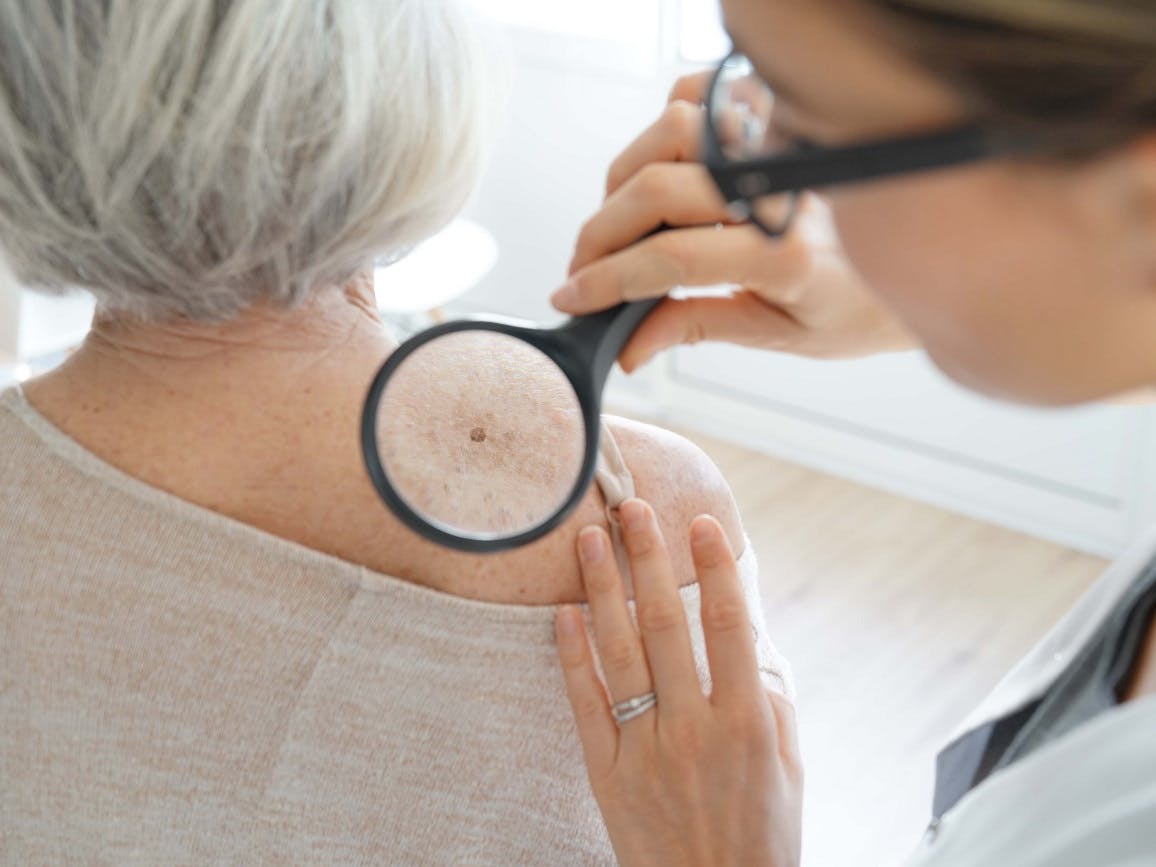 Medicare usually only covers skin tag removal if they're bleeding or painful.
Skin tags, or acrochordons, are small, non-cancerous growths that form from extra cells in the skin's top layers when the skin rubs against itself. They tend to be the same color as your skin and often look like one or a cluster of skin tissue extending out from a tiny stem. Most are small (between 1-5mm), but some can grow to be a few centimeters.
Skin tags are common and they don't affect your health, but they can be unsightly, which is why some people choose to get them removed. While Original Medicare doesn't pay for most dermatology procedures that are only for cosmetic purposes, Medicare beneficiaries may still have options for coverage for skin tag removal. Read on to learn more.
Medicare coverage for skin tag removal
Neither Original Medicare Part A (hospital insurance) nor Part B (medical insurance) cover cosmetic surgery or dermatology if the only purpose is to improve appearance. In this case, the removal of skin tags would not be covered.
However, there is typically an exception if the skin tag is painful or bleeding. If your doctor determines the removal is medically necessary, Part B may cover the removal since it would be an outpatient medical procedure.
Does Medicare cover dermatology?
Medicare Part B helps cover skin conditions (including diagnosis, treatment, or removal) if it is considered medically necessary. Some covered dermatology services include:
·       Removal of skin tags or seborrheic keratosis (if painful or bleeding)
·       Wart removal (if painful or bleeding)
·       Rosacea treatment
·       Psoriasis treatment
·       Allergy testing (to treat a specific allergen)
·       Mole removal (if cancerous or has a concerning appearance)
Part B may also cover screenings and tests that can help rule out or diagnose skin cancer, as well as a visit to a primary care physician (PCP) or dermatologist to diagnose a concerning mole or other spot on your skin if it's considered medically necessary. You must also see a dermatologist who accepts Medicare for the service to be covered.
Note that routine, preventive screenings for skin cancer in people who show no sign or symptom of skin cancer will likely not be covered. This includes a preventive skin exam. Other cosmetic procedures, such as Botox (to remove wrinkles) or laser hair removal, are also not covered if there is no medical necessity.
Do Medicare Advantage plans cover skin tag removal?
Medicare Advantage plans (Part C) are sold by private insurance companies and are required to cover the same benefits that Part A and Part B do, and they also typically offer additional coverage for things like:
·       Hearing
·       Vision
·       Dental
·       Prescription drug coverage (MA-PD)
·       Fitness memberships
The removal of a painful or bleeding skin tag will be covered by your MA plan as long as it's deemed medically necessary. Keep in mind that that in some cases, your plan may require a referral from your primary care provider to see a dermatologist. Without one, you may not be able to schedule an appointment. Ask your plan or PCP to learn more.
Additionally, your plan may offer preventive screenings for skin cancer or other cosmetic dermatology coverage, but this can vary by plan so check your Evidence of Coverage or contact your plan for more information.
How much does skin tag removal cost?
If the removal is covered by Medicare, you'll have to meet the annual Part B deductible ($226 in 2023). Once you've met the deductible, you'll pay for 20% of the Medicare-approved amount out-of-pocket and Medicare will pay the other 80% as long as the provider accepts Medicare assignment.
If removal is not covered by Medicare, the cost will vary depending on where you go to get the removal, how big the skin tag is, and the way that it is removed. Typically, it will cost $150 or less out-of-pocket.
Are you happy with your Medicare coverage?
If you're in the market for a Medicare Advantage, Part D, or Medigap plan, talking to an experienced, licensed Medicare agent can help. We'll answer your Medicare questions and help you choose the right Medicare plan for your unique needs and budget. Or, use our Find a Plan tool to research Medicare plans on your own. Just enter your zip code to get started.
Find a Medicare Plan in your area
It's FREE with no obligation
Speak with a Licensed Insurance Agent
M-F 9:00am-9:00pm | Sat 9:00am-3:00pm EST