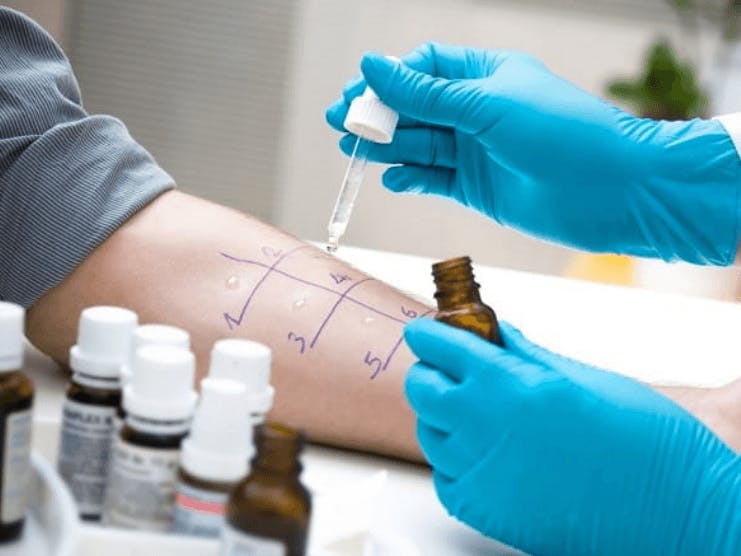 If your doctor thinks it's medically necessary, Medicare typically covers allergy testing.
Medicare covers allergy testing, but only in certain circumstances. Allergy tests are used by physicians to get a better understanding of which allergies affect you. If you are dealing with serious allergies, your physician may order a series of allergy tests that can provide them with the information they need to create an allergy treatment plan for you.
Certain types of allergy tests may not be covered if you don't fulfill a number of requirements. This article explains which tests Medicare will pay for and when.
When does Medicare cover allergy testing?
The basic principle behind Medicare coverage for allergy tests is medical necessity. Medicare defines medically necessary services as "Health care services or supplies needed to diagnose or treat an illness, injury, condition, disease, or its symptoms and that meet accepted standards of medicine."
This means that if you wanted to get an allergy test without guidance from any provider, Medicare would not cover it. However, if a Medicare-credentialed healthcare provider confirms that you need to be tested, then it will be covered by Medicare once you meet your Part B deductible.
Confirming medical necessity is just one of the requirements. Your provider will also need to state that your allergic symptoms aren't being managed by other methods and that the allergy testing is part of a larger treatment plan. The doctor and lab that administer the testing must accept Medicare assignment.
Most people who have severe allergies can meet these requirements easily. If you have questions about your specific scenario, you can contact Medicare at 1-800-633-4227. Your physician should also be able to answer any questions you may have.
Allergy tests covered by Medicare
Allergies are a broad category that can refer to anything from hay fever to eczema. Many people deal with some form of allergic reaction throughout their life, with 19.2 million adults diagnosed with hay fever.
Because there are so many different types of allergies, different tests are required depending on your exact symptoms. Some types of tests are more expensive and may only be covered if you have undergone another type of test previously. Allergy tests can be performed for drug allergies, food allergies, or airborne allergies.
The main types of tests that are considered safe and effective are:
Prick tests: A solution containing a potential allergen is put on your skin, which is then pricked. This allows the allergen to contact deeper layers of your skin.
Intradermal tests: The allergy solution is injected into your skin, usually to a point deeper than the prick test can reach.
Patch tests: A small patch containing the allergen will be placed on your back for one to three days, after which your physician examines the area for signs of allergic response. These tests are used for allergens that can take longer for your body to respond to.
Blood tests: Blood tests take longer than the other tests mentioned. These tests are used if the previous tests were inconclusive, or if you aren't able to have them done due to a skin condition. Your blood will be tested for certain antibodies that correlate with allergic responses, which can help your physician understand the nature of your allergies.
Prick tests and patch tests are collectively referred to as percutaneous tests, or skin tests. Intradermal tests may also be called intracutaneous tests. All of these tests look for IgE antibodies, which are the sign of allergic reaction.
In most cases, each one of these tests will only be done if the one prior to it has either already been done or can't be done. If it is your first time having an allergy test, and you are capable of having a skin prick test done, then Medicare may not cover a blood test until other options have been exhausted.
Medicare Advantage coverage for allergy tests
Medicare Advantage, also known as Medicare Part C, refers to private insurance plans that are regulated by the federal government. If you are eligible for Medicare, you will have a choice between Original Medicare and Medicare Advantage. Original Medicare refers to Part A and Part B of Medicare.
Medicare Advantage is required to cover everything that Original Medicare does. However, Medicare Advantage plans may also cover things that Original Medicare doesn't cover. Some Medicare Advantage plans come bundled with prescription drug plans but can also provide dental coverage or wellness benefits.
These additional benefits will vary a lot between plans. When you compare plans, ask if there are any extra benefits that are related to allergy care. It may be easier to get testing done, and additional therapies could be covered.
Prescription drug coverage for allergies
As mentioned above, your allergy tests will be covered as part of a broader treatment plan. This may involve treatments like allergy shots, immunotherapy, or prescription allergy medications.
Original Medicare doesn't cover prescription drugs. You need to have a Medicare Part D prescription drug plan or a Medicare Advantage prescription drug plan for this coverage. Both of these are sold by private insurance companies. If you have a Medicare Advantage plan that covers prescription drugs, you won't be able to also purchase a Part D plan, so check the drug formulary carefully to ensure it includes your prescriptions.
When should you see your doctor about allergies?
Allergy symptoms vary depending on the allergen. As a general rule, you should see your doctor if you are experiencing any significant discomfort and think it is the result of allergies. The most common types of allergic reactions include sneezing, wheezing, hives, itchiness in the afflicted area, and difficulty breathing.
If you experience difficulty breathing or have prolonged or severe pain, you should seek medical attention immediately. Some acute allergic responses can cause serious harm if not treated quickly.
Having trouble understanding your Medicare options? We can help!
Our licensed agents can help you understand your Medicare plan options. Just call us toll-free to get started.
Find a Medicare Plan in your area
It's FREE with no obligation
Speak with a Licensed Insurance Agent
M-F 9:00am-9:00pm | Sat 9:00am-3:00pm EST