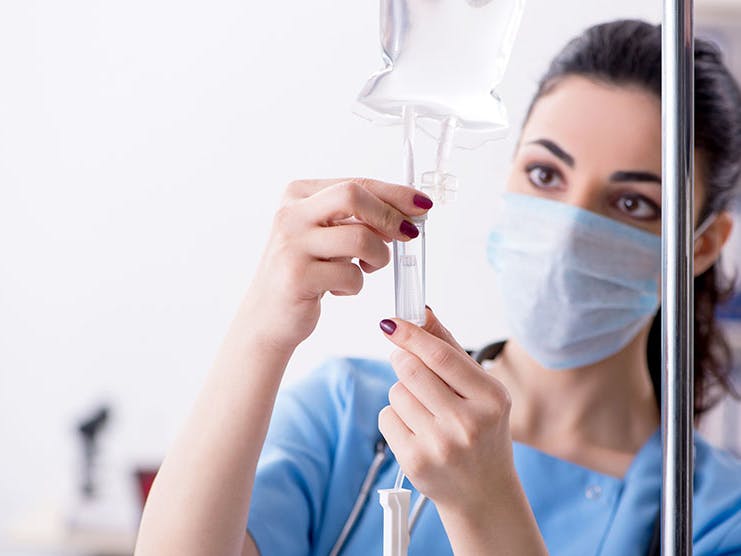 Remicade may be covered by Medicare Part B if the drug is prescribed to treat a qualifying medical condition.
Remicade, the brand name for the drug infliximab, is used to treat a number of autoimmune diseases such as ulcerative colitis, psoriasis, Crohn's disease, and rheumatoid arthritis. Given by intravenous (IV) infusion, this drug cannot be self-administered, which makes its insurance coverage different than many other prescription drugs.
While Medicare does cover Remicade in some cases, beneficiaries must meet certain requirements in order to get benefits. Read on to learn more about Medicare's coverage for Remicade, as well as additional information about the drug.
Medicare coverage for Remicade
In some cases, Remicade may be covered by Medicare Part B (medical insurance). A health care professional is required to administer Remicade, so it may be covered by Part B if:
You have a qualifying and covered medical condition
The drug is deemed medically necessary by a licensed healthcare provider to treat your condition
You receive the treatment in an outpatient setting
Note that you'd still be responsible for the Part B deductible, as well as any co-pays or co-insurance associated with the treatment or drug.
Unless deemed medically necessary due to qualifying circumstances, Remicade and its administration is not covered by healthcare services that come to your home.
Is Remicade covered by Medicare Part D?
Most Part D prescription drug plans do not cover Remicade because it must be administered in an outpatient setting by a healthcare provider, and is therefore covered by Part B. However, if your infusions must be administered in combination with other prescription drugs, those additional drugs may be covered by a Part D plan.
To learn more about what drugs are covered by a Part D plan, check the plan's formulary. The formulary is a list of covered drugs and their costs. The cost of a Part D plan and of the drugs covered by the plan can vary, so it's important to check coverage and costs prior to requesting the medication.
Does Medicare Advantage cover Remicade?
Medicare Advantage plans (Part C) are sold by private insurance companies and are required to cover at least everything Original Medicare (Part A and Part B) does. In most cases, Advantage plans also offer additional benefits for things like:
Hearing
Vision
Dental
Fitness memberships
Prescription drug coverage (MA-PD)
If you have a Medicare Advantage plan, Remicade is likely covered as long as it's deemed medically necessary, you have a qualifying medical condition, and the treatment is received in an outpatient setting. Otherwise, you may be required to pay all costs out-of-pocket.
Does Medicare Supplement Insurance cover Remicade?
Medicare Supplement plans, also known as Medigap, are sold by private insurance companies and help fill the "gaps" in Original Medicare. These plans can help lower out-of-pocket expenses by covering costs Medicare doesn't, such as deductibles, co-pays, and co-insurance.
If you have a Medigap plan, it may lower your expenses for Remicade by covering your Part B deductible and helping to pay any co-pays or co-insurance associated with the drug.
What is Remicade?
Remicade is one of several brand-name drugs for the chimeric monoclonal antibody biologic drug called infliximab, which is a prescription medication primarily used to help treat ulcerative colitis, but it can also be used to treat:
Rheumatoid arthritis
Ankylosing spondylitis
Chronic severe psoriasis
Psoriatic arthritis
Bechet's disease
Plaque psoriasis
Crohn's disease
Approved by the Food and Drug Administration (FDA), Remicade blocks a protein in your immune system called TNF-alpha. When your body produces too much TNF-alpha, which helps regulate immune cells and inflammation in the body, your immune system can mistakenly attack cells in your digestive tract and other parts of the body, leading to inflammation. By blocking the TNF-alpha, your body's inflammation will reduce and your symptoms will lessen.
Remicade is administered via an intravenous infusion (IV) through a needle placed in a vein in your arm. It's given over a period of about two hours. You'll receive three starter doses at weeks zero, two, and six, and then a maintenance dose every eight weeks.
Why would someone be prescribed Remicade?
If you have one of the above conditions that Remicade is used to treat, is may be prescribed to you. For many patients, Remicade can reduce the signs and symptoms of the above conditions for those who haven't responded well to other therapies.
Depending on the condition you're being treated for, Remicade can also:
Promote intestinal healing
Reduce or stop the need for steroids in adult patients
Stop further joint damage
Improve physical function
As with any medication, there are risks and side effects that come with taking Remicade. It's important to talk to your prescribing physician about if Remicade is right for you. Additionally, because Remicade is typically only covered by health insurance when there's medical necessity, you must meet the qualifications of someone who would benefit from taking this drug.
How much does Remicade cost?
How much you pay for Remicade depends on factors like where you live, who administers it, and where it's administered, but it typically costs around $5,000 out-of-pocket per year for infusions.
If the drug is covered by Medicare Part B, Medicare would pay 80% of the Medicare-approved amount and you would be responsible for the other 20% after meeting the Part B deductible.
Find a Medicare Plan in your area
It's FREE with no obligation
Speak with a Licensed Insurance Agent
M-F 9:00am-9:00pm | Sat 9:00am-3:00pm EST