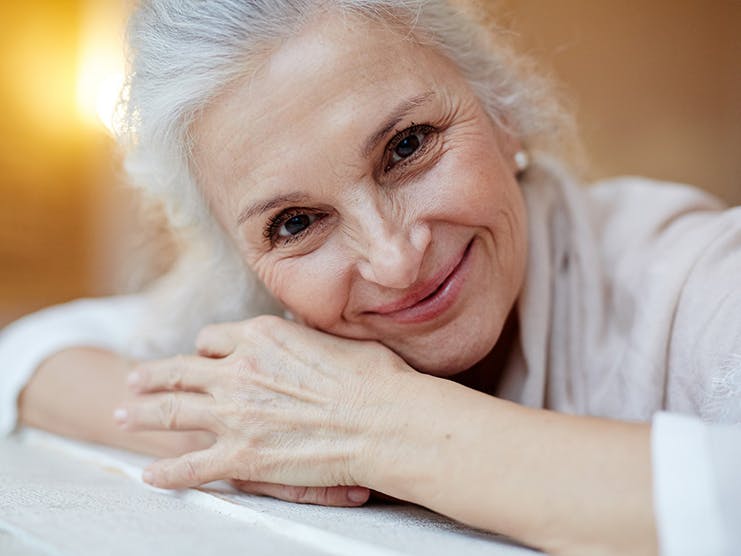 Millions of Americans have osteoporosis, with even more suffering from decreased bone density, leaving them at greater risk of developing osteoporosis in the future.
While osteoporosis is more prevalent in women and adults older than 65 compared to those aged 50-64, men and women of any age can also develop it.
Prolia is a prescription drug approved by the U.S. Food and Drug Administration (FDA) used to treat osteoporosis in women after menopause who at higher risk for fracture. Because osteoporosis and decreased bone density increase your risk for fractures or other injuries due to a fall, Prolia works with your body to help stop the development of bone-removing cells, protecting your bones longer.
Read on to learn more about Medicare's coverage for Prolia, as well as other information about osteoporosis and helpful benefits you may have.
What is Prolia?
Denosumab, more commonly known by the brand name Prolia, is a prescription medication designed to treat osteoporosis. Unlike most prescription meds, Prolia is an injection your healthcare provider administers every six months. The drug is typically prescribed if you have an increased risk for fractures or you cannot take or did not respond to other osteoporosis medications.
In women, bone loss increases after menopause, when estrogen levels drop. In the five to seven years after menopause, women can lose up to 20% of their bone mass, leaving them at greater risk for bone fractures. When you have osteoporosis, the bone-removing cells in your body cause you to lose bone at a rate that's faster than the bone-creating cells, making bones weaker and more likely to fracture. Prolia helps stop the development of bone-removing cells before they can reach and damage the bone.
As with all medications, there are side effects and risks to consider. Talk with your provider about whether Prolia is right for you.
Medicare Prolia coverage
Both Original Medicare Part A (hospital insurance) and Part B (medical insurance) will help pay for an osteoporosis injectable drug, as well as visits by a home health nurse to inject the drug, if you meet the following conditions:
You're a woman
You're eligible for Part B
You have a bone fracture that is certified related to postmenopausal osteoporosis
Your doctor certifies you're unable to give yourself the drug by injection, and your family or caregivers are unable and unwilling to give you the injection
You meet the criteria for Medicare home health services (you must be under the care of a doctor and getting services under a plan of care created by a doctor, and you must need eligible services, and you must be homebound)
Prolia falls into this category and would be covered by Medicare in most cases. If you just need the injection, it would be covered by Part B. If you also need a hone health nurse to administer the injection, it would be covered by Part A as long as you meet the above criteria.
Most Medicare Part D prescription drug plans also cover Prolia. Check your Part D plan's formulary to learn if it's covered, which tier it is on, and what your co-pay or co-insurance would be.
If you have a Medicare Advantage plan that includes Part D (MA-PD), this drug would also be covered. That's because Medicare Advantage plans have to at least cover everything Original Medicare does, though most have additional coverage and benefits. Around 90% of MA plans also include Part D coverage.
How much does Prolia cost with Medicare
The list price for Prolia is $1,477.16 per treatment (as of August 2022), but most patients do not pay the list price. You would pay 20% of the Medicare-approved amount for the cost of Prolia, and would pay nothing for a home health nurse visit to inject the drug. The Part B deductible does apply.
To learn how much this drug would cost for you, talk to your doctor. However, on average, patients with Medicare pay $212.99 out-of-pocket every six months depending on their Part B coverage. If your Part D prescription drug plan covers Prolia, you'd pay an average of $50 to $667.29 out-of-pocket depending on which phase of the Part D benefit you're currently in.
Other Medicare coverage for osteoporosis
To help learn if you're at risk for broken bones and osteoporosis, Medicare Part B covers a bone mass measurement test once every 24 months. To qualify, you must meet one of the following conditions:
Be a woman whose doctor determines you're estrogen-deficient and at risk for osteoporosis
Your x-rays show possible osteoporosis, osteopenia, or vertebral fractures
Additionally, you qualify if you're taking prednisone or steroid-type drugs (or are planning to begin this treatment), you've been diagnosed with primary hyperparathyroidism, or you're being monitored to see if your osteoporosis drug therapy is working.
You would pay $0 for this test as long as the doctor accepts Medicare assignment.
What is osteoporosis?
Osteoporosis happens when the creation of new bone can't keep up with the loss of old bone. This causes bones to become weak and brittle, so a fall or mild stress can cause a fracture. Most of the time this happens in the hip, wrist, or spine.
Throughout your life, your body will break down existing bone and build new bone in its place. After your early 20s, the process of making new bone slows down, so most people reach their peak bone mass by age 30. As you age, your body's osteoclasts (the cells that drive the breakdown process) attack bone mass a lot faster than new tissues are created.
Both men and women can develop osteoporosis, and while there are typically no symptoms in the early stages, you should talk to your doctor if you recently went through menopause or took corticosteroids for several months at a time.
How likely you are to develop osteoporosis depends on how much bone mass you attained in your youth, but other risk factors include:
Your sex (females more likely to develop than males)
Age (the older you get, the greater your risk)
Race (those who are white or of Asian descent are at higher risk)
Family history of osteoporosis
Body frame size (small body frames have higher risk)
Hormone levels
Dietary factors like low calcium intake, eating disorders, or gastrointestinal surgery
Steroids and other medications
Certain medical conditions
Certain lifestyle choices like sedentary lifestyle, excessive alcohol consumption, and tobacco use
You can help decrease your chance of developing osteoporosis through good nutrition and exercise. Men and women between ages 18 and 50 need 1,000 mg of calcium per day, and that increases to 1,200 for women over age 50 and men over age 70. Vitamin D can also help, as well as strength training, weight-bearing, and balance exercises.
Find a Medicare Plan in your area
It's FREE with no obligation
Speak with a Licensed Insurance Agent
M-F 9:00am-9:00pm | Sat 9:00am-3:00pm EST