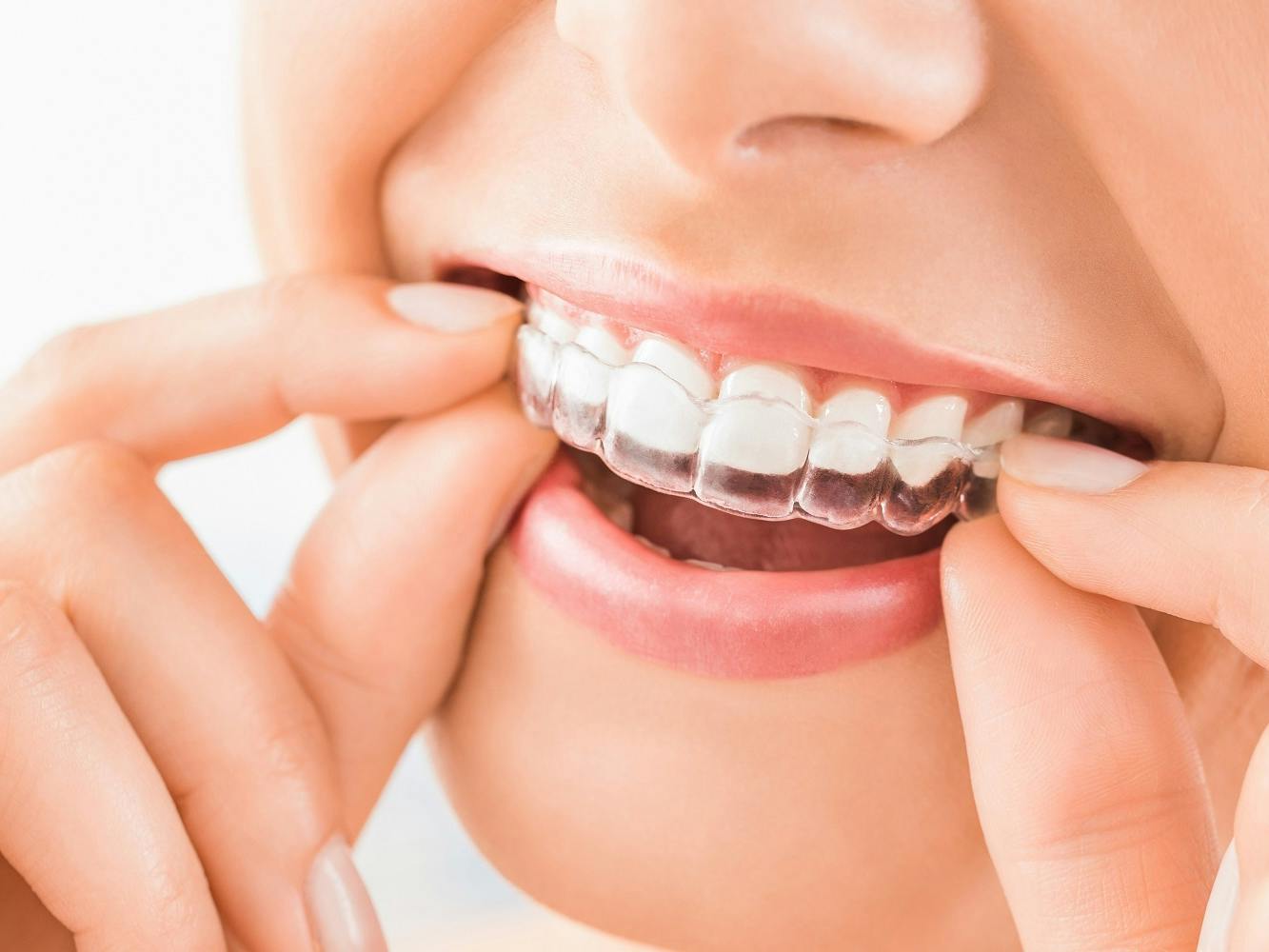 Invisalign is a type of aligner that, as the name implies, is practically invisible, making it a popular option for adults looking to straighten their teeth.
Unlike traditional braces, Invisalign is a type of aligner that moves your teeth to the correct position. The device is replaced every couple of weeks, with each placement targeting different teeth.
Aligners are a popular option with adults, since they're practically invisible and are easily removed for things like eating and cleaning your teeth. But paying for orthodontic treatments can be a challenge.
This article discusses paying for Invisalign, braces, and orthodontic care. It's important you understand the types of braces before we discuss whether insurance will pay to straighten your teeth or correct your bite.
Types of Braces
There are four types of braces—all work by slowly realigning your teeth so they are evenly spaced to ensure a proper bite.
You may have had braces when you were younger. However, you may need them again as an adult – especially if you didn't wear your retainer.
Here are the most common types of braces for adults:
Conventional braces
Conventional braces are what most people think of when envisioning braces. They work by affixing metal or ceramic brackets to each tooth so they can hold wires and bands. Conventional braces are worn for months or years, and they slowly realign your teeth and reposition your bite.
Self-ligating braces
Self-ligating braces look like conventional braces. However, no bands are required. Instead, the braces are adjusted by tightening the clip-style brackets. Like conventional braces, patients typically wear self-ligating braces for months or years.
Lingual braces
Lingual braces are affixed to the back of the teeth rather than the front. Because of their positioning, they remain virtually unseen. However, expect to wear your lingual braces for months or years – depending on your treatment plan.
Aligners
Aligners are popular among adults because they are practically invisible. They use customized, clear trays to realign the position of your teeth gradually. The trays are replaced every few weeks. Invisalign is one brand of aligners. Some users are able to achieve their goals within six months of starting Invisalign treatments.
Does Medicare Cover Braces?
Generally speaking, Medicare Parts A or B do not cover braces or other orthodontic care. However, if an accident or disease – such as a facial tumor – requires a restorative orthodontic procedure, it may be considered medically necessary and covered by Original Medicare.
For example, Medicare Part A (hospital insurance) may cover emergency orthodontic procedures or surgeries that require a hospital stay.
Will a Medicare Advantage plan pay for Invisalign?
You may also find expanded dental benefits through a Medicare Advantage Plan. A Medicare Advantage Plan covers everything that Original Medicare covers. But, this type of plan typically includes additional coverage, with nearly 99% providing routine vision and dental care.
There are two simple ways to find a Medicare plan that covers Invisalign. The first is our Find a Plan tool. Just enter your zip code to start reviewing Medicare plans in your area, paying close attention to the additional benefits each plan offers.
You can also call us toll-free at 888-992-0738 to speak to a licensed ClearMatch Medicare agent. They'll answer your questions and explain your options in easy-to-understand language.
Does Medicare cover Invisalign?
Now, let's return to your original question: "Does Medicare cover Invisalign?"
There are a few non-cosmetic benefits to using Invisalign over conventional braces. For example, it's easier to maintain your oral health when you have Invisalign. In addition, conventional braces also require a restricted diet, and the sharp edges can sometimes scrape the soft tissue inside your mouth.
You learned in the last section that Medicare typically only covers medically necessary orthodontia performed in a hospital setting. Therefore, it's unlikely that Medicare would view Invisalign orthodontic treatments as medically necessary. However, if you have a Medicare Advantage plan, it's worth having a quick discussion with your plan representative before making any decisions about your treatment options.
Does any insurance cover Invisalign?
Some health insurance companies will only cover Invisalign if you have a severe misalignment causing severe pain or affecting your ability to speak or chew. And, for your insurance to cover Invisalign, you'll likely need a referral from your dentist or orthodontist.
Your dental insurance may pay for a certain percentage of Invisalign – or it may pay a specific dollar amount. However, often there is a lifetime cap on the amount insurance will pay for orthodontic treatment. If it is covered, expect to pay 50% to 75% of the cost of Invisalign out of pocket.
Related reading: Dental, Vision, and Hearing Insurance
Additional resources
CMM: Find a Medicare Plan
Invisalign: How Invisalign Works
Find a Medicare plan in your area
It's FREE with no obligation
Speak with a Licensed Insurance Agent
M-F 9:00am-9:00pm | Sat 9:00am-3:00pm EST