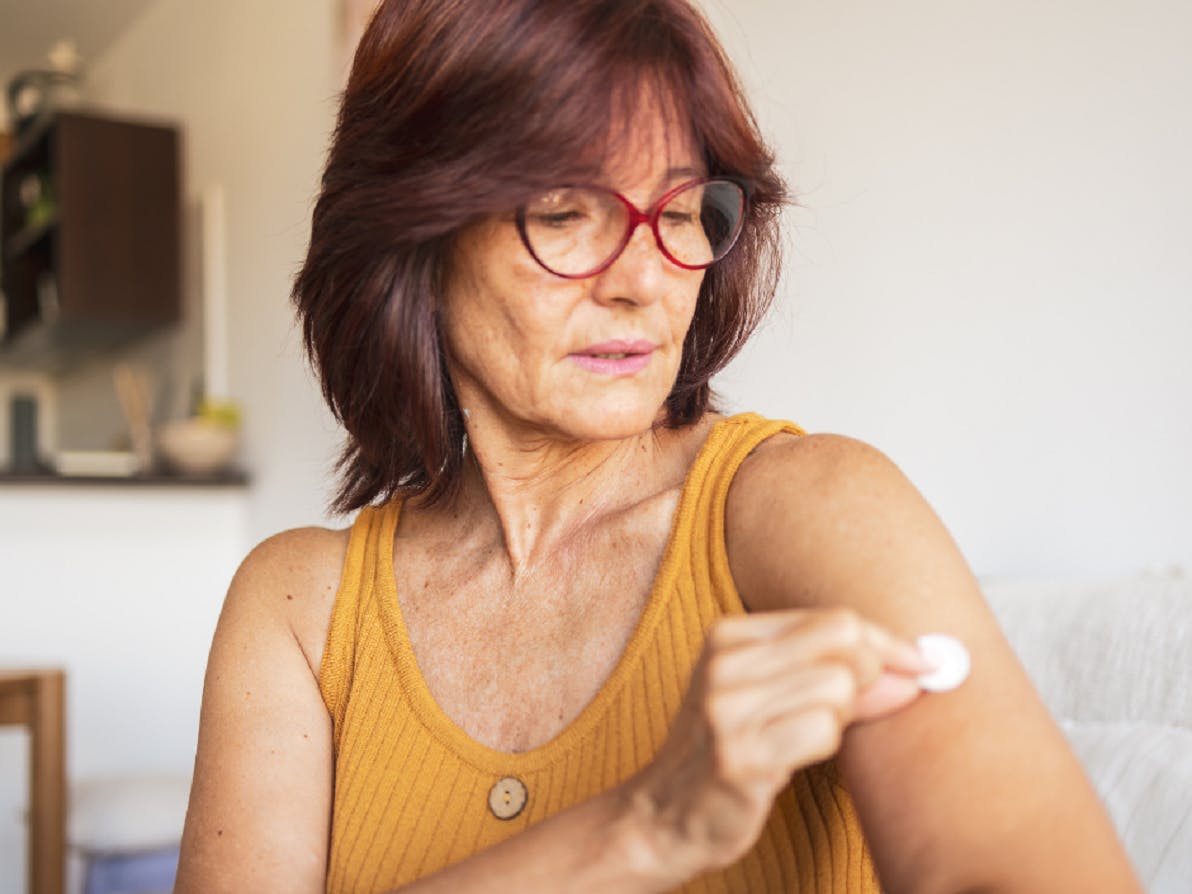 Menopause often comes with numerous unpleasant side effects – many of which can be controlled with hormone replacement therapy.
Hormone replacement therapy (HRT) can be prescribed for a variety of health reasons, including to help balance progesterone and estrogen levels during or near menopause (also called menopausal hormone therapy).
Menopause, which is a phase of life that begins after a woman has her last menstrual period, changes the balance of hormones in a woman's body which can lead to a variety of symptoms. The average age of menopause is 51, but it typically begins between ages 45 and 55 and can last up to 14 years or longer.
This page explains several types of hormone replacement therapy for menopausal women, when HRT might be prescribed, and what Medicare covers.
What is hormone replacement therapy?
As you experience menopause, some female hormones (like estrogen) decrease their production levels, even though they still play important roles in the body. HRT can replace those hormones, therefore improving the symptoms of menopause.
During HRT, medication is prescribed that contains specific hormones to help relieve or prevent menopausal symptoms and regulate hormones in the body. Additional benefits of HRT include prevention of bone loss and reducing the chances of getting a fracture, which are symptoms of declining levels of estrogen and progesterone.
Some types of HRT have both estrogen and progesterone, while others only have estrogen, and some may also contain testosterone. Different combinations and dosages of these hormones through HRT can do different things.
The duration for HRT depends on your individual needs and medical history, but it's recommended to use the lowest effective dose for the shortest period possible.
Types of hormone replacement therapy
Menopause causes hormonal imbalances, but HRT can help replace and regulate those hormones.
The two types of standardized hormone therapy include estrogen therapy-only therapy (ET), which can provide relief from menopause symptoms, and estrogen plus progesterone therapy (EPT), which provides a combination of both estrogen and progesterone and can also help protect women from endometrial cancer.
You may receive HRT through systemic hormone therapy drugs, which contain a higher dose of estrogen, or through low-dose vaginal products used to treat vaginal and urinary symptoms of menopause. These drugs can come in the form of a:
Pill
Ring
Gel
Skin patch
Spray
Tablet
Cream
There are some risks for HRT including blood clots, heart attack, stroke, and breast cancer, but your doctor will discuss these risks with you and help you determine the therapy and dose that's best for you.
Medicare coverage for hormone replacement therapy
Because most hormone replacement therapies are prescribed items you administer yourself at home, they are considered prescription drugs. In order to have HRT prescription coverage, you must enroll in a standalone Medicare Part D prescription drug plan or a Medicare Advantage plan (Part C) with prescription drug coverage. Some medications that may be covered include:
Estrogen (Estraderm, Premarin, Cenestin, Divigel, Climara)
Progestin (Prometrium, Provera)
Estrogen plus progestin (Prempro, Activella, Femhrt, Climara Pro)
Be sure to check the plan's formulary for any drugs you may be prescribed to ensure they are covered and to learn more about costs.
Medicare Part A and Part B will also cover components of medically necessary hormone therapy, for both treatment for menopause and for transgender beneficiaries, including:
Diagnostic testing
Lab work associated with HRT
Doctor visits for diagnosis and to monitor your response to HRT
Medicare Part B (medical insurance) covers these outpatient costs, while Part A (hospital insurance) would cover components of HRT if inpatient care is required (including prescription drugs administered while an inpatient).
If you have Original Medicare (not a Medicare Advantage plan), you may also sign up for Medicare Supplement Insurance. More commonly known as Medigap, Supplement plans cover most of your out-of-pocket costs, like coinsurance.
How much does hormone replacement therapy cost?
For HRT services covered by Part B, you will be responsible for 20% of the Medicare-approved cost and the Part B deductible ($226 in 2023). Medicare will pay the remaining 80%.
If you have a Part C plan, your costs may vary depending on your plan. Your Part D prescription drug costs will vary by plan as well. Contact your plan to learn more about what you may owe out-of-pocket.
That said, the monthly cost of HRT without insurance can range between $100 and $425 or more (depending on the drugs prescribed). However, Part D prescription drug copays may be as low as $5 (depending on the drugs and your plan). Generic prescriptions typically cost less.
Our Find a Plan tool makes it easy to compare the costs and benefits of Medicare plans. Just enter your zip code to see the Medicare plans in your area. Or, call us toll-free at 888-992-0738 and a licensed Medicare agent will answer your questions and help you find the right Medicare insurance plan for you.
How to save on hormone replacement therapy
If you need help paying for HRT-related costs, talk to your doctor and pharmacist about any discounts or coupons available, or if there are other ways you may be able to save.
If you qualify for Medicare Extra Help, a program available to Medicare beneficiaries who have limited income and resources, you may pay as little as $0 for some medications.
Signs you may need hormone replacement therapy
Some women may enter menopause with no or very mild symptoms, while others may experience severe symptoms that can impact daily life. Talk to your doctor if you're experiencing symptoms like:
Low sex drive or pain during sex
Chronic vaginal itching and burning
Night sweats
Mood swings and irritability
Chronic insomnia or sleep disturbances
Hot flashes
Hair loss
Urinary problems
Lack of energy
Cognitive changes, such as memory loss or difficulty concentrating
You can usually begin HRT as soon as you start experiencing menopausal symptoms. HRT may not be right for everyone, but your doctor can help you determine the right course of treatment and the right dosage.
Can men experience hormone issues?
Yes, men can also experience hormone issues as they age. Testosterone in men peaks around age 19 and slowly falls off over time. Due to this, some men experience low testosterone levels with symptoms such as memory loss, fatigue, low sex drive or sexual dysfunction, hair loss, muscle or bone mass loss, and mood issues.
In these instances, a doctor may recommend Low T treatments, a form of HRT, to replace some of the testosterone in the system.
Additional resources
Find a Medicare Plan in your area
It's FREE with no obligation
Speak with a Licensed Insurance Agent
M-F 9:00am-9:00pm | Sat 9:00am-3:00pm EST