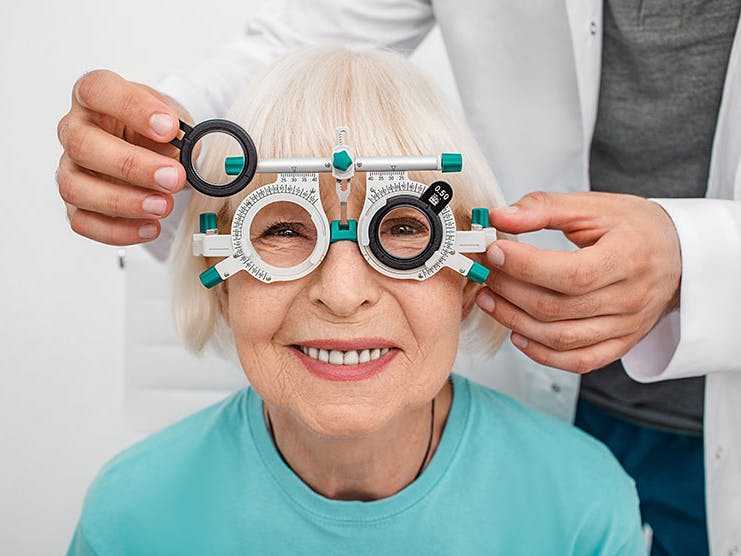 Original Medicare's coverage for routine eye services is extremely limited, but you can get vision care with most Medicare Advantage plans.
Though it is an important aspect of our health, not many people think of eye care when they consider their overall healthcare needs. But the eyes are often the first part of the body to deteriorate as we get older.
A condition known as presbyopia starts to develop in many adults in their early- to mid-40s that causes vision to worsen over time. In addition to this, if you are over 40 years of age and have diabetes, high blood pressure, or a family history of glaucoma, you are at a much greater risk of developing vision issues by the time you reach Medicare age.
And yet with all this, Medicare's coverage for routine vision services, like yearly eye exams and prescription lenses, is extremely limited. Read on to learn when Medicare covers vision services and how to qualify.
Does Medicare cover regular eye exams?
Original Medicare(Medicare Parts A and B) does not cover routine eye exams whether it be for prescribing glasses or contacts, or just your annual check-up. Both your eye exam and any glasses or lenses you need would have to be paid for 100% out-of-pocket. There are some situations, though, in which Medicare covers vision services. You also have several options outside of Original Medicare to get coverage for routine eye services.
What vision care does Medicare cover?
Generally, vision coverage through Medicare is very limited and only beneficiaries with certain conditions have eye care covered. Medicare covers the following vision services:
Annual diabetic retinopathy exam: If you have diabetes, Medicare covers a yearly exam to look for diabetic retinopathy. Again, this only applies to Medicare beneficiaries who have diabetes. You typically pay 20% of the Medicare-approved amount for services and your Part B deductible applies.
Glaucoma tests: When you have Medicare Part B and are considered high-risk for developing glaucoma, you are eligible for a one glaucoma test every 12 months. If you are not high risk, glaucoma testing is not covered. Patients with a family history of the condition, diabetes, African Americans 50 and older, and Hispanics 65 and older are all examples of high-risk individuals. You will pay 20 percent of the Medicare-approved amount for services in addition to the Part B deductible.
Macular degeneration tests: Medicare Part B covers some beneficiaries with age-related macular degeneration. Specific diagnostic tests, treatments, and injections (of approved medications) are covered for those who qualify. Costs are the same as the above tests: 20% of the Medicare-approved amount for services, plus your Part B deductible.
Other services: There are some other vision services that Medicare may cover. You can usually expect Medicare to cover surgery as a result of a chronic eye condition, glasses or contact lenses after receiving an intraocular lens during cataract surgery, and eye prostheses for a damaged or missing eye. It often also covers at least two cleanings a year for eye prosthetics.
Outside of these circumstances, you can expect minimal vision coverage from Original Medicare.
What vision services does Original Medicare not cover?
Medicare's vision coverage is primarily limited to treating specific conditions. You can, however, purchase ancillary insurance to provide dental, vision, and hearing coverage.
You've likely already had ancillary insurance if you've ever been insured through an employer; it would have been the secondary coverage options you chose to receive vision and dental benefits.
In addition to routine dental and hearing care, ancillary insurance usually covers contact lenses, eye exams, eyeglass frames, and prescription lenses. Unlike Medicare, you can add beneficiaries to your secondary coverage, meaning you won't be the only one reaping the benefits.
Related reading: Dental, Vision, and Hearing Insurance
Do Medicare Advantage plans cover eye care?
Medicare Advantage plans (also known as Medicare Part C) must offer all the same benefits as Original Medicare. However, Medicare Advantage plans also usually offer additional coverage, including vision benefits.
Most Part C plans, over 90%, also include vision, dental, drug, and hearing coverage. Though many Advantage plans offer the same additional coverage options, not every plan has the same extras. It is important to thoroughly review and research all potential options to ensure you are getting the coverage you need, in the best package for you.
The easiest way to compare and find plans is with our Find a Plan tool. Simply enter your zip code and prescriptions to start reviewing plans in your area. Close out of any popup windows you don't want to answer – it won't change your results.
You may also call us toll-free to speak to a knowledgeable, licensed Medicare agent to answer any questions you may have.
Find a Medicare Plan in your area
It's FREE with no obligation
Speak with a Licensed Insurance Agent
M-F 9:00am-9:00pm | Sat 9:00am-3:00pm EST