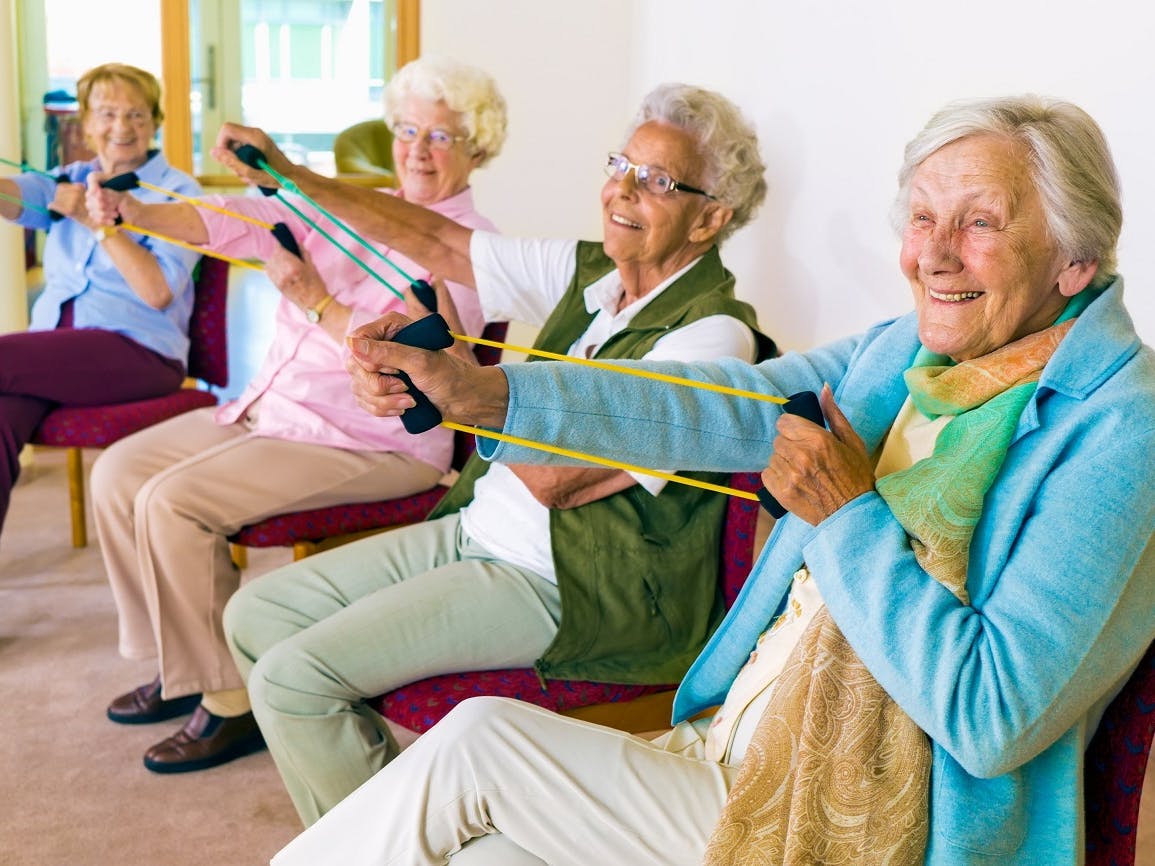 Offering supervision, activities, and even health services, adult day care can be a lifeline for caregivers.
Adult day care (ADC) can be a valuable resource for family caregivers. ADC provides supervision, activities, and care for older adults in a safe, structured setting. Typically, they operate Monday through Friday and accommodate a wide range of needs for different individuals, from basic health services to social activities.
Caregivers taking care of themselves is just as important as taking care of their loved ones, and having their loved one attend an adult day care center on a regular basis can provide downtime a caregiver needs for self-care and other activities. However, these services are not covered by Medicare and costs can add up over time.
Read on to learn more about what adult day care is, Medicare coverage for ADC and other home care services, and other options available to you.
What is adult day care?
There are two primary types of programs that offer different adult day care services:
·       Adult social day care offers basic health services, supervision, meals, socialization, and activities
·       Adult day health care (ADHC) provides more intensive health services for individuals who may otherwise need to live in a skilled nursing facility (SNF)
There are also care facilities that specialize in specific care, such as for those with Alzheimer's or dementia.
Enrolling a loved one in adult day care can allow a caregiver time to go to work, attend appointments, run errands, or simply take a break from caregiving. You may also choose to enroll a loved one in an ADC program because it gives them an opportunity to socialize with others in a friendly environment.
To enroll a loved one in an ADC, specific care requirements must be determined. Then, the family should contact the ADC they are interested in to talk about matching their needs with the center's services. Families may choose to visit the center, and if everyone feels comfortable, they may ask to enroll in a trial to ensure it's the right fit.
If so, the family will formally enroll their loved one.
Medicare coverage for adult day care
Original Medicare (Part A and Part B) does not provide any coverage for any form of adult day care. If you choose to enroll a loved one in an ADC program, you must pay 100% of the cost out-of-pocket.
Medicare also does not pay for long-term care, 24-hour-a-day care at home, meals delivered to your home, homemaker services (like shopping, cleaning, and laundry), or custodial or personal care services (like bathing, dressing, using the bathroom) when it's the only care you need.
However, some Medicare Advantage plans (Part C) may cover some ADC coverage. MA plans must offer the same benefits as Original Medicare, and they often provide additional benefits such as hearing, vision, dental, gym memberships, and more. In some cases, this includes supplemental healthcare benefits like day care coverage.
Use our Find a Plan tool to compare Medicare plan benefits. Just enter your zip code to get started.
Does Medicare cover any home care services?
Original Medicare does pay for you to get some healthcare services in your home as long as you meet certain eligibility criteria and the services are considered medically necessary. Benefits covered by Part A (hospital insurance) and/or Part B (medical insurance) include:
Part-time or intermittent skilled nursing care
When the services a beneficiary needs requires the skills of a nurse, are reasonable and necessary for treatment of an illness or injury, and are given on a part-time basis (fewer than eight hours each day, and 28 or fewer hours each week), a registered nurse (RN) or licensed practical nurse (LPN) can provide skilled nursing services. This can include giving IV drugs, certain injections, feeding tube changes, changing dressing, and teaching about prescriptions or illness care.
Physical therapy, occupational therapy, and speech-language pathology services
These services are considered medically necessary in the home setting if they are specific, safe, and effective for your treatment, are complex enough that they can only be performed by qualified therapists, and the program will help you maintain your condition or prevent it from getting worse. Additionally, the amount, frequency, and duration of the services must be reasonable.
Home health aide services
Part-time or intermittent home health aide services, like personal care, may be covered if they are medically necessary, though one also must be getting skilled care including skilled nursing care, physical therapy, speech-language pathology services, or continuing occupational therapy.
Medical social services
These may be covered when a doctor orders them to help you with social and emotional concerns that may interfere with your treatment or recovery and may include counseling or help finding community resources. You must also be getting skilled care.
Medical supplies
Supplies like wound dressings may be covered if they are medically necessary. Durable medical equipment (DME) is also covered if it meets certain criteria and is ordered by a doctor.
Typically, a home health care agency will coordinate the services your doctor orders for you.
Who qualifies for home health benefits?
You may qualify for home health benefits if you:
·       Are under the consistent care of a doctor
·       Need one or more of: intermittent skilled nursing care, physical therapy, speech-language pathology services, or continued occupational therapy
·       Are homebound (and a doctor certifies this)
Your doctor must also certify that the care is medically necessary and the home health agency you use must be approved by Medicare.
You pay $0 for covered home healthcare services and 20% of the Medicare-approved amount for Medicare-covered medical equipment (after meeting the Part B deductible).
How to pay for adult day care
Typically, payment for adult day care is on either an hourly, half-day, or daily basis. The average cost of one day in an ADC program is around $25 to $78, depending on the center you choose, the duration of the stay, and the type of care required.
For example, private daycares may be more expensive than public ones, and those who cater to seniors with dementia or related issues may cost more due to the higher staff-to-patient ratio.
In some cases, ADC programs offer payment on a sliding scale, meaning those with lower income may pay less than those with higher income. Other payment options include:
Medicaid
Medicaid is a federal and state health insurance program provided to eligible beneficiaries with low income or limited resources. In all states, Medicaid pays for adult day care and/or adult day health care, especially for those who would otherwise require full-time nursing home care.
Each state has Home and Community Based Services (HCBS) Medicaid Waivers, or 1915(c) Waivers designed to help individuals remain living in their homes and communities. Often, this includes ADC and transportation assistance. ADC is also covered under many Medicaid State Plans.
Note that you may have to join a wait list or meet certain financial criteria to be eligible for coverage.
Veterans Programs
The VA will pay for adult day health care, but not adult day care. This is included in the VHA Medical Benefits Package. To qualify, the individual must be assessed and found to have a clinical need for the level of care and supervision provided in the ADC centers. Note that the VA may not pay 100% of the cost, but they may provide assistance based on the individual's needs. Some veterans' pensions may also cover ADC and ADHC.
There may be other programs, such as nursing home diversion programs or local programs, available to you in your community.
Other options for caregivers
When caring for a loved one, it's important to take care of your own physical and mental health. Respite care will help prevent caregiver fatigue and burnout and ensure you're able to give your best to your loved one while also caring for yourself. There are options available in addition to enrolling your loved one in an ADC such as:
·       Some senior living communities may offer short-term respite care, meaning your loved one can stay there for a short period of time without having to commit to living there full-time.
·       Most in-home care agencies can provide homemaker services on a short-term basis. This won't be covered by Medicare, but can still help ensure you have time for yourself.
·       Don't be afraid to ask friends, family members, neighbors, or other loved ones to help you with your caregiving activities. Perhaps a neighbor can stay with your loved one for a few hours while you run errands, or a family member can stay the night with them so you can have some time at home.
·       Check to see if your local community has any organizations or volunteers who may be available to help.
Caregiving can be stressful and tough on families, but it's important to have support and participation from others. Recognize your own feelings and share your needs when you need them and encourage family members to contribute what they can reasonably and honestly do. You can also participate in a local or online support group for caregivers to learn how other families cope and get additional support.
Find a Medicare plan that covers adult day care
It's FREE with no obligation
Speak with a Licensed Insurance Agent
M-F 9:00am-9:00pm | Sat 9:00am-3:00pm EST