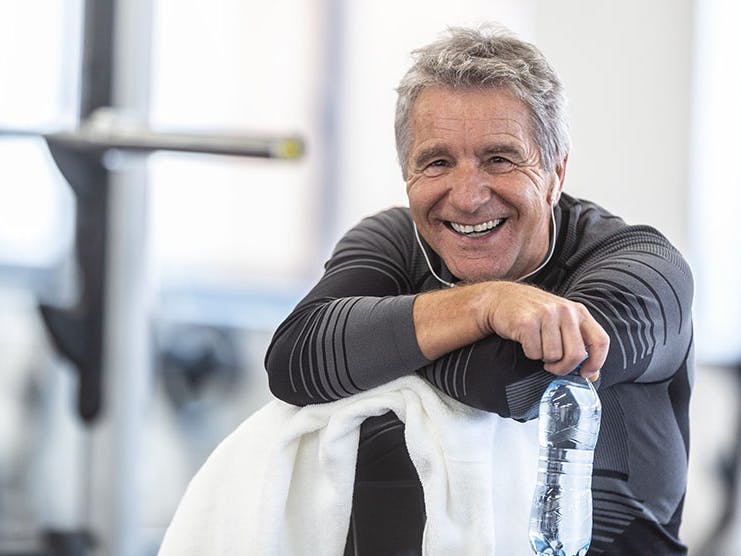 The only eligibility requirement for SilverSneakers is belonging to a Medicare Advantage plan that offers the benefit.
Getting at least 150 minutes of physical activity/exercise per week has been proven to help prevent disease, lower the risk of falls, improve mental health and well-being, strengthen social ties, and improve cognitive function in older adults. It can also help decrease the risk of developing cardiovascular disease, stroke, diabetes, and even some types of cancer.
On the other hand, lack of physical activity is associated with an increase in percentage of body fat and decline in lean body mass, leading to skeletal and muscle weakness or problems which can make daily living activities more difficult.
One key to maintaining quality of life, health, and physical function is physical activity and exercise, but as we age and our bodies change, it may seem more difficult to ensure your body gets what it needs. SilverSneakers, a health and fitness program designed for adults 65+, is the answer for many Medicare beneficiaries.
Read on to learn about what SilverSneakers is, how to become eligible, and answers to all your questions about the program.
What is SilverSneakers?
SilverSneakers is a program designed specifically for older adults to help them stay strong in mind, body, and spirit. It provides access to:
Live online fitness classes
An on-demand video library of prerecorded workouts
Access to more than 15,000 gyms, community centers, and other participating fitness locations around the country
These classes and programs are designed for seniors of all fitness levels and abilities. Led by trained instructors, these programs will help ensure you reap the benefits of exercise and connecting with others while keeping your body safe and improving your overall health and wellness.
SilverSneakers eligibility
Medicare Advantage plans (Part C) must cover everything Original Medicare Part A and Part B do, but they also typically offer additional benefits for things like hearing, vision, dental, and prescription drug (Part D) coverage. Another benefit many MA plans offer is a SilverSneakers membership.
The only eligibility requirement for the SilverSneakers benefit is to belong to a Medicare Advantage (Part C) plan that covers it. In order to enroll in a Medicare Advantage plan, you must:
Live in the service area of the plan you want to join
Have Medicare Part A and Part B
Be a U.S. citizen or lawfully present in the U.S.
If you're interested in joining a Medicare Advantage plan that covers SilverSneakers or other fitness programs, use our Find a Plan tool. Just enter your zip code and any prescriptions you take and close any popups you don't want to answer. On the lefthand menu, under Plan Features, check the box next to Fitness Benefits to ensure you only see plans that provide that benefit.
Does Original Medicare pay for gym memberships?
Original Medicare is made up of two parts:
Part A (hospital insurance) covers inpatient hospital care, skilled nursing facility (SNF), hospice, lab tests, surgery, and home health care
Part B (medical insurance) covers durable medical equipment (DME), doctor's visits, outpatient care, mental health care, preventive screenings and services, and other outpatient services
Medicare does not pay for gym memberships, fitness programs, or personal training. You would pay 100% of the cost for these services out-of-pocket.
Do all Medicare Advantage plans cover SilverSneakers?
While many MA plans cover the SilverSneakers program, not all do, although around 90% offer some kind of fitness benefit. These benefits can vary by plan and some plans choose to go with different fitness programs. Examples of other programs include Silver&Fit, Renew Active, Mutually Well, and others. To learn more about fitness programs a Medicare Advantage plan offers, contact the insurance plans directly.
SilverSneakers FAQ
While you can find a lot of information on the SilverSneakers website, including getting help creating an account, logging in, or finding fitness locations or classes near you, we've put together a list of the most commonly asked questions about SilverSneakers memberships.
What types of classes does SilverSneakers offer?
With access to more than 50 online classes per week, prerecorded workout videos, and live classes, you're sure to find something you enjoy. Find cardio and strength classes, water aerobics classes, chair and standing yoga classes, tai chi, boot camp, and more, all designed for seniors.
Some examples of exercise classes include:
Classic
Circuit
Yoga
EnerChi
Total body strength
Zumba Gold
Cardio Mix
Bodyweight Boot Camp
Yoga Pilates Fusion
There are also online programs like Balance Builder, the Happiness Effect, and Nutrition as We Age. These classes happen multiple times throughout the day, and On-Demand features hundreds of workout, nutrition, and other educational videos. Log in or create your online account today to get access.
Is there a gym membership with SilverSneakers?
Yes, SilverSneakers includes a basic membership at any participating gym or fitness location. Typically, this gives you access to:
Cardio equipment
Strength equipment
Other amenities like pools, hot tubs, saunas, tennis courts, or walking tracks
Note that this does not include extras like massages, personal training, or smoothies.
Additionally, you'll get access to SilverSneakers FLEX classes which are taught at rec centers, local parks, or other locations throughout your neighborhood.
How do I register for a SilverSneakers class?
To find fitness centers or classes near you, you can use the SilverSneakers' location tool or download the app. Contact your local gym to learn about hours and class schedules, but remember you can go to any participating location or class in the entire SilverSneakers network around the country.
To register for a class, you may need to contact the fitness location. Or, you may be able to RSVP online by logging into your account.
Does SilverSneakers have a membership card?
No, there's not a SilverSneakers card. But you can download your digital membership ID online or through the SilverSneakers GO app.
What is the SilverSneakers app?
The SilverSneakers GO app allows you to easily:
Access your digital membership ID
Find SilverSneakers locations near you
Find and register for SilverSneakers classes near you
Discover, schedule, and track your workouts
The app is free to download on iOS and Android.
Do I have to be a certain age to participate in SilverSneakers?
While SilverSneakers is designed for adults aged 65 and older, there's no age requirement. You can check your eligibility online.
Can I participate in a class if I have physical limitations?
Yes! SilverSneakers classes are designed for adults of all ages, fitness levels, and abilities. Instructors provide modifications for moves, and also use chairs whenever possible.
Find a Medicare Plan in your area
It's FREE with no obligation
Speak with a Licensed Insurance Agent
M-F 9:00am-9:00pm | Sat 9:00am-3:00pm EST